Dalian On a Budget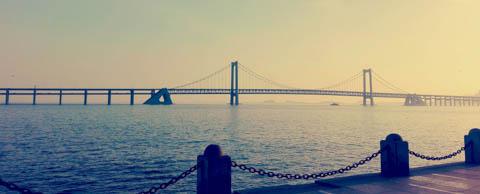 Dalian, China is a very large peninsula city located in the southernmost part of the Liaoning Province in northeast China. The area has a wealth of history, with roots in Russian and Japanese rule, resulting in unique architecture and many universities that attract foreign students and teachers. Dalian is also known for their beautiful green spaces and relaxing beaches which juxtapose a lot of the more industrial cities found throughout other areas of northern China.
Dalian is arguably at its most beautiful during the spring time when cherry blossoms begin to bloom and temperatures are a little more comfortable in the low 70's Fahrenheit. Autumn is another great time to visit, although temperatures tend to be in the low 60's, you'll likely beat the humidity and crowds. Summers see many domestic tourists as Dalian gets reaches the high 80's making for perfect swimming weather in one of the beaches.
Sights
Experience the multi-cultural beauty of Dalian at Zhongshan Square, located in the center of the financial district. The square was designed by Russians but the majority of the buildings were done by the Japanese rulers in the 1920's. The square acts as a huge social hub where you'll find locals playing sports or just chatting, making it a wonderful place to get lost in the Dalian atmosphere.
Continue your exploration of Dalian's past with a visit to Russian Street, so named for being one of the few places where you can explore the houses left behind by former Russian colonizers. Some of the buildings are replicas, although there are a few originals that have been preserved, including the Dalian Art Gallery. The gallery is housed inside of a 1910 Russian building and hosts local artists works ranging from the traditional Chinese art forms to modern art. You can also see some Russian influence at People's Square in the center of the city, where many of the government buildings are, a few of which have the old Russian style architecture. People's Square is also a great place to people watch, fly a kite, or walk around the fountains.
Neighborhoods
Due to Dalian's large size, the city has been divided into four districts. One of the major districts is Zhongshan, where you'll find the Zhongshan Square and Labour Park. Zhongshan District also has a huge selection of restaurants, bars, and accommodations. The other major district is Xigang, where you'll find more of the Russian influenced architecture on Russian Street and at People's Square.
A smaller district, Shahekou, is best known for Xinghai Sqaure, the largest square in Asia. It also has a few small mountains and hills that are worth a short climb to enjoy the views. Finally, there is Ganjingzi District, which is not of much interest to tourists due to it being the major industrial area of the city. With that said, Ganjingzi is one of the areas tourists are most likely to pass through as it is home to the Dalian International Airport.
Activities
For great views of the city, climb up to the TV Tower on top of a hill in Labour Park. There are cable cars to take you to the tower, as well as a slightly hidden path that you can hike up the hill in order to avoid too many tourists at the tower. While you can take a cable car down, go for something a little more adventurous and take the slide down!
More hiking can be found near Heping Square in the Shahekou District or take a leisurely climb up Taishan Mountain, which provides panoramic views of the city. If it's warm enough when you visit, a must is a visit to one of the beaches. You can find swimming beaches in Xinghai Square and Xinghai Park, these are two different locations, with the square being in the southwest part of the city.
Food and Dining
Dalian cuisine is influence by Dongbei cuisine, which often has large portions and simple flavors. Being a peninsula city, expect to also see a lot of seafood incorporated into dishes. You'll find that Dalian has a huge number of restaurant options, no matter your taste or price range, and its pretty easy to wander into any restaurant and get a great meal. Head to the Zhongshan and Xigang districts for some of the best restaurant options.
As with food, there's a huge variety of bars in Dalian, ranging from small bars filled with locals to huge clubs full of foreign students. You'll also find many night markets where you can pick up a beer and some light food while wandering around or sitting in one of makeshift seating areas.
Transportation
Dalian is a super easy city to get in to; you can get in through the Dalian Zhoushuizi International Airport, train, bus, and even boat if you're coming from South Korea. Buses and taxis run from the airport into the major parts of the city, just be sure to have them put the meter on.
Getting around is also fairly easy, you'll find going along on foot is easy enough due to the tourist sights being fairly close together. There are also trams, light rails, and buses that are pretty easy to navigate and there's even three tourist buses that make loops around different parts of the city if you prefer to avoid public transit. Taxis are plentiful here, although many of them tend to be illegal, so make sure there is a meter in the car and that they turn it on to avoid and problems.
Related:
Looking for a
hostel in China
?
Traveling alone to
Beijing
or
Hong Kong
or want to party in
Shanghai
?