Should you visit France or Croatia?
France is one of the top tourist destinations in Western Europe, but it's also a relatively expensive country to visit. France has a lot to offer travelers who are interested in history, culture, art, and food. Most visitors to spend a significant amount of time in Paris when they visit France. Paris is a truly impressive city with a diverse range of attractions. If you plan to explore other parts of the country, France is also an efficient country to travel around. It has an extensive transportation network with a reliable infrastructure for tourists. There are hostels and budget accommodation options throughout each country and no shortage of independent travelers that you can connect with. France is also a popular study abroad destination, so if you're a student, there are likely to be a diverse group of students around.
Croatia is another beautiful country, with impressive coastlines, a fascinating culture, and a rich history. If you're looking for an affordable place to visit, then Croatia is a bit more affordable than many places in Europe. It's also a less popular destination than France, but it is continuing to gain traction with tourists. Many of the more popular towns like Dubrovnik, are heavily dependent on tourists these days. Some towns have also become a common stop for cruise ships.
In general, Croatia is a beautiful country to visit that is known for its impressive old towns, delicious seafood, and vibrant nightlife. It's likely to continue to growing in popularity with tourists in the coming years.
If you're short on money, Croatia is significantly more affordable than France. Depending on where you go, you can expect to spend a fraction of what you would when traveling to France.
When is the best time to visit France and Croatia?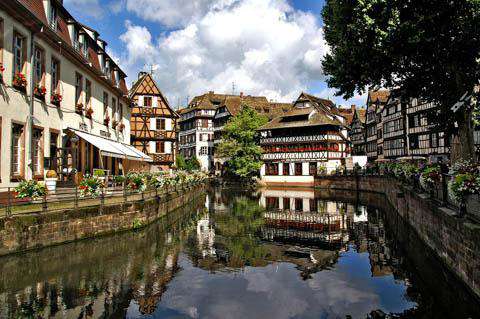 France is a beautiful country to visit year around. During the spring and fall seasons temperatures are most comfortable and crowds less heavy. These shoulder seasons are also good options if you don't want to pay peak prices and wish to avoid the most intense crowds. If you do plan to visit during the summer months, there are several destinations within France that have slightly cooler climates, making them more enjoyable during the hottest season.
Winter is a beautiful time to visit France. In general, prices tend to be a bit cheaper during this season, but it has become a bit more difficult to get off season discounts in recent years. Even during the cold winter months, many hotels are popular with business travelers or tour groups, which can drive up prices, but deals on airline tickets can still be found during these low times. The holiday season around Christmas can also be a more expensive time to visit.
Croatia is also a beautiful country to visit during the spring and fall seasons. This is when temperatures are a bit cooler, but not too cold, and crowds are less than the peak summer months. The summer season can get crowded with travelers and cruise ship passengers and prices typically peak during these times.
It is not uncommon for accommodation and restaurants to close during the winter months in coastal Croatia. If you're looking for a more relaxed place to visit and don't mind a little inconvenience, then this can be an affordable time to visit. Some smaller towns can start to feel a bit like ghost towns though, and accommodation might be hard to come by.
Why is France more expensive than Croatia?
In general, France is more expensive, particularly in cities like Paris or along the coast. France's accommodation is typically more expensive than in Croatia, even for the most basic hostels, and restaurants tend to be a pricier. Transportation is also a more expensive in France..
Even so, there are still deals to be found in France if you really wish to visit and want to save some money, but if you're on a particularly tight budget and have to decide between France and Croatia, you'll find your money goes a lot farther in Croatia.
Croatia's cost of living and currency keep prices lower than in France. Prices for accommodation in Croatia are also kept down because it's not uncommon for locals to rent out rooms in their homes. These rooms may be basic, but they're often well located and very reasonably priced. Staying in a local's home can also offer a unique perspective into the country and its culture.
Many people travel around Croatia by bus and bus tickets are usually cheaper than trains. The short travel distances between destinations also help keep prices reasonable.
What are the most expensive and cheapest cities and regions in France and Croatia?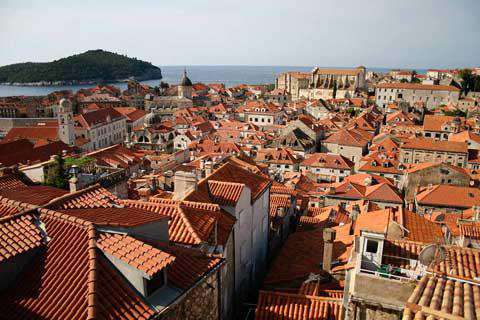 In general, the larger cities and most popular destinations are the most expensive places to visit in both Germany and France. In France, Paris can be a bit more expensive than the countryside. Coastal areas are also quite expensive, particularly during peak travel months.
In Croatia, the most popular coastal towns tend to be the most expensive places to visit. Towns like Dubrovnik, where you'll likely see several cruise ships docked, have higher prices then more off the beaten path destinations.
How you can save money when visiting France and Croatia?
Travel during the shoulder season. Prices inevitably climb during the peak summer months so make sure you visit when the crowds are less.
Stay flexible. If you don't like the city you're in, or find better accommodation for a lower price, but willing to change your plans a little.
Eat in restaurants for lunch and grab a picnic dinner. In both countries, lunch prices are almost always cheaper than dinner prices.
Spend time walking around the city or town you're in. Take at least a day where you don't visit a museum, show, or take a tour. Instead just head out on the town with a nap and soak up the atmosphere.
Buses are almost always cheaper than trains, so look into all of your transportation options before buying tickets.
Stay with a local. Lots of locals rent out rooms, particularly in Croatia. This is a fun and affordable way to experience the country.