La Rochelle On a Budget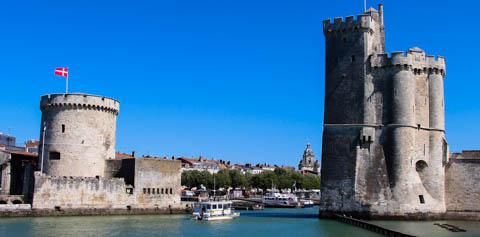 La Rochelle is a lovely French city in the province of Charente-Maritime. It's located in western France and is a seaport on the Bay of Biscay. Most people who visit the city enjoy exploring the "Vieux Port" or Old Harbour area. This area is the heart of the city and it is a beautiful neighborhood that has many seafood restaurants and nice architecture. It's particularly enjoyable to walk around during the evening hours. Ile de Re is connected to the city by a bridge and is also a nice place to visit. If you head out of town, the surrounding countryside is very rural. North of the city is Venise Verte, which is very marshy and has many small canals. It's a popular area for inland boating.
La Rochelle has an Oceanic climate that is relatively mild due to the effects of the Gulf Stream waters. Temperatures are usually moderate and it is rarely extremely cold or extremely hot. Summers are usually dry and sunny while winters are mild and wet.
Sights
The most interesting and scenic part of La Rochelle is the Old Port area, called Vieux Port. The area has a very Mediterranean atmosphere and the historic buildings have been constructed with pale stones and the streets are narrow and cobblestone. In the Old Port area make sure you visit the three towers, Tour Saint Nicolas, Tour de la Chaine and Tour de la Lanterne. These three towers guard the harbor area as they have since medieval times. It is possible to climb to the top and they offer a good view of the area.
The city also has a lovely aquarium that you can easily reach from the harbor. It's a great activity if it's raining outside and you can easily spend several hours exploring the facility. Port des Minimes is also an interesting place to see some exotic and impressive boats.
Neighborhoods
Most tourists spend their time in the Old Harbour, or Vieux Port area. This is a pedestrian only neighborhood that has many of the city's best restaurants and nightlife options. Much of the city's history has been preserved in this area as well, including the old city walls and fort.
It's also worth visiting Ile de Re, which is just off the shore and connected to La Rochelle by a bridge. This interesting little island has some nice beaches and good cuisine.
Activities
It's enjoyable to wander around the Old Harbor, or Old Port area in the early evening when everybody is out and about. Also make sure you take at least one boat ride to the nearby islands as the ride itself is quite enjoyable and the islands are nice to explore. If you have time, a trip through the nearby countryside is beautiful and interesting. There are several places outside of town worth visiting. These include the town of Lucon and the area of Marais Poitevin, or Venise Verte.
Food and Dining
You can't go to La Rochelle without trying some seafood, as the city is famous for it. There are many excellent restaurants around town, particularly in the Vieux Port area. Dishes such as charantais, or mussels in a cream and wine sauce, are particularly good and popular. If you're looking for a traditional meal, head to "A Cote de Chez Fred", which has many local specialties. For an elegant atmosphere, try the Cafe de la Paix, which is located in a building that is designated a historic monument.
If you're on a tighter budget you can pick up some sandwiches or kebabs at Le Rif Restaurant, not far from "A Cote de Chez Fred". It's reasonably priced and won't break your bank, although not nearly as interesting as the seafood options.
Transportation
You can easily explore the city on foot, or you can rent a bike through a service called les velos jaunes. There are stations around town where you can initiate the process. There is also a decent network of buses that can take you further distances. There are buses that travel towards Ile de Re, Aytre, Plage de Chatelaillon and Port des Minimes. These can be caught at the Place de Verdun.
To reach the nearby islands of Fort Boyard you can pick up a ferry in the Vieux Port. Boats also depart from Vieux Port and head directly to Port des Minimes.