Bologna On a Budget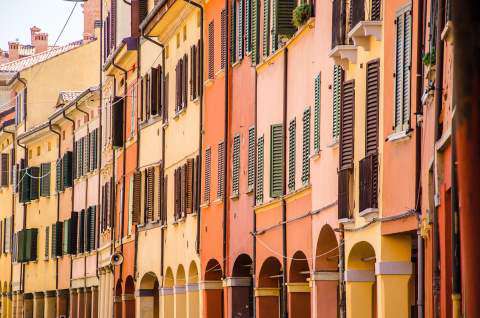 Bologna is the capital city of the northern region of Italy, Emilia-Romagna, with a population of 380,000. It is a historical city known well by Italians, however, not as well known among foreigners. The locals of Bologna speak little to no English. The city is most known for having the oldest university in the West. Another reason many visit this city is because of its exquisite cuisine. Many Italians would consider it one of the most beautiful cities in the entire country because of its impeccably preserved historic centers. The best time to visit Bologna is usually between March and October, although bare in mind that July and August can get quite hot.
Sights
Museums are plentiful in the city of Bologna. If you wish to see several of these museums, it is wise to buy a museum card. This grants you access to the main museums and gets you a discount at some of the smaller museums around the city. It costs six euros for one day or eight euros for three days. You can purchase this card at a museum or an information office.
The Archaeological Museum is one of the main museums, housed in an old hospital building, with exhibits ranging from Egyptian civilization to historic Roman times. If you wish to take a break from the historical aspects of Bologna, visit the Gallery of Modern Art of Bologna, located at Don Giovanni Minzoni 14. Within the University, which is a sight in itself, are multiple small museums that are interesting to visit.
Piazza Maggiore is the large square located in the old city center where you can see prominent buildings like the Basilica of San Petronio, the Palazzo del Podesta, and the City Hall building. For a view of Bologna from above, the Tower of the Asinalli is the best place to go. It is three hundred and thirty feet tall and has four hundred and ninety eight steps to get all the way up to the top.
If you wish to see beautiful parks and gardens, visit Giardini Margherita, Orto Botanico, or Parco Cavaioni. These are all beautiful gardens and parks with meadows, lakes, various plant species and gorgeous views.
Neighborhoods
As stated before, Bologna is part of the Emilia-Romagna region in northern Italy. There are many towns nearby that are great places for taking the train and spending the day. Ferrara is one of the cities and its historical center has been named a UNESCO World Heritage Site. Rimini is another town nearby that is great for spending the day at the beach.
Activities
Bologna is known for its food, so spending a day learning to cook would be a great activity while visiting. Cook Italy is located in the city center and offers cooking classes with menus that can be customized to your liking.
There are many events and festivals that happen in Bologna. A film festival takes place in July in the Piazza Maggiore Square. Around October, you can catch the Motor Show Bologna that showcases rare automobiles of Italy. There are also a few car museums in town as well (Ducati Museum, Lamborghini Museum, and Ferrari Museum). Music is another big part of Bologna culture, it is known to many Italians as a hub for alternative, electronic, and rock music. The Estragon and the Link usually have concerts or festivals.
Food and Dining
Known as the food capital of Italy, it can be hard to decide where to eat, as there are so many options. Proper Italian food usually consists of pizza and pasta with delicious meats, cheeses, and vegetables. Trattoria Del Rosso is a wonderful place to try as it serves many traditional dishes of Bologna. Enoteca Italiana has been voted the best in Italy for sandwiches and wine. For a laid back, home style meal head to Da Gianni. For more of an upscale meal and beautiful terrace to sit on, Zanarini is your best option.
Transportation
The closest airport to Bologna is Guglielmo Marconi International Airport, which is only a few minutes away from the city center. From the airport, you can take a taxi for about fifteen euros or you can take the Aerobus for six euros. You can also take a train to Bologna from the other major cities in Italy and outside of Italy.
Getting around the city is best done on foot or bike. The signage in the city is very clear, making it easy to navigate. There are bike trails on the side of the road as well, which is ideal, as sometimes the streets can get crowded with scooters.
Related:
Looking for a party in
Rome
or
Florence
?
Traveling alone
Milan
or
Rome
?
Find a
Contiki tour
to Europe.