The Southwestern United States is a grand palette of history, culture, and natural wonders as brilliant as the reds, oranges, and golds of the dramatic landscape itself. From canyons cut deep by raging rivers to pueblos in the highest reaches of steep sandstone cliffs, this land is a region of marvels which speak to the heritage of the American Southwest.
Below is a sampling, an itinerary from a trip of my own, of locations in Colorado, Utah, and Arizona. Integrated throughout are tips on cutting costs as well as lodging and dining recommendations along the way.
Flying into Denver
Denver International Airport marks the beginning of this trip. Depending on the season, you might want to camp most evenings to save a buck. Southwest Airlines offers two free checked bags, a carry on, and a personal item for each ticket purchased, which is a great way to save by packing all the camping supplies you might need. It is also a good idea to book a rental car in advance. While a car right from the airport might be convenient, you will save a few hundred dollars by taking the A Train from the airport to a rental service in downtown Denver. For convenience at the end of the trip, return the car to the station at the airport. Shuttles from the rental services here will take you right to your gate.
Denver Area Attractions
Colorado National Monument
From Denver, make your way to Grand Junction, Colorado, the main hub located just outside of Colorado National Monument. A smaller Grand Canyon without the crowds, the monument is perhaps best known for its monoliths and hoodoo rock formations. Traveling along Rim Rock Drive and stopping at some of the scenic overlooks will give you a good sense of the park's quiet but breathtaking beauty. You might even catch some bighorn sheep wandering the cliffs, or climbers ascending the face of Independence Monument.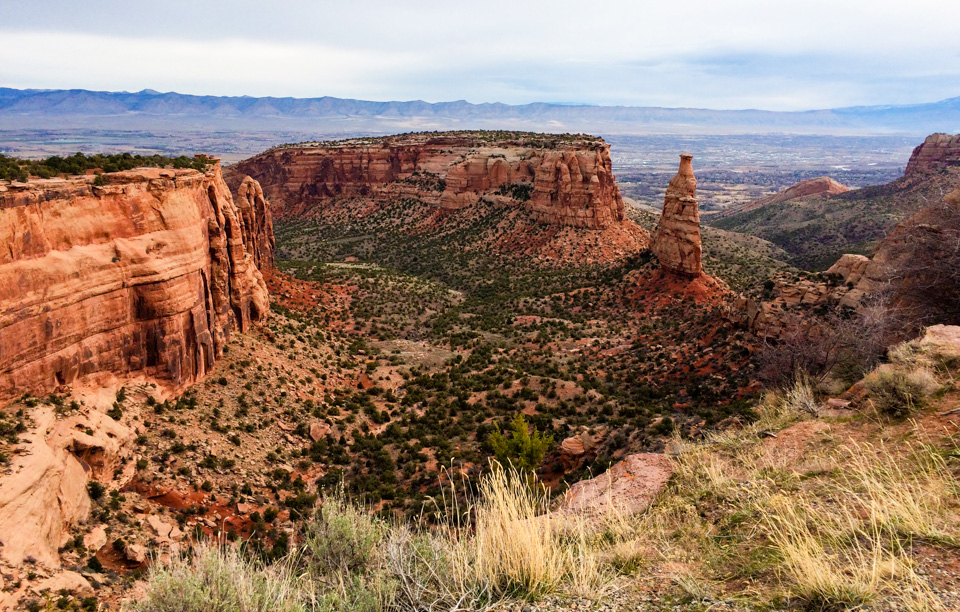 Canyonlands National Park and Arches National Park
As far as
Arches goes
, the park is famed for what else but its mammoth arches! The La Sal Mountains offer a unique snow-capped backdrop to the dry sandstone formations, with names like the Three Gossips, Sheep Rock, Fiery Furnace, and Devils Garden. If you only have a few hours, take the scenic drive up to the Delicate Arch Viewpoints, then visit the Windows Section on your way out to explore Double Arch, Turret Arch, and the North and South Window.
Best known for its panoramic overlooks of the dramatic desert landscape,
Canyonlands
is divided by rivers into districts like Island in the Sky, The Needles, and the Maze. Island in the Sky is perhaps the most easily accessed, with some of the best overlooks and sights like the Mesa Arch. This park was also a film location for the HBO series Westworld.
Capitol Reef National Park
Capital Reef is a waypoint between the Moab area and Bryce Canyon. Be sure to gas up before you leave Moab, as the drive from there is fairly vacant of civilization. This park has its own collection of colorfully stratified canyons, petroglyphs, and even a fruit orchard located near Fruita Campground. We camped overnight, and only stayed an hour or two before heading to Bryce, but the park is definitely worth further exploration.
Bryce Canyon National Park
Zion National Park
Page, Arizona
From Zion, make your way to Page, Arizona. We stopped along the way and stayed overnight at Country Rose RV Park & Campground in Fredonia, AZ. Be aware that Arizona does not observe daylight savings, so there may be some shift in time when traveling over the border. Once in Page, the top attractions of the area are Horseshoe Bend, the Glen Canyon Recreation Area, Lake Powell, and Antelope Canyon. Upper Antelope Canyon is best known for its dramatic light beams, though this depends on time of day, while the Lower Canyon is better noted for its color and narrow passageway. The Lower is also cheaper and usually less crowded. Both are only accessible with a Navajo guide. For the Lower, tours can be booked right from the parking lot when you arrive, though you might want to book in advance during busy season. While it might seem like a tourist trap, it is truly astonishing to meander through the winding sandstone, finding unique shapes and rays of light at every turn.
Monument Valley
It is about another 2-hour drive from Page to Monument Valley. Though we opted to see the place from the viewing balcony, the scenic loop is 17 miles and can take about 2-4 hours to complete. The general area is a great place to catch a sunset. About 20 miles north of here, there is a tiny town called Mexican Hat where we stayed and enjoyed dinner at a place called Swingin' Steaks - an outdoor eatery that cooks massive steaks on a grated swing which hangs over a roarin' fire.
Cliff Dwellings
The next destinations involve the cliff dwellings of southwest Colorado. Canyons of the Ancients National Monument offers a more self-guided experience in the rugged canyons of Colorado. It is often recommended that you start at Anasazi Heritage Center in Dolores (located on the eastern end of the park); however, coming from the west you actually save time by doing trail research beforehand so you don't have to backtrack. Painted Hand Pueblo is probably one of the more notable sights featuring the ruins of a large stone tower, named for pictographs of red hands painted nearby. The Sand Canyon trail is also popular. Starting on the lower end of the trail, you will come across the Saddle Horn Pueblo about a mile in. Also in the area are the Hovenweep National Monument, Yucca House National Monument, and Aztec Ruins National Monument. Mesa Verde offers more of a guided experience of the cliff dwellings - only visible from viewpoints, or experienced up close with a guide. Spruce Tree House, Cliff Palace, and Balcony House are some of the best preserved. Do note, however, that tours into the pueblos are only available in season, April-October.
Million Dollar Highway
From Mesa Verde, the city of Durango is only about 45 minutes away. We ate at a great pub called The Irish Embassy, and stayed at an exceptional B&B called Country Sunshine with breakfast included for an exceptional price. The B&B was about 12 miles north of Durango just off of Route 550, better known as the Million Dollar Highway. Sprawled along the scenic mountain pass are old mining towns like Silverton and Ouray best known today as the "Switzerland of America" with opportunities for skiing, hiking, and hot springs. Telluride is another hotspot. Once a sin city dubbed "to hell you ride," Telluride today is thriving with tourism with plenty of shops and restaurants against a snow-capped mountain backdrop.
Great Sand Dunes National Park
To return to Denver, you can either keep heading north towards Black Canyon of the Gunnison or take a bit of a detour to see Great Sand Dunes National Park. The drive from Durango to the dunes is just over 3 hours, but is definitely worth it. The town of Alamosa, just south of the dunes, is the main hub of civilization after a long drive of through the wilderness of the San Juan Forest, so make sure to gas up before you leave Durango. The dunes themselves are like nothing else - the tallest in North America against the stark backdrop of the Sangre de Cristo Mountains. Make sure to set aside a good few hours to climb up to High Dune for a panoramic view over the dune field. It isn't until you struggle against the elements, against the downward pull of the sand, that you really get a sense of their impressive scale - definitely a grueling, but rewarding experience like none other in the U.S.
Back to Denver
From here, make your way back to Denver along I-25. If you need to stop for a meal, the Mill Stop Cafe in Pueblo serves up good Mexican cuisine loved by locals. We were able to complete this trip in the span of a week, making the most of each day and doing the bulk of the driving at night. It is doable and offers a great sampling of the American Southwest, but if you are looking for a longer, more leisurely vacation, the same itinerary could definitely be spread out over two weeks. Additionally, there is so much more to see in this region of the United States, including but not limited to: Black Canyon of the Gunnison National Park, Curecanti National Recreation Area, Goblin Valley State Park, Cedar Breaks National Monument,
Grand Canyon National Park
, Vermillion Cliffs (The Wave), Navajo National Monument, Natural Bridges/Rainbow Bridge, Florrisant Fossil Beds, Boulder, and ski towns like Aspen and Breckenridge.
Have fun!
The American Southwest is a scene that beckons to be explored. With backdrops that range from sandstone canyons, granite cliffs, and winding rivers, to snow-capped mountains, waterfalls, and towering dunes - there is no limit. The prospect for adventure is as open and varied as the landscape that lies underfoot.