Bryce Canyon National Park On a Budget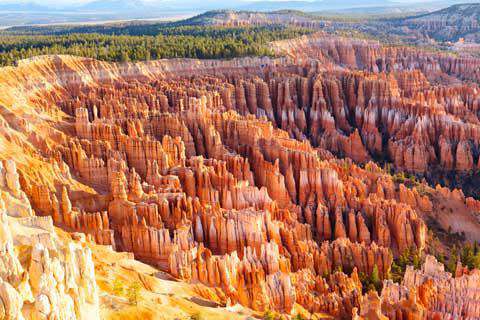 As one of Utah's most popular national parks, Bryce Canyon National Park is over 35,000 acres of breathtaking geological wonders. While it's not actually a canyon, Bryce Canyon is a giant natural amphitheater created by years of erosion.
With 200 miles of visibility, world-class air quality and near-perfect weather from April until October, it's easy to see why this park attracts over one million visitors every year. The series of horseshoe-shaped amphitheaters includes rocks of many colors and unique formations such as slot canyons and spires known as "
hoodoos
."
Sights
A visit to Bryce Canyon means visiting the home 59 species of mammals and 175 types of birds. It may be tempting to share your treats with them, but do NOT do it. When animals are fed human food they can become aggressive, sick or even die. You also run the risk of them becoming dependent on human food and they will lose the ability to hunt – leading to possible starvation in the winter months.
The point of Bryce Canyon, though, is to see the beautiful views. There are dozens lookout points – each with their own selling points.
Sunrise Point provides the best view of the canyon amphitheater, and is obviously the best place to watch the sunrise over Bryce Canyon. Sunset Point is another perfect lookout for – you guessed it – sunsets.
Mossy Cave is an easily accessible trail for cars. Less than a mile long, this journey will take you past a stunning waterfall and up to a cave ready and waiting for your exploration. Bryce Point will take your breath away with a dramatic, panoramic view accessible by car or hike. And if you absolutely can't get your fill of hoodoos, you'll want to put Rainbow Point on your list.
Activities
Bryce Canyon is the outdoor adventurer's paradise. With RV Parks, campground and backcountry camping, you can create the journey you've always dreamed of – just be sure you get all the proper permits.
For a shorter hike, you can wander down the 1.3 miles of the Navajo Loop. It travels straight through the heart of the Bryce Amphitheater with strolls past famous formations like Thor's Hammer and Wall Street along the way.
A little heavier undertaking, is hiking the Rim Trail. This 11-mile route is paved in some portions and provides several outlook points. And for those ultra fit travelers, there's a 23-mile trek known as Under-the-Rim. It expands from Bryce Point to Rainbow Point including eight backcountry campsites.
To get in touch with your inner cowboy, many trails in Bryce Canyon are available on horseback, as well. Most services can be set up through lodges and hotels.
Food and Dining
Because you'll be so busy taking in the sights of Mother Nature, you won't have time to sit down for a meal. Make sure you pack snacks for the whole day and plenty of water to stay hydrated. The general store near Sunrise Point has all the supplies you'll need for the day.
If you are interested in sitting down for a nice meal at the end of the day, Bryce Canyon Lodge serves dinner – reservations are required. Remember this, though, if you're trying to watch the sunset, all restaurants in the area close at 9pm – the grocery stores around 10 pm.
Transportation
There are several options for getting around to see all that Bryce Canyon has to offer.
With 18 miles of road and heavy traffic in the summer, traveling by car is a viable option. Some areas along the way don't have stops for lookouts. So you may risk missing some of the view. A park shuttle runs during the summer months if you feel like leaving your car behind and letting someone else do the work. Most bicycles aren't allowed on park trails, and with elevations of 8 to 9,000 feet, biking in the park is tougher at such high levels.
Obviously, the best way to experience the park is by foot. Some of the longer trails can take days to travel, so be sure to get all the permits you need to camp overnight. There is also always the option of a guided tour. There are a variety of tour types suitable for any group.
Related:
Looking for a
party hostel in Las Vegas
or
San Diego
? Traveling alone to
NYC
or
LA
? Want a budget hostel in
San Francisco
?