Moab On a Budget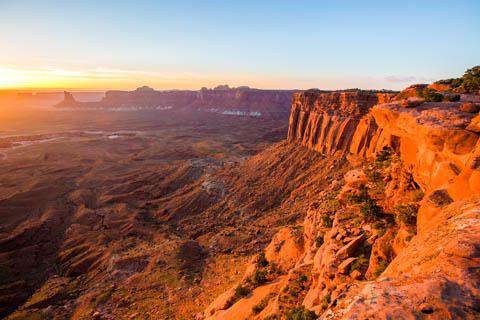 Moab is the closest town to
Arches National Park
in Utah's Canyon Country. It is also a popular base for exploring
Canyonlands National Park
. It's a small town that serves mainly to accommodate tourists to the popular national parks and other surrounding wildlife areas. It has grown dramatically in recent years and has a population of just over 5,000. In town you will find hotels and motels, a handful of restaurants and a few shops where you can stock up on supplies. There's a small museum, the Museum of Moab, and a variety of tour operators in town. You can easily book river rafting trips, jeep expeditions, and tours of the surrounding area. For many, exploring Arches National Park on your own is a more enjoyable and independent experience.
The general climate of the area is very desert like. You can expect very hot summers, with temperatures often reaching 100 degrees Fahrenheit, and cold winters, with temperatures dropping to below freezing. Plan your trip accordingly, as you will spend most of your time outdoors.
Sights
Most people use Moab as a base for visiting the nearby Arches National Park and Canyonlands National Park. This town also makes a great starting point for a
southern Utah road trip
.
Arches NP
is strikingly beautiful with a very unique landscape. It has a large concentration of natural arches that have been shaped by the area's geography and climate. The arches are surprisingly diverse in their size, style, and general integrity. The area also has some interesting wildlife and plant life. Park rangers run regular guided tours of the area, and in the evening they offer programs that discuss the park's history and geography. Although the programs are often targeted at children, many adults also find them very enjoyable and informative. Of course, there are
plenty of great hikes in Arches
that are worth experiencing, some long and some short, but all are beautiful.
Canyonlands National Park
has a beautiful landscape of canyons, mesas, and buttes that have been formed by the Colorado River, the Green River, and many tributaries.
Another interesting place to visit is the Museum of Moab, which is a fifty year old museum that highlights the history, geology, and paleontology of the area. In fact, this is just one of many
things to do in Moab
outside of the national parks. Visitors can also go hiking, rafting or kayaking, 4-wheeling, camping, and more.
Neighborhoods
Moab is a small town that serves as a tourist base for those visiting the nearby national parks. The town has a Main Street where you'll find a few restaurants and tour companies. The Main Street is along US Route 191. Traveling north away from town you'll reach Arches National Park, Canyonland Field Airport and Interstate 70. Utah State Route 279 provides access to Canyonlands National Park and Dead Horse Point State Park. For a more established route, travel farther north on Hwy 191 to Utah State Route 313.
Activities
Moab is all about the outdoors. There are some wonderful hikes in the area that range in difficulty from easy to strenuous. They take you through the area's dramatic landscape and allow you to see some strikingly beautiful arches. There's also a nice campground in the park called Devil's Garden Campground. You will likely need reservations in advance during the peak months. Another option is to visit the park's back country, but a permit is required.
River rafting on the Colorado river is also popular. There are several vendors in the area that offer guided trips along the river. Most people book a one day trip along the Fisher Towers Section, which is a 14 mile stretch that is relaxing and appropriate for families and those with children.
Food and Dining
Moab is a small town but amenities have continued to grow as the popularity of the nearby parks continues to grow. There are a handful of good restaurants in the area. Moab Brewery is on South Main Street and is a great place for both food and beer. There's a separate dining and bar area as well as billiards and television. If you're traveling with kids, ZAX has a decent pizza bar in a family friendly setting. Other options in the area include Singha Tai Cuisine, Pasta Jay's, and La Hacienda.
Transportation
Most people have a private vehicle when they explore southern Utah. National parks and natural beauty is the appeal of the area and only with a vehicle will you have access to the most impressive views and incredible hikes. From Moab you can easily access both Arches National Park and Canyonlands National Park. Dead Horse Point State Park is also nearby.
Related
Looking for a
party hostel in Las Vegas
or
San Diego
? Traveling alone to
NYC
or
LA
? Want a budget hostel in
San Francisco
?