Coffs Harbour On a Budget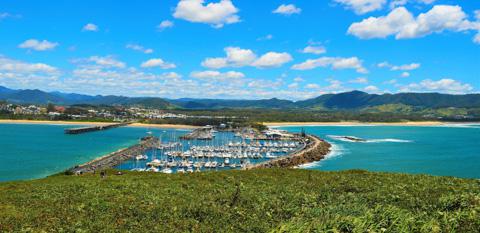 Coffs Harbour is in New South Wales between Brisbane and Sydney. Historically, Coffs Harbour has been a popular vacation destination among families, particularly Australian families. Most visitors today are families that are carrying on a longstanding tradition and bringing their children to the holiday destination of their childhood. You'll also find backpackers who spend up to a week here, dividing the trip between Sydney and Brisbane. The area has a well established tourist infrastructure that is not as trendy as that in Byron Bay, but it remains a wonderful community to visit if you're not looking for the party atmosphere.
Coffs Harbour has a humid subtropical climate. The city is sunny most of the year but winters can be somewhat damp with mild temperatures.
Sights
People really come to Coffs Harbour for the beaches and the ocean, but there are a handful of sights, not least of which is the Big Banana. It is, literally, a big banana and you can pull off the road and have your photo taken at this famous landmark. There are also a few shops to pick up tacky tourist souvenirs or buy yourself a banana smoothie. Other sights of interest in town include the Pet Porpoise Pool, where you can see dolphins and seals, the Butterfly House, which houses an indoor rainforest, and a Creek-side Boardwalk with a nearby botanical garden. Muttonbird Island is actually a peninsula that juts out from the marina area. It is a nesting site for a type of migratory bird called the wedge-tailed shearwaters (or muttonbirds). The birds mate during the month of November and the eggs hatch at the end of the summer. It's worth visiting Muttonbird Island to see the area. Whales may also be seen during certain times of the year.
There are several beaches where you can swim or sun bath, but the main beach in town is Park Beach. You'll also find a well protected beach that's great for small children just inside Coffs Creek.
Neighborhoods
Coffs Harbour is located on the Pacific Highway with many coastal resorts and apartments in the surrounding areas. Coffs Harbour has several suburbs including Boambee, Toormina, North Boambee Valley, Diggers Beach, Korora, Moonee Beach, Park Beach, Red Hill, South Coffs, West Coffs, West Korora, and Sapphire Beach. Coffs Harbour Jetty is also near the city center.
The area has a variety of accommodation options ranging from hostels to family oriented hotels. The prices are highly variable as well, but it is possible to get a good deal at a more affordable place to stay, particularly if you stay farther from the beach.
Activities
Most of the town's activities are centered around the beach and ocean. You can scuba dive in the Solitary Islands Marine Park just off the coast. There are also dolphin and whale watching cruises available. The whale season runs between June and November but dolphins can be seen year around. Helicopter tours of the area are also available and let you see the beautiful beaches and the area's rainforests.
There are also a handful of markets around town where you can buy anything from beach clothes and supplies to cheesy tourist souvenirs. Popular options include Jetty Markets, Harbourside Markets, Growers Markets, and Parkbeach Markets.
Food and Dining
There are plenty of restaurants in Coffs Harbour that range from budget to high end. You can find anything from seafood to barbecue, or you can grab a drink at any of the many cafes and coffee bars around town. There's also a great juice bar if that's more your style.
Many of the restaurants are located in the Jetty area on Harbour Drive. This area has a reputation for having the best dining options in town. If you want to pick up some local ingredients then head to one of the town's several produce markets. These include Growers Markets, Parkbeach Markets, and Harbourside Markets.
Transportation
Coffs Harbour is about a 530 kilometer drive north of Sydney and 350 kilometers south of Brisbane along the Pacific Highway. This makes it a great stopping point between the two cities. There is still a train that travels through Coffs Harbour and the service and prices are reasonable. It's takes about nine hours by train from Sydney to reach the town and 6 hours from Brisbane. Once you arrive, the train station is in the southern part of the town near the jetty area. You can easily walk from the station to the beach and several accommodation options.
Once you arrive in town there are several bus companies that operate around town. Taxis are also available to travel up and down the coast.
Related:
Looking for a party? Find a
hostel in Sydney
,
Melbourne
,
Cairns
, or along the
Gold Coast
.