Katoomba On a Budget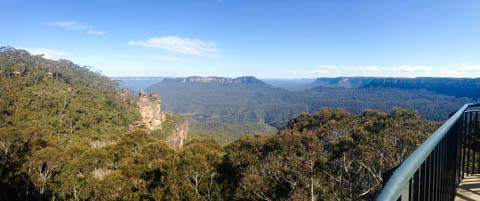 Designated an UNESCO World Heritage site in 2000, the
Blue Mountains
are located just west of Sydney in the highlands of New South Wales, Australia.
This area can be generally expensive, but is on par with other destinations in Australia and around Sydney. Plenty of luxury places can be found here that cost more than average, but plenty of cheaper places to stay can be found here, too. Expect to pay for various activities such as tours and entrance fees, too.
The landscape is sprawling with majestic scenery over a rugged terrain of steep cliffs, forests, waterfalls, and villages. Whether you come to hike, climb, bike, or drive to the scenic viewpoints, a curtain of tranquility falls upon the mountains in a blue haze from which they get their name.
Sights
The most popular attraction lying within the mountains is Echo Point at Katoomba. A major lookout point, it offers spectacular views of Jamison Valley and the Three Sisters - an iconic rock formation of the Blue Mountains. There is also an information center here with displays about the environment of the area, as well as maps and souvenirs available for sale. Other popular lookouts include Govett's Leap with incredible views over the Grose Valley, and Gordon Falls which provides views of the large waterfall and surrounding forest. For a more leisurely way of sightseeing, Cliff Drive around Katoomba and Leura has many pull-offs for admiring the views.
Neighborhoods
Katoomba is the largest and most visited town of the Blue Mountains with access to Echo Point, Scenic World (railway and skyway), and plenty of shopping. It is a very laidback town with an artsy hippie population and examples of art deco architecture and shop fronts along the main street of the town. Leura, right next to Katoomba has quaint craft shops and boutique shopping, Wentworth Falls is mainly bush with some views and Bed & Breakfasts, Blackheath is a scenic mountain town surrounded by parks and scenic walks, and Mount Victoria is the highest point of the mountains. In the lower mountains, the most visited towns include Springwood and Glenbrook.
Activities
The Blue Mountains are a popular destination for rock climbing, mountain biking, hiking, and a number of other adventure sports. Popular climbing destinations include the Centennial Glen cliffs near Blackheath, Mount Victoria, Mount Piddington, and Mount Boyce, while mountain biking takes place on a number of trails just off of the Great Western Highway, some including Narrow Neck and Anderson's Fire Trail.
Many trails are also popular for
hiking in the Blue Mountains
, in addition to a number of other nature trails. Canyoning, too, is a fun activity for those seeking a different kind of adventure with a new perspective of the mountains from below.
Other worthwhile ventures include The Giant Stairway walking track which runs down a cliff and past the Three Sisters into the valley, as well as the Jenolan Caves. The
Katoomba Scenic Railway
is also popular as is the Scenic Skyway and Scenic Cableway, which all over transportation up and down the mountain. The Zig Zag Railway, a historic steam-powered railway near Lithgow is another fun attraction.
Plenty of activities here are also family-friendly. The Toy and Railway museum is just one option (in addition to all of the hiking options mentioned earlier). For more ideas, check out this
guide to a family-friendly weekend trip to the Blue Mountains
.
The Edge Cinema in Katoomba also offers IMAX movies, one of which is a documentary about the Blue Mountains which shows fairly regularly.
Food and Dining
You will have no trouble finding food in the Blue Mountains. With a wide selection of restaurants to choose from, one can expect a high standard of dining. Many cafes and restaurants are family-run, offering opportunities to meet the locals, while a number of restaurants and bars can also be found within the hotels that reside in and around the mountains. Sit back and enjoy an Australian wine and delicious native food while taking in the mountain views, or simply kick back with pizza for a cozy night inside amidst the chill of mountain air. Generally, there is a wide variety, and the best food options will be found in the towns of Katoomba, Springwood, and Leura.
Transportation
By plane, the closest major airport is in Sydney which is served by a large number of international airlines. From the airport by car, one can take the M4 which turns into the Great Western Highway (A32), all the way to Katoomba in just under two hours. Be aware that city traffic will be high on Friday evenings and Sunday afternoons, when most people travel for the weekend.
By train, CityRail trains run every hour or two to the Blue Mountains from Sydney Central. The train will get you to the mountains; however, you will need another mode of transportation once you get there. Most of the main towns in the mountains are linked by the rail line, from which the major tourist spots are walkable or reachable by local bus services.
There are also dozens of tour companies that operate one day tours to the Blue Mountains from Sydney some of which include AAT Kings and Gray Line for large buses, Activity Tours and Sydney Great Escapes for a guide and minibus experience, and Sydney Adventure Tours and Blue Mountains Eco Tours for a guided 4WD tour.