Arica On a Budget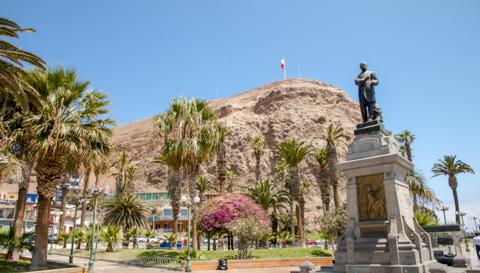 A mixture of coastline, desert and high Andean plateau, Arica is a seaside resort town, known for its surfing beaches located at the tip of Northern Chile. Arica boasts that it is "the land of the eternal spring," but its temperate climate and beaches are not the only reason to visit this small city. Arica's tourism is still principally geared toward domestic visitors and those from southern Peru and La Paz, who flock to its beaches mid-December through February. It is very easy to spend a few days in Arica in the sand, or seeing the sights in town, at a slow pace but the city also offers plenty of fun activities and exciting day trips.
Sights
Go to El Morro de Arica for a great view over the city. This lofty rock that looms 110m over the city was the site of a crucial battle in 1880, a year into the War of the Pacific, when the Chilean army assaulted and took El Morro from Peruvian forces in less than an hour. Visit the Gothic-style Catedral de San Marcos, which was designed by celebrated Parisian engineer Alexandre Gustave Eiffel, before his success with the Eiffel Tower. The entire church is made of stamped and molded cast iron, coated with paint. Eiffel also designed the Casa de la Cultura de Arica or Ex-Aduana, a former customs house that now hosts a smattering of exhibitions and has an impressive 32-step wrought-iron spiral staircase. Prefabricated in Paris, it was assembled on site in 1874, with walls made of blocks and bricks stacked between metallic supports. Get out of the city to the Cuevas de Anzota, only 10 km south of the center. Discover the caves that were used by the Chinchorro culture some 9000 years ago. A new coastal walk takes you through the area, with staircases leading up to lookout points, and fine vantage points over the dramatic coastline. Keep an eye out for sea lions, a marine otters and marine birds. Leave on a tour or receive information from the tourist center within Arica on how to visit on your own by taxi or rental car La Tropilla Geoglyphs. Just outside of Arica and before the town of San Miguel de Azapa, discover the ancient symbols on the rocks that rise up on each side of the road. The geoglyphs, which have survived hundreds of years, are only still visible and preserved due to the lack of precipitation in the area. Towards the Bolivian border, you will find the Parque Nacional Lauca, which will provide you with some of the most raw, impressive scenery in all of Chile. To get there, enjoy a 2h30 ascending drive with sweeping corners and amazing views. If you want to spend a night close to the park, stay in Putre, a very traditional town located at 3500 meters above sea level and surrounded by spectacular views, as it sits at the base of the Taapaca Volcano Complex.
Activities
Tourism in Arica largely focuses on the city's sandy beaches, popular with surfers and beach-lovers. However, there are a few other activities available in town. Visit the Museo de Sitio Colon 10. See the 32 excavated Chinchorro mummies at this tiny museum below El Morro. They were discovered when an architect bought this former private home with the intention of converting it into a hotel. Head to the Museo Historico y de Armas for a good explanation of the key battle that took place atop Morro de Arica, back in 1880 during the War of the Pacific. There is also a collection of 19th and early 20th-century weaponry. Travel in time on the Ferrocarril Arica-Poconchile. One part of the old rail line that linked Arica with La Paz, Bolivia, has been restored, allowing you to ride a tourist train that runs once a week between Arica and the Lluta Valley town of Poconchile, some 37 km to the northeast. The 1950s vintage train cars currently depart Saturdays at 10h30 and arrive back in Arica at 15h30, after a one-hour stop in Poconchile. Head out of the city into the peaceful Azapa Valley, to visit the town of San Miguel de Azapa, and its Archaeological Museum, which explains the history of the Chinchorro people who occupied this region some 3500 – 9000 years ago, and has the oldest discovered mummified human remains in the world on site to marvel at. For adventure seekers, climb the perfect cone-shaped Parinacota Volcano. Test your ability to find oxygen on the thin air of the Parinacota Volcano's peak, found 6,300 meters above sea level and in the Bolivian territory. If you are not up for the task of climbing the Paranicota Volcano, but you would still like to see it, visit the beautiful lake of Chungara that acts as a mirror reflecting the Parinacota Volcano on clear days. On your way down Parinacota, near the entrance to the park, step inside the hot springs of Las Cuevas de Lauca. You can also head to the Jurasi Hot Springs, which offer an outdoor pool and two indoor pools in a gorgeous scenery.
Food and Dining
Cuisine in Arica is very influenced by Peruvian cooking. Try the classic bread with olives of Azapa. Arica is not a big producer of meat so you will mostly find frozen meat coming from Argentina. However the fish is absolutely delicious; try the congrio, lenguado, reineta or palometa. There are good and cheap fruits for juices or simply to be eaten: mango, guava, melon, citrics, all fresh and produced in the surrounding valleys.
Transportation
Numerous buses arrive daily from Chile's main cities further south, including San Pedro de Atacama, Calama, Iquique and Santiago. Daily buses come in from Bolivia, directly from La Paz, Cochabamba and Oruro with a transfer in Patacamaya. Colectivos, which are shared taxis or mini-vans, arrive and depart continually from Peru, taking passengers from the International Terminal in Arica to the International Terminal in Tacna, Peru. Walking will get you most places in town, although numerous buses run along the major avenues for those in a hurry. They are also handy for getting to and from the bus station, usually for no more than USD$1.