San Pedro de Atacama On a Budget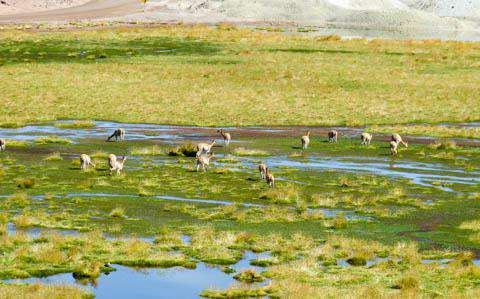 San Pedro de Atacama is a gateway to northern Chile. It is a good jumping off point for exploring the area's impressive landscape, most of which is included in the Los Flamencos National Reserve. It is popular with both Chilean and international tourists, and because of its popularity, it is a relatively expensive destination, with many prices comparable to what you might pay in Santiago.
The town is small, with about 5,000 residents. It is at an elevation of 7,900 feet and is located about 60 miles southeast of Calama. It looks out over the Licancabur Volcano.
The town's climate is dry and mild. The daytime temperatures are usually between 77 and 86 degrees Fahrenheit in the summer months and 64 to 77 degrees Fahrenheit in the winter months. Winter lows can drop below freezing at night. Summer is bewteen the months of December and February and winter is between the months of June and August.
Sights
There are a handful of major sights that you must see in San Pedro, in addition to other smaller sights around the area. Popular sights include Geysers del Tatio, Valle de la Luna, Lagunas Altiplanicas, Laguna Cejar, Puritama, Salar de Tara, and Valle del Arcoiris.
Geysers del Tatio has some of the highest geysers in the world. This area is about 100 kilometers outside of San Pedro. Valle de la Luna, or "Moon Valley," is part of the Salt Mountain Range and has some absolutely beautiful rock formations and impressively barren landscape. The area has the most dramatic sunsets, so do ensure you'll be here at the right times. Lagunas Altiplanicas is a tour that usually includes the village of Toconao, Laguna Chaxa, Miscanti and Miniques lagoons, and Socaire, where you can grab a quick lunch. There is no shortage of sights you can visit around San Pedro, many of which are easily visited in a tour which can be arranged on arrival in San Pedro.
Neighborhoods
San Pedro is a small town. The downtown area has twelve small blocks that are contained by Domingo Atienza and Toconao from west to east and Licancabur and Caracoles from north to south. Caracoles is the main street and a pedestrian zone. Riding a bike on this street is forbidden as well. Almost everything you need will be in the downtown area. There are hotels located on the outskirts of town, but it is best to stay closer in.
Activities
In addition to visiting the many sights in the areas around San Pedro, there are also some interesting activities that you can enjoy. Sandboarding has become a popular activity given the town's desert location. There are plenty of dunes and sand banks where you can sandboard. Sandboarding tours will take you to the most popular place, Valle de la Muerte.
Mountain climbing is also a popular activity. There are mountains that cater to all skill levels and a few tourist agencies that specialize in mountain climbing. Confirm in advance that the tour operator will provide all of the necessities and equipment that you need.
Food and Dining
The cheapest option at most restaurants is the set meal, or "menu". There are a variety of good restaurants around town. Some of the most popular are Cafe Adobe, Blanco, La Estaka, and La Casona. They can be expensive and the quality can vary. For vegetarians, a good option is Todo Natural, on Caracoles. The food is good and the prices are reasonable.
Transportation
You can reach San Pedro by bus from Salta and Jujuy in Argentina, as well as most other places in Chile. The closest commercial airport is in Calama, which is about an hour and a half away. There are frequent buses that travel between Calama and San Pedro. It's also possible to rent a car at the airport but the prices are quite high and an international driving permit is required.
After you arrive at San Pedro you can walk to most places worth visiting in town, including restaurants and bars. There are a handful of hotels located on the outskirts of town, so it is worth confirming the location of your hotel before booking. The downtown area of San Pedro is approximately twelve blocks in size. There are a good number of places around town where you can rent a bike to reach more distant destinations.
Related:
Looking for a
party hostel in Rio
,
Sao Paulo
,
Lima
, or
Buenos Aires
?
Traveling alone through
Argentina
?