Santiago On a Budget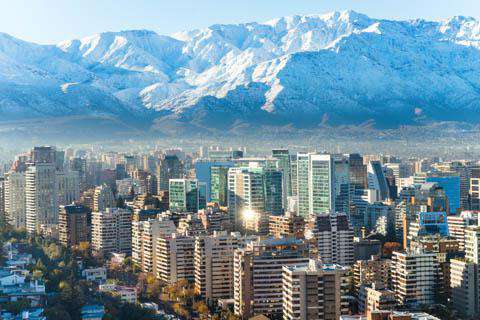 Santiago is the capital city of Chile. It is centrally located in the long and narrow country, making it a good jumping off point to explore everywhere else. It's convenient location means that you can go skiing in the Andes one day, and hang out at the beach the next.
Santiago has a cool semi-arid climate that is similar to Mediterranean climates. The summers, which are between November and March, are warm and dry. The temperatures climb to around 95 degrees Fahrenheit. The winters, between June and August, are humid with cold mornings. The daily highs are around 55 degrees Fahrenheit and the lows stay a few degrees above freezing. Rain is more common in the winter months and the dry season is between December and March.
Sights
Santiago has no shortage of sights. Notable landmarks around the city include La Chascona, La Moneda Palace, Teatro Municipal, Iglesia y museo de San Francisco, and Palacio Cousino. Museums and cultural centers include Centro Cultural Palacio de La Moneda, Centro Cultural Matucana 100, Centro Cultural Gabriela Mistral, Museo Chileno de Arte Precolombino, and Museo de la Memoria y los Derechos Humanos. Parks are also abundant around town. Some of the best are Parque Metropolitano, Parque Forestal, Cerro Santa Lucia, and Parque Bicentenario. Plaza de Armas is the city's main plaza. This is where you'll find the national cathedral and the main post office. It's near the Central Market and has some interesting restaurants nearby.
Neighborhoods
Santiago's metropolitan area has a population of more than 7 million. There are many different neighborhoods, or barrios to explore. Some of the more interesting ones for tourists include Providencia, Bellavista, Nunoa, Lastarria, Barrio Brasil, and Parque Bustamante. Providencia is an upscale area with many restaurants and shops. Bellavista is known for its nightlife and street art. Nunoa is a quieter neighborhood that's a great place to grab a relaxing dinner. Lastarria has quaint cobblestone streets and European architecture. Barrio Brasil has a good number of affordable bars and restaurants with great happy hours and Parque Bustamante is a tree-lined park that makes a great refuge from the big city.
Activities
Santiago is conveniently located near many activities. This makes it a perfect base for day trips outside of town. There are a range of outdoor sports that you can enjoy just a short drive away including mountain climbing and skiing. There are also wineries that you can tour. Other activities in town include city food tours, shopping, and organized bike tours. Perhaps the most enjoyable activity is simply walking around the city's neighborhoods and taking in the personality. There is a diverse and fun vibe to many neighborhoods so it's fun to just throw out your itinerary and soak up the atmosphere.
Food and Dining
There are plenty of restaurants and bars all around town. You can generally make a good guess at the price and style based on the restaurant's neighborhood location. Food options generally include South American, European and seafood options among others. In the area surrounding Plaza de Armas there are a handful of great Peruvian restaurants. This area has become a popular gathering place for Peruvian immigrants and they have opened a variety of shops, food stores, and great restaurants. Outdoor cafes are also common around town and can be enjoyable places to grab a drink and relax a little.
Transportation
Public transportation is the best way to travel around Santiago. If you're going to be in town for at least a few days then it's worth purchasing a bip!card. You can pick them up at any subway station and they can be used on both the subway and the bus, with free transfers during a two hour period. The metro and bus systems combine to make an efficient system for traveling around the city. The metro system has five lines and 94 stations. The buses are modern and reliable. If you plan to ride a bus at all during your stay, then you will be required to have a bip!card to pay for the ride, as cash is not accepted. If you're planning to travel outside of Santiago, having a rental car can be very helpful. Chilean Rent a Car is a decent company with reliable cars.
Related:
Looking for a
party hostel in Rio
,
Sao Paulo
,
Lima
, or
Buenos Aires
?
Traveling alone through
Argentina
?