Valparaiso On a Budget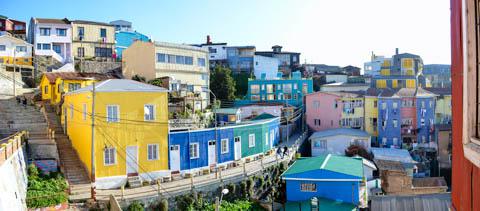 Valparaiso, often referred to as Valpo, is an attractive city on the Pacific Coast in Chile. The city has a population of about 300,000 and is only 120 kilometers west of Santiago. The city's main industries aside from tourism include shipping and petroleum refining.
Valparaiso is popular with travelers because of its bohemian culture and brightly colored homes. It also offers some wonderful views of the Pacific Ocean. Although the city is short on specific sights, the atmosphere and beautiful setting make it a wonderful place to visit.
Valparaiso has a mild Mediterranean climate that is comparable to San Francisco or Santa Barbara. The summer is dry but fog is common year around. Rain can be heavy during the winter season and snow falls occasionally in the highest parts of the city. Winds can also be strong during the winter months.
Sights
While the city itself does not actually have a lot of specific sights, the true appeal of Valparaiso comes from wandering through the hilly streets and enjoying this beautiful city's atmosphere. With its popular bohemian culture, you will also find no shortage of art events and a lively nightlife.
While you don't really go to Valparaiso for the specific sights, there are a few places that are worth checking out. Particularly noteworthy are Cerro Cordillera, Cerros Alegre and Concepcion, and La Matriz Church as well as the surrounding neighborhoods.
Neighborhoods
Valparaiso is a major city and seaport in Chile. It's the second largest metropolitan area in the country. There are many hills to the city which create many of its neighborhoods. One of the most notable neighborhoods in the city is Cerro Concepcion. This neighborhood is 500 years old and has narrow cobblestone streets with many shops and restaurants. Cerro Bellavista is a residential and artistic area with many beautiful murals. Cerro Aritlleria has museums and monuments worth visiting. Cerro Santo Domingo is best visited on Sunday mornings when there is a Mass at the 16th century chapel. Cerro Cordillera is the site of Chile's first astronomical observatory. Cerro Alegre is a beautiful neighborhood that once was used as the backdrop for a Chilean soap opera. It's also one of the best areas to walk around town. Cerro Paneon has three ridgetop cemeteries. Cerro Bellavista has the open air museum, and Cerro Baron is where you'll find Iglesia San Francisco.
Activities
A must-do while you're in Valparaiso is to go on the ascensores (inclines). They cost less than a US dollar and are a unique and fun part of the city's character.
Another fun activity in Valparaiso is the annual carnival, which is held the last week of the year. It's usually themed around a different country every year and there are performers, musicians and artists that represent the culture of that country. It's a cheap event to attend, as most activities are outdoors and free. The end of the celebration is on new years and the festivities are concluded with a breathtaking fireworks display. If you do plan to be in town during carnival, you must realize that most hotels and facilities will be at capacity. It is essential that you make reservations well in advance and you will likely pay a marked up price.
Food and Dining
There are a variety of local specialties in Valparaiso. You shouldn't leave town without trying the chorrillana, which is made with french fries that are covered with steak, onion and fried eggs. The most famous place to try it is J Cruz.
If you're looking for fresh seafood, it can be found in many places around town, but the most popular area is near the muelle, or wharf. For international food, head to Vina del Mar where you'll find Thai, Mexcian, and Argentine restaurants.
For a quick and cheap snack you can pick up bread at any of the countless bakeries, or grab an empanada almost anywhere.
Transportation
There are a handful of ways to travel around Valparaiso. A convenient option is colectivos, which are taxis that run along set routes. They are colored black with yellow roofs. Alternatively, micros are operated by Transporte Metropolitano Valparaiso and follow set routes around town and into the surrounding areas. More recently, Valparaiso has added a light-rail system that runs parallel to the coastline. It begins at the port and travels past some of the more interesting sights around town. While it is more expensive than colectivos and buses, it is a convenient and efficient alternative.
Related:
Looking for a
party hostel in Rio
,
Sao Paulo
,
Lima
, or
Buenos Aires
?
Traveling alone through
Argentina
?