La Serena On a Budget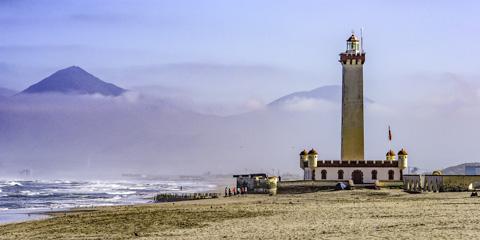 La Serena is a charming town in Northern Chile. It is Chile's second-oldest city and the thriving capital of Region IV. With its beautiful architecture, its long golden shoreline, dignified stone churches, tree-shaded avenues and pretty plazas, La Serena has everything you could ask for!
Chileans on holidays flood in the city in January and February, though it is fairly peaceful outside the summer rush. Some of the city's architecture is from the colonial era, but most is actually neocolonial thanks to president Gabriel Gonzalez Videla, born in La Serena, and her 'Plan Serena' of the late 1940s.
Sights
If you come in the spring or summer, visit the beaches of La Serena. The beach in La Serena is a long strip of soft sand about a 40 minute walk from the center. You can also take the public bus to get there. Walk down the long Avenida del Mar to choose where to lay down your towel or go shopping at Recova, the most famous market in the area, which includes an amazing arts and crafts fair. La Serena's central beach is named Playa El Faro due to its iconic lighthouse (faro), which is not operational but is open for visitors to climb to the top. Renting a mountain bike in La Serena and cruising down the beach makes for a great day trip. As you walk around the city, start counting every church you pass by. There are said to be 29 churches in La Serena alone. The ones worth visiting are found downtown including Iglesia Cathedral, the main cathedral on the central square, Iglesia Santo Domingo with its unique bell tower, and Iglesia San Francisco, which was built in the early 1600s, making it La Serena's oldest church. La Serena also has numerous attractions in the surrounding countryside, with pretty villages and pisco vineyards aplenty. If you enjoy guided tours, head to the Elqui Valley. This might be the highlight of your trip to La Serena. Just over the dry coast sits this lush and spectacular valley. You can also visit a pisco distillery and a colourful market town with a day tour for USD$30 per person. There are also a number of national parks in the area, and depending on the season they can be bursting with wildlife. The most popular trip is to Fray Jorge National Park, a UNESCO Biosphere reserve, due to its abundance of woodland and consequent ecosystem. The highlight is the cloud forest, which is quite a contrast from the semi-arid desert that visitors pass through on the drive from La Serena. For a shorter but perfect break from the usual bustling atmosphere of La Serena, head to the Jardin del Corazon, a quiet oasis in the form of a Japanese garden, also known as the Kokoro No Niwa garden. It was created as a symbol of the cooperation between Chilean and Japanese businesses that operated in the region's mining industry.
Activities
La Serena offers a wealth of attractions for visitors. Just a short bus ride down the beach to the south from La Serena is the rough and tumble town of Coquimbo. This is the center of activity during the day for most tourists. The old fort sits out at the point and makes for a nice stop, other places worth visiting are the fish markets, Cruz del Tercer Milenio, and Barrio Ingles which explodes in activity at night as the bar district in town. You can also check out the Collowara Observatory, one of the best places in the world for stargazing. In fact most scientists have been on a waiting list for years to use one of the observatories that take advantage of the region's exceptional atmospheric conditions and clear skies. One of the observatories has been built for tourism, and makes for a great night excursion. Most trips leave between 7-9 depending on the time of year, and last about 4 hours. La Serena's main history museum is named after Serena-born Chile's president from 1946 to 1952, Gonzalez Videla. The exhibitions don't really cover his own history, but the museum is full of other historic artifacts as well as some modern art. The building itself is in the old house of Gonzalez Videla, an 18th century mansion which is an artifact in itself. It is also handily located on Plaza de Armas, and admission is free. The numerous beaches around La Serena provide plenty of places for visitors to indulge in some water sport activities, such as surfing and windsurfing. There are plenty of small local businesses along the beachfront offering equipment rentals or lessons. If Playa El Faro is a little too busy and you are looking for a calmer and more peaceful experience, Playa Tongoy and Playa Totoralillo are great alternatives. A couple of hours drive away from La Serena is Punta de Choros, where you will find an array of marine wildlife, including dolphins, sea lions, whales, and Humboldt penguins; the perfect destination for a day trip!
Food and Dining
The local food is a pleasure you can't miss. For the best seafood head down to the coast where there's a number of good restaurants. On Avenida del Mar, the road running all along the beachfront, there are many of La Serena's restaurants and bars with an architecture quite different from the old quarter and specifically designed for tourism.
Transportation
Buses from several companies including Pullman Bus, TurBus and Flota Barrios, leave every day at every hour from Santiago de Chile to La Serena. The trip takes 7 to 8 hours and you will be able to choose between regular buses, semi-cama (semi-bed option) or the first class salon-cama. Prices vary greatly depending on the season and the type of seat you choose. You can also reach La Serena by plane. LAN flies five times from Sunday to Friday and four times on Saturday from Santiago de Chile to La Serena with a flight duration of about 1 hour. A ticket costs around USD$100 return. There are also daily flights from Antofagasta. On Saturdays there is one flight from Copiapo and Calama. Sky Airline flies three times daily from Santiago de Chile and Antofagasta.