Valdivia On a Budget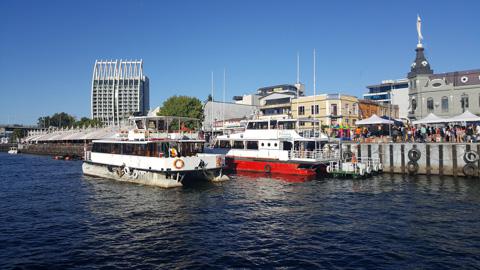 Valdivia is a vibrant university city situated in southern Chile. It sits at the meeting point of three rivers in the aptly named Region de Los Rios (The Rivers Region) and is approximately 200 kilometers from both Temuco and Puerto Montt. Due to a large student population, Valdivia boasts a youthful and energetic vibe that is visible in its many bars, cafes and restaurants. The city is also known for having one of Chile's best craft beer cultures, which had its early beginnings when German settlers arrived in the 1840s. The rivers, nearby Pacific coastline and wetlands offer plenty for lovers of the outdoors, too.
Sights
Start your tour of Valdivia with a leisurely stroll around the picturesque historic center, which spreads back from the southern shores of Calle-Calle River. There's many free sights to see in the area. Plaza de la Republic, overlooked by the modern Catedral de Valdivia, is the main square and a social gathering point for locals. Snap photos of Torreon de los Canelos and Torreon del Barro, two defensive towers that date back to 1600s and 1700s respectively. Iglesia San Francisco de Valdivia is the city's oldest surviving monument and has amazingly resisted three earthquakes since building started in 1586. For something different, the Museo Naval Submarino O'Brien presents the chance to step aboard a military submarine. It's open from Tuesday to Sunday and the admission fee is about US$5. Another place worth checking out is the free Centro Cultural El Austral, set inside an historic house. The lower floor is set up to represent how the house looked in the 19th century and the upper floor has traveling art exhibitions.
Across the river from the city center is Teja Island, where you'll find Parque Prochelle. A walking trail runs along the park's riverfront and then weaves inland to a wetland area called Laguna de Lotos. Glimpse into the multi-ethnic heritage of the Valdivia region at the Museo Historico y Antropologico Mauricio Van de Maele (US$2.50/adults and US$0.50/children). The museum has exhibits from pre-Colombian times and highlights everything from the Mapuche tribespeople to German immigration. Adjacent to here is the Museo de Arte Contemporaneo (US$2.50/adults and US$0.50/children). It puts on rotating exhibitions of works by South and Central American artists such as Mario Carreno and Nemesio Antunez.
Activities
Partake in a traditional city pastime by going for a relaxed walk along the waterfront promenade Costanera Arturo Prat. Here it's common to see a colony of sea lions basking on the banks and boat jetties. To get an alternative perspective of the city you can take a ferry cruise from the piers. Some tours take in the city sights while others continue on the Valdivia River to the pretty fort town of Corral. Back on the dry land, the Jardin Botanico UACh is another great free activity. Visitors of all ages will have fun walking amid tall trees in an arboretum and spotting collections of brightly colored exotic plants.
Beer enthusiasts should definitely set aside time for a guided tour of the Kunstmann Brewery. There's two tours to choose from and both include samples of beers brewed onsite. The Experiencia Kunstmann (US$17, 50 minutes) retraces the brewery's German history and evolution. The Experiencia Elaboracion (US$25, 90 minutes) follows every step of the brewing process from fermentation to drinking. In September the brewery sponsors the Bierfest (from US$7.50/day), a celebration of beer, food and German culture. This is just one of many annual
events in Valdivia
. Also in February is La Noche Valdiviana, a free event with riverboat parades, firework displays and street performers. The parades are a particular highlight as you can observe fishing boats and passenger ferries decorated flamboyantly by the owners. If music is your thing then you can attend performances by national and international acts at November's Fluvial music festival. FICValdivia is an international film festival held in October and regarded among the most important of its kind in Latin America.
Food and Dining
Restaurants ranging from fine dining options to family-friendly fast food joints abound in the city center and on the Costanera Arturo Prat. The city's riverside setting means that fish dishes dominate the menus. Don't miss the bustling fresh produce market called Feria Fluvial. Market vendors set up stalls every day with fruits and vegetables, meats and copious amounts of fish and seafood to create a sensory overload. Within the market are food stands that serve bowls of ceviche to go at affordable prices. A typical dish of the city is a German-Chilean fusion called crudo. It is raw beef (similar to the French steak tartare) served on bread and topped with lemon juice, onion and a mayonnaise-type dressing. You'll find it on the menu of almost every cafe and restaurant. Wash it all down with a locally-brewed Kunstmann beer or brews from other cervecerias such as Calle-Calle, Cuello Negro and Valtor. Staying on the drinking theme, many places serve chicha, a fermented alcoholic beverage made from maize. The Valdivian version - chicha de manzana - originates in the nearby town of Punucapa and is blended with apples to produce a cider-style drink. It's common to drink chicha during September's Fiestas Patrias festival of Chilean independence.
Transportation
Aerodromo Pichoy is the city's main airport and is located 32 kilometers to the north. Direct flights connect on a daily basis with Santiago via JetSmart, Latam Airlines and Sky Airline. For other destinations, including Punta Arenas and Puerto Montt, you need to fly via Santiago. Shuttle buses travel regularly between the city and airport for around US$10. An alternate way to get here from Santiago is to take a 10-hour bus ride for US$23. If you ride on the overnight service then you can save yourself the cost of one night at a hotel. The buses have reclining seats, toilet facilities and serve drinks, snacks and meals. There's also an overnight service to
San Carlos de Bariloche, in Argentina
. Getting here by car is relatively easy as the route follows a section of the Pan-American Highway (Ruta 5) through central Chile. Those with a car can travel the well-maintain roads out of the city to the beach towns of Niebla and Pilolcura plus the Reserva Costera Valdiviana.