Pucon On a Budget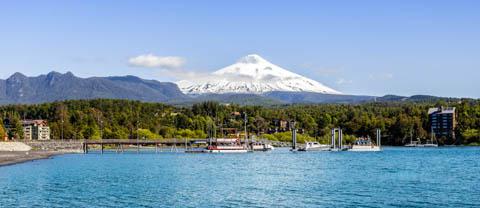 A popular hub for adventure tourism, Pucon is a town in the Lake District of the South American nation of Chile. Located on Lake Villarirca with the snowcapped Villarrica volcano looming above and plenty of forested valleys below, the town has become a home base year-round for a full range of outdoor activities.
Check out our ultimate guide to
Traveling in Patagonia
.
Sights
While the town itself sits on the shores of the beautiful Lago Villarrica, it is the Volcan Villarrica, one of the most active volcanoes in Chile, which serves as the region's true centerpiece. Its snowcapped peaks shadow the backdrop of the town's not-so-far horizon attracting adventurers from all over looking to take on the simmering giant. In the summer season, the main beach, La Poza, is packed with tourists soaking up the sun, swimming, and diving into watersports on Lake Villarrica. Its black sands offer a unique setting, black from its volcanic surroundings sinking down into the blue depths of the lake. Also due to the presence of the volcano, Pucon is in the vicinity of a few notable hot springs like Termas Geometricas where visitors can take a dip and soak in the healing properties of the steaming pools. Other nearby springs include the Termas Los Pozones and the Termas Rio Trancura.
Amongst the outlying valleys, you will also find a network of cascading waterfalls and brooks meandering through thick forested trails. Huerquehue National Park is especially popular, with enchanting trails that open up into a number of scenic viewpoints overlooking the mountainous terrain surrounding Pucon.
Neighborhoods
After a long day of outdoor activities, many visitors enjoyed Pucon's nightlife, drinking and partying through the town's bars and restaurants. The wide, tree-lined streets are arranged in a compact grid pattern with easy access to just about everything on foot. Most tour companies, supermarkets, banks, and bars located along bustling Avenida O'Higgins, which bisects the town. The street is also surrounded by a range of restaurants and guesthouses, ending down by La Poza-one of the town's more popular black sand beaches on the shores of Lake Villarrica. At the northern end of town is another popular beach, Playa Grande, which has plenty of opportunities to rent watersports gear like jet skis and rowing boats.
Activities
Each November to April season brings scores of outdoor enthusiasts-hikers, climbers, whitewater rafters, and mountain bikers-looking to climb Volcan Villarrica, brave the Rio Trancura rapids, or hike in the remote forested areas of the nearby National Parks. A hike through Huerquehue National Park will bring you past waterfalls, gurgling brooks, and scenic viewpoints overlooking volcanoes and Andean peaks. Whitewater rafting and kayaking are popular especially in the in the glacier-fed Trancura River, while horseback riding offers a more leisurely activity with opportunities to ride through local Mapuche settlements. Other activities include fishing, exploring volcanic caves, visiting hot springs, mountain biking, and hopping on guided tours, plus skiing and snowboarding on Villarrica open May to October.
Food and Dining
The people of Chile are a mostly a mix of Mapuche and Spanish, with a cuisine influenced by both. Merquen or merken, is commonly used throughout Chilean cooking-essentially a dried and smoked chile, pulverized into a spicy salt. In the Lakes District, where Pucan is located, there is also a strong German presence in cooking with strudel and also kuchen, a type of fruit-filled pastry with custard. A place called Kuchenladen in Pucon specializes in the European pastries. Another common dish is pastel de choclo-a giant, baked wedge of corn pudding on top of a savory mix of olives, raisins, and cooked eggs, plus ground beef and some pulled chicken. Locals often sprinkle it with merken and sugar. Some of the top restaurants in town include Bovinos Carnes y Vinos, La Maga, Fiorentini, and Trawen. With plenty of fertile valleys, there is also an abundance of great wine with local vintages including carmenère, merlot, and syrah.
Transportation
By plane, Pucon's airport only operates in the summer months from Santiago de Chile. The next nearest airport for the rest of the year is La Araucania International Airport located 20 kilometers south of the city of Temuco.
There are also buses operating between Santiago and Pucon daily with many overnight trips. Tickets are scarce in the summer so it is important to book ahead of time. You can also take a bus from Valdivia which takes about 3 hours.
Though buses are the most economical way to reach Pucon, there are also trains to Temuco in the summer, and to Chilian the rest of the year.
Related:
Looking for a
party hostel in Rio
,
Sao Paulo
,
Lima
, or
Buenos Aires
?
Traveling alone through
Argentina
?