Dali On a Budget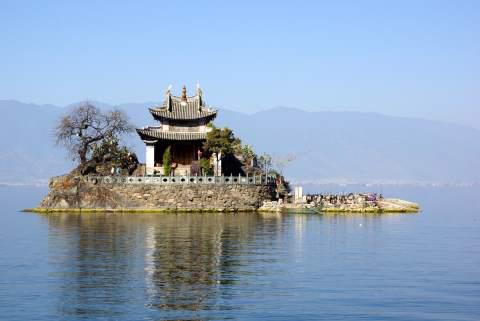 Dali is a city in southern China with a long and glorious history dating back to the Ming Dynasty (1368-1644). The Xiaguan neighborhood of the city is the modern industrial center where most public transportation arrives; however, the Old Town of Dali is the place that draws the most visitors. Being one of China's ancient cities, Dali is said to have been a gateway to the Silk Road, and still attracts attention with its traditional architecture, beautiful scenery, ethnic cultures, and nightlife.
Sights
Two of the most enchanting sights of the city exist in the surrounding scenery of the Cangshan Mountains and Erhai Lake. The mountain range is composed of nineteen snow-covered peaks running north to south. A system of streams runs between the peaks, down the valley, and into Erhai Lake at the foot of the mountains. With silver gray peaks looming above the jade waters of the lake, it has become a first choice destination for visitors.
The Dali ancient city is, of course, another sight in itself with examples of traditional architecture and cultural lifestyle. But it is just the beginning of manmade wonders in the region. Temples, folk houses, and workshops pay homage to the simple life of native culture, while a sight like the Three Pagodas stands to symbolize something much larger. The three towering structures stand in a symmetrical triangle just one kilometer northwest of the ancient city. Many sculptures of Buddha made of gold, silver, wood or crystal, Buddhist readings, and more than 600 various medicinal ingredients were found in one pagoda, playing a large role in explaining the ancient history of Dali. Dating back to the Tang Dynasty (618-907), the Three Pagodas have stood the test of time and many earthquakes throughout the ages.
Neighborhoods
The Dali Ancient City, or Old Town, is the most popular hub of activity for visitors. Dating back to the early Ming Dynasty is has been ranked as one of the most noted historical and cultural cities in China. Huoguo Road, or Foreigner Street, is the central thoroughfare which is most frequented by tourists. From here the opportunity to explore is abundant with traditional architecture, heritage sites, local food and handicrafts, as well as plenty of cafes, bars, and restaurants. The streets are paved with cobble and lined with traditional folk houses, temples, and workshops of the Bai ethnic minority. Much of the architecture is decorated with grey-green roof tiles, woodcarvings, colored patterns, as well as marble and wash drawings.
More examples of the Bai lifestyle and architecture can be seen at Yan's Compound in Xizhou. It is located about 13 kilometers from Dali City and exists as a beautiful example of the Bai architectural talents. Adorned with elaborate calligraphy and paintings, Yan's Compound is a unique example of how every detail plays a deeper role of symbolism and meaning in the daily life of the Bai people.
Activities
The beautiful scenery and cultural heritage of the region is enough to occupy days of exploring whether it be by a casual walk, hiking, biking, or a scenic drive. In addition to the Cangshan Mountains and Erhai Lake, a place called Butterfly Spring exists as another natural gem of Dali. About 25 miles north of the city, it is an area with a pool, dense foliage, and an ancient tree whose floral scent attracts thousands of butterflies as spring turns to summer. The phenomenon has even given rise to a local festival of the Bai people, held annually beneath the tree on April 15th.
If you prefer to learn more about the culture and history of the area, Dali also has a few museums that never fail to impress. The Dali Bai Autonomous Prefecture Museum, for example, works to display Dali's over 4,000-year history by conducting cultural relic research, excavations, collecting, and exhibiting. The museum itself is an impressive architectural example of traditional rooms and courtyards. The Dali Municipal Museum is another historic highlight, existing within the renovated mansion of Du Wenxiu who led an ethnic minority revolt against the Qing dynasty in 1856. The museum exhibits the mansion itself (restored to its former glory) in addition to relics of local culture.
Food and Dining
The city of Dali, though inhabited by the Bai culture, is a melting pot for cultural cuisine in the Yunnan province. A few of the main local dishes include things like Stewed Carp Casserole and Steamed Chicken, both made with a variety of Chinese herbs and seasonings. Dairy fans are a popular pancake-like snack made with milk and yogurt, Ba Ba is a savory snack made from wheat flour, onions, and ham, while Er Kuai exists as one of the more conventional rice-based dishes. The rice is first washed, soaked, stewed and then mashed into a paste, before being molded into various lumps, slices and shreds. It is usually grilled over burning charcoals with a sugar, walnut, or sesame filling. Tea is another staple, often served ceremoniously in three courses-one bitter, one sweet, and one fragrant.
Most of Dali's highly-recommended restaurants are located on Foreigner Street of Dali Ancient City. Some of the local hot spots include A Da Yin Restaurant or Xinghua Village Restaurant, while more western dining options can be found in various cafes, pizzerias, and fast food chains around the city.
Transportation
Dali (Huangcaoba) Airport is located on the southeast bank of Erhai Lake. Flights from here connect the city with many destinations such as Beijing, Shanghai, Kunming, Xishuangbanna, Tianjin, Chengdu, Chongqing, Guiyang and Guangzhou.
By train, Dali Railway Station is about 12 miles (19 km) from Dali Ancient City. Trains run to Kunming, Lijiang, and some other nearby places.
By long distance bus, the Dali Bus Station is the largest and operates bus lines to Kunming and Lijiang, as well as cities in other provinces, such as Panzhihua in Sichuan and Putian in Fujian.
By local bus, there are many stops on nearly every corner of the city. Most scenic spots and tourist destinations can be reached by bus. Taxis and bicycle rentals are also available.
Related:
Looking for a
hostel in China
?
Traveling alone to
Beijing
or
Hong Kong
or want to party in
Shanghai
?