Yunnan On a Budget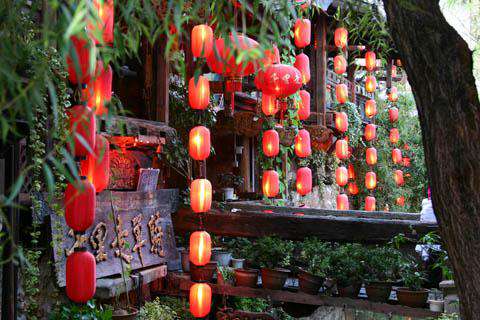 Located in southwestern China, Yunnan is a province known for its large number of ethnic minorities as well as its varied landscape from snow-capped mountains and rice terraces to lakes and deep gorges. It is also one of the most diverse provinces in China with the Northwest being heavily influenced by Tibet and the South being influenced by the cultures of Laos and Burma.
Sights
The sights of Yunnan Province are many and varied. Starting with the natural landmarks, one of the most popular is the stone forest of Shilin National Park near Kunming. Exhibiting unique karst topography, the cropping of large stones is listed as an UNESCO World Heritage Site. Other notable natural sights include Jade Dragon Snow Mountain, Tiger Leaping Gorge, Cangshan Mountain, and Lugu Lake.
If its culture you seek, Yunnan is the most diverse province of China. Good places to immerse yourself in some of Yunnan's ethnic gems are the historic districts of the province. One such place is the Dali Ancient City, or Old Town, dating back to the early Ming Dynasty and ranking as one of the most noted historical and cultural cities in China. Huoguo Road, or Foreigner Street, is the central thoroughfare which is most frequented by tourists. From here the opportunity to explore is abundant with traditional architecture, heritage sites, local food and handicrafts, as well as plenty of cafes, bars, and restaurants. The streets are paved with cobble and lined with traditional folk houses, temples, and workshops of the Bai ethnic minority. Much of the architecture is decorated with grey-green roof tiles, woodcarvings, colored patterns, as well as marble and wash drawings. Other cultural hubs like this can be found in Lijiang, Heshun, and Guandu.
Throughout the province, you are also bound to come across beautiful architecture both new and traditional. Temples and pagodas can be found in just about any city, usually painted brightly in reds and golds.
Regions
Yunnan covers a large area with varying landscapes, cities, towns, and communities. Kunming Prefecture is the heart of the province, with Kunming city being its capital. It is the main point of entry for most visitors with a good variety of accommodations and places to eat. Central Yunnan is west of Kunming with rugged hills that are popular with backpackers. The city of Dali is also located here. Eastern Yunnan is full of rolling hills and plateaus, while Southeastern Yunnan is extremely diverse with a mix of arid badlands, lush pine forests, barren hills, rice terraces, and tropical rainforests. The urban centers of the southeast are very compact and easy to get from one to the next, with Yuxi being the largest. Southern Yunnan is culturally and ethnically more a part of Southeast Asia, serving as a tropical escape where many Chinese residents flee from winter, while Western Yunnan is very rugged and former home of the famous Burma Road. And finally, there is Northwestern Yunnan which offers a sampling of Tibet in towering mountains and local culture.
Activities
While in Yunnan, visitors have access to a full range of activities from hiking, backpacking, and camping in the rugged hills and swimming in pristine lakes to dining, shopping, touring, and entertainment in the cultural hubs and cities of the province. Just about any of the larger cities even have tours available for the visitors who prefer a more guided experience of Yunnan's sights and cultures. The province of Yunnan promises a spread of opportunities as many and varied as the people who inhabit the place itself.
Food and Dining
The people of Yunnan are accustomed to cooking and eating very spicy food. Beyond this, each area of the province has its specialties, for example, Shi Ping County is known for its tofu while Xinping County is known for its sauerkraut. Guo Qiao Mi Xian, a favorite throughout the province, is a local style of steamy noodles with a variety of vegetables, meats, and usually a raw quail egg. Another common specialty is RuBing, or Yunnan goat cheese, which is soft and usually served fried with vegetables, mushrooms, or meat. LaoNaiYangYu, or Grandmother's Potatoes, are also a Yunnan favorite, a kind of spicy mashed potato with green onions, as is SuHongDou which is a kind of deep fried kidney bean dish. Each city of Yunnan will have a variety of places to eat from sit down restaurants to street food. A few of the more frequented hubs include Kunming, Dali, and Lijiang.
Transportation
By plane, Kunming Changshui International Airport is the newest airport of the province, located about 22 kilometers from the urban center of Kunming. There are a number of transfer buses available at the airport for taking visitors to hotels and passenger terminals in the downtown area. The airport provides non-stop service from Beijing, Xiamen, and other Chinese cities. There are also flights to Southeast Asia to places including Seoul, Hanoi, Bangkok, Vientiane, Mandalay, Yangon, and Dhaka.
Within the province, Kunming is the hub of train transport in Yunnan. Day and night trains now go both to Dali and Lijiang. Buses are also widely available from Kunming to just about every place in Yunnan.
Related:
Looking for a
hostel in China
?
Traveling alone to
Beijing
or
Hong Kong
or want to party in
Shanghai
?