Lijiang On a Budget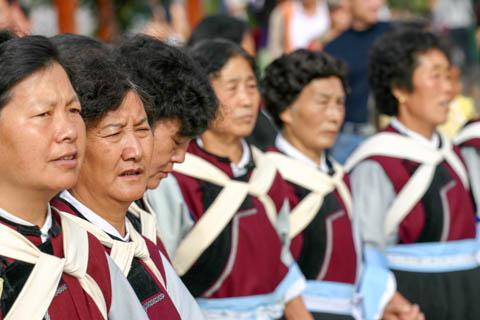 Lijiang is a city in Southwestern China with a history of rule under the Mu family during the Ming and Qing dynasties. It played a key role along the Ancient Southern Silk Road, which started from Burma, crossed Lijiang, Shangri-La County, Tibet, journeyed through Iran, the Fertile Crescent, and ultimately to the Mediterranean Sea. The area was once a center for trade, politics, culture, and education, which is still evident in the rich culture seen today. Lijiang has also been the home of centuries to the Naxi people who still inhabit the area.
Sights
Some of the most inspiring sights of Lijiang exist in the natural scenery of the surrounding area. The looming presence of Jade Dragon Snow Mountain, for example, has long influenced Naxi legend and holy beliefs. Its 13 snow-covered peaks are a sanctuary for rare animals and wild plants as well as a famous scenic spot for visitors. Lashi Lake, on the southern slope of the Jade Dragon Snow Mountain, is another beautiful site of the region. Being a part of the Lijiang-Lashihai Plateau Wetland Nature Reserve, it is paradise for migrant birds. It is also the origin for the Ancient Tea and Horse Road, an important trading route that visitors can experience on horseback. The sweeping fields of the Spruce Plateau also sit at the base of the mountain. Surrounded by woodland, the meadow is quiet and beautiful and frequented by wildlife like yak, scalpers, and goats. The plateau is regarded by the Naxi people as an entrance to the heaven of the heart, a place where people can love and be together freely.
Neighborhoods
Lijiang Old Town is a well-preserved ancient city of thriving culture. Named a UNESCO Heritage Site in 1997, the town has become a famous tourist attraction for seeing ethnic culture and customs, charming architecture, and beautiful natural views. Dating back more than 800 years, built amongst strong mountains and flowing rivers, Lijiang Old Town was once the political, cultural, and educational center with a very important role in trading activities of the area. Remnants of this past are still evident in its diverse market of handicrafts, decorative gardens, and traditional houses. Square Street (or Sifangjie) marks the center of town with four main streets branching in outward directions. The roads are paved in local bluestones with many winding lanes throughout. With a livelihood that depends highly on water, there are also aqueducts through town that allow willow trees to flourish.
If you prefer a quieter cultural experience, Baisha Village is about 4.9 miles (8km) to the north of Lijiang Old Town at the foot of the Jade Dragon Snow Mountain. Less commercialized than the Old Town, here you can experience the peaceful daily life of the Naxi people. Shuhe Ancient Town is also an important site of Lijiang as it is a well-preserved example of a town along the ancient tea route and one of the earliest settlements of the ancestors of Naxi people.
Activities
With all of the natural features surrounding Lijiang, there is much opportunity for outdoor activity. In addition to being a popular scenic spot, the Jade Dragon Snow Mountain is also a locus for mountaineering, skiing, exploration, and scientific research. Lashi Lake is also a great spot for sightseeing, spying birds and other wildlife by boating across its surface. With mountains, lakes, plateaus, and even parks throughout the city, Lijiang is an ancient site built in reverence for the surrounding nature.
On the cultural side of things for food, shopping, entertainment, and otherwise, any of Lijiang's towns and villages have much to offer. Old Town especially serves as a commercial center for visitors with plenty of options for sampling traditional cuisine, busy markets with local handicrafts, as well as architectural gems of the Naxi people. Their captivating culture is also known to display talents in poetry, calligraphy, painting, and music. There are many dancing and musical performance held throughout the city, one of the most popular being the Lijiang Impressions Show. Impression Lijiang is a magnificent outdoor singing and dancing performance demonstrating the tradition and lifestyle of the local ethnic people. With the Jade Dragon Snow Mountain as the backdrop, the performance displays ethnic costumes and accessories along with singing, dancing, horse riding, and drumming. Held twice a day, the performance is a cultural experience not to be missed.
Food and Dining
Local dishes consist of traditional cuisine of the Naxi people. Jidou Liangfen (a kind of jelly made from chick pea) is one of the favorite snacks of locals, as is Baba, a kind of fried potato cake that is eaten with seasoning. Others such as Bingfenliangxiao (a tasty and refreshing dessert) and butter tea are also popular with visitors. The Naxi people also have a banquet of 39 courses to entertain distinguished guests. A banquet such as this and other traditional fare can be found at Rongpo Restaurant, located in Xinhua Street in the Old Town. Square Street is also an ideal location for sampling the local snacks. Some popular restaurants include Hua Hua Shen Restaurant, Naxi Yinshi Wenhua Cheng (Naxi Food and Culture City) which also features dancing and singing, traditional Muslim food at Ha's Beef Restaurant in Old Town, and western cuisine at the Lijiang Guanfang Hotel or Mamafu's Restaurant.
Transportation
Lijiang Airport is located in the south of Lijiang city, 28 km (17 mi) away from downtown. There is an airport shuttle bus service in downtown Lijiang. Flights go to Kunming, Chengdu, Xishuangbanna, Beijing, Shanghai, Guangzhou, Wuhan, Shenzhen, Xiamen via Chongqing and Guiyang.
By train, Lijiang Railway Station is currently the second largest train station in Yunnan after Kunming Railway Station. The station mainly operates trains to and from Kunming and Dali.
There are long distance bus services to Kunming (8 hrs), Dali (3 hrs), the Tiger Leaping Gorge, Shangri-La, Lugu Lake, Panzhihua, Ninglang, and Huaping. A local bus system also services most areas of the city.
Bicycle rentals and taxis are also popular.
Related:
Looking for a
hostel in China
?
Traveling alone to
Beijing
or
Hong Kong
or want to party in
Shanghai
?