Shangri-La On a Budget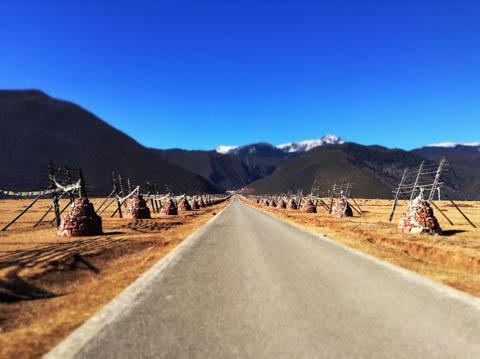 The original Shangri-La existed in the fictional world of James Hilton's novel "The Lost Horizon." It was a hidden paradise, a place so beautiful that it couldn't possibly exist on earth. The Shangri-La that exists in Yunnan, China today was renamed from its former title
Zhongdian
in 2001 in order to associate the place with the mystical allure created in Hilton's novel. Visitors come to admire the traditional monasteries and temples set against a backdrop of mountain preserves and pristine lakes.
Sights
Songzanlin Monastery, located at the top of a hill surrounded by Shangri-La, is one of the most impressive in the city. It has undergone many restorations with multiple temples, traditional artwork, prayers wheels, and beautiful scenic views of the city and surrounding mountains. Baiji Temple, also known as the 100 Chicken Temple, is another quaint spot located on a hill behind the old town. And then there is the Golden Temple at the center of Old Town, made up of three temple buildings and famous for housing the world's largest prayer drum.
The Pudacuo or Potatso National Park is another great place to see if you are looking to experience the natural wonders of Shangri-La. The first national park in mainland China, Padacuo mainly comprises of the Bitahai and the Shuduhu Lakes as well as the Militang Pastures. Being a part of an UNESCO World Heritage Site, the environment of the park is very well-preserved with mountains, marshes, lakes, forests, brooks, springs, and rare fauna and flora. All popular spots are connected by planked walkways, boats, and buses for the convenience of visitors.
Neighborhoods
Shangri-La has both a modern city-like area as well as an old historic district, with Tuanjie Street as the border between the two. Though much of Old Town was destroyed by fire in 2014, there are still plenty of charming streets to explore. With a history dating back over a millennium, most of the buildings here exhibit Tibetan architecture with bold white, dazzling gold, and striking reds. There are a number of temples and monasteries to explore as well as dancing performances in the main square every evening. If you are interested in getting a closer look at the traditional life of the region, there are a number of small Tibetan villages on the outskirts of Shangri-La definitely worth a visit. Nixi Tibetan Village, for example, carries on the Tibetan tradition of crafting pottery. Located just 30 kilometers north of the city, the village offers opportunities to visit the master potters and learn the craft yourself, enjoy lunch in a traditional home, and enjoy the scenery surrounding the village.
Activities
Within the city of Shangri-La most visitors spend their days sight-seeing, frequenting the cobbled streets of Old Town, and exploring important temples and monasteries. However, there are many activities surrounding the city as well with a countryside perfect for ventures in hiking, mountain biking, skiing, and horseback riding. Napa Lake, in the grasslands to the west of Old Town, is a popular place for some of these activities, as are the surrounding mountains and the National Park mentioned above. Tours of the city, as well as outdoor adventure kind (via hiking and backpacking trips) are also available for those visitors seeking a more guided experience.
Food and Dining
Shangri-La's population is composed largely of Tibetans together with many ethnic minorities of the region. This makes for a mix of traditional foods available throughout the city. Some of the local specialties include a kind of dough staple called Zanba, a preserved pork called Pipa Meat, Saimi Lamb, and Guoben Hot Pot which consists of ingredients like guoben, potatoes, cooked pork tripe, tofu, water-swollen rice sticks, cooked ham, black fungus, and Pipa pork. Yogurt is also common to the region as is yak butter tea, which can be served both sweet and salted. Zanba is usually eaten with the butter tea. Suolima is another local drink, a kind of Tibetan Liquor brewed with the highland barley. There are many options for dining near the Old Town plaza.
Transportation
The city is served by Diqing Shangri-La Airport with daily flights from from Kunming, Lhasa and Chongqing, as well as further connections to Chengdu and Guangzhou.
By bus, there are routes to Shangri-La from Daocheng, Lijiang, Dali, Kunming, Panzhihua, Deqin, as well as Lhasa, Chamdo, and Xiancheng.
By train, the nearest station is located in Lijiang. Most people fly into Kunming, then travel to Lijiang, and finally reach Shangri-La by long distance bus.
Once inside the city, the most popular way to navigate is by renting a mountain bike. Motorcycle rentals and public buses are also common.
Related:
Looking for a
hostel in China
?
Traveling alone to
Beijing
or
Hong Kong
or want to party in
Shanghai
?