Should you visit France or Ireland?
Both France and Ireland are popular tourist destinations in Europe. Each country has a lot to offer visitors, but both are also relatively expensive to visit, even by European standards.
France is slightly more expensive to visit than Ireland. It's most famous city is Paris, where visitors often spend anywhere from a few days to weeks. Paris has a lot to offer visitors in the form of history, architecture, culture, and cuisine. Paris is also an expensive city to visit, and although there are hostels and budget hotels around, prices are still quite high. Even so, France remains a favorite travel destination for budget travelers and students. If you're a backpacker or study abroad student, you likely won't have any problems meeting a network of other travelers.
Ireland is another beautiful country to visit. Although Ireland is slightly more affordable than France, it is still a very expensive country to visit, particularly if you rent a car. The beautiful Irish countryside is well worth exploring, but a lack of public transportation makes access to a private vehicle very important. Dublin is another popular destination in Ireland. It feels much smaller than Paris, but it's also more affordable. The Irish population is often noted to for their welcoming nature, so whether you're in Dublin or visiting a more rural area, it won't be hard to make a friend.
When is the best time to visit France and Ireland?

You can really visit France any time of the year, but some of the best times are during the fall and spring months. This is when the temperatures are most pleasant, the crowds a bit less, and prices are slightly cheaper. Like most of Europe, the summer months are the peak season for visitors. If you plan to visit France during this time, advanced reservations are recommended. The crowds can also be a bit overwhelming, particularly in the most touristy areas. The winter season is another beautiful time to explore the country, particularly during the holidays when the atmosphere takes on a special feel. There are sometimes off season discounts available, but in the larger cities the prices rarely drop.
Ireland is known for its unpredictable weather that can change several times within the same day. Regardless of when you visit the country, you should come prepared for rain. April, May, and June usually have the most sunshine and July and August are the warmest months to visit. The southeastern part of the country is also the sunniest. December and January often have the most rain, and the west coast is the dampest part of the country.
Why is France more expensive than Ireland?
Although the prices aren't dramatically different, France is slightly more expensive than Ireland. This is particularly true in cities like Paris and along the coast. Accommodation in France is generally more expensive than in Ireland and restaurants also cost a more in general. Most visitors to Ireland rent cars, which can be expensive, while it's possible to travel around France using public transportation.
Even though France is a bit more expensive than Ireland, there are often deals available in both countries. You can save money by traveling during the off season, making reservations well in advance, or getting a bit off the beaten path. Consider your travel style when choosing a country, as this can effect your budget as well.
What are the most expensive and cheapest cities and regions in France and Ireland?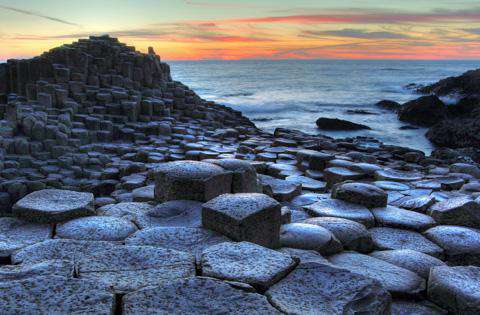 France is a popular tourist destination, and you can expect to pay the highest prices in the most touristy areas. In particular, Paris is an expensive city to visit. Accommodation, food, and entertainment are all expensive in Paris. Once you're in the countryside, prices may drop a little, but the coastal regions are also quite expensive, particularly during the peak summer months when the affordable places fill up quickly.
Ireland is a bit more affordable than France. Dublin, when compared to Paris, is a reasonably affordable city to visit. But once you're outside of the city, transportation can get expensive. There are limited public transportation options in Ireland so if you hope to visit the countryside, a rental car is essential.
How you can save money when visiting France and Ireland?
Find a place to stay that has a kitchen. Restaurants can be expensive so if you can cook your own meals, you'll likely save a lot of money.
Time your trip well. If you travel during the off peak times you'll likely find more affordable places to stay and discounts at different venues.
When possible, travel by bus. This is usually the cheapest way to get around.
Find accommodation in a central location. Whether you're visiting a larger city like Paris or Dublin, or a smaller town, having centrally located accommodation can save you a lot of time and money, even if the upfront cost is very expensive.