Should you visit Indonesia or Cambodia?
Indonesia and Cambodia are both on the typical route through Southeast Asia. They have travel costs that are fairly similar, although each country offers different activities and sights.
Indonesia is a relatively inexpensive destination known for beautiful tropical beaches, exotic jungles teeming with wildlife, and large urban areas full of culture and markets. Visitors to Indonesia are often surprised at the number of activities to do and places to visit, as once they step away from the beach, they find historic temples, eco-tourism adventures, jungle and mountain hiking, and more.
Cambodia, often known for the temples at Angkor in Siem Reap, is one of the poorest countries in the world. But this small nation is rich in culture, history, and cuisine. Extremely inexpensive for travelers, Cambodia offers an authentic glimpse into a rural and agricultural way of life alongside ancient and recent history.
When is the best time to visit Indonesia and Cambodia?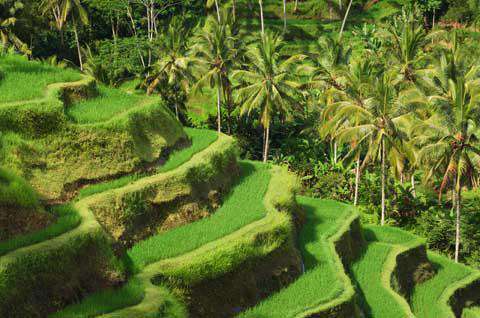 Much of Indonesia is very close to the equator and quite tropical. Therefore, the seasons are divided between wet and dry depending on seasonal winds. The dry season is from May to September, while the wet season is from October to April. A few places have an exception to this (such as Sumatra), but you can expect warm tropical temperatures everywhere in the country.
Cambodia is generally warm, with a wet season from May to October. While it may rain every day, the rain tends to come in bursts, so travelers need not worry so much about activities being rained out or having their trip ruined. However, sometimes the rains can wash out roads, making transportation difficult or more expensive in some regions. Otherwise, one can visit Cambodia year-round.
Why is Indonesia more expensive than Cambodia?
Indonesia's economy is growing, as it is the world's fourth most populated country. While the cost of living is generally cheap compared to other Asian nations, the large population means that demands for goods and services is on the rise. Imported goods from China, Australia, and other larger countries can be pricey, as can imported food. While budget travel options are very affordable, luxury services can get expensive, especially in more touristed areas such as Bali.
Cambodia is a mainly rural and agricultural nation with a few key tourist areas. Competition for the tourist dollar has generally brought down prices for accommodation and food, as locally owned businesses fight (sometimes quite hard) for attention. Public transportation is also fairly efficient, meaning that budget travelers can get to many places in Cambodia for a very low cost.
If you desire more luxury, then you'll generally need to pay more for better hotels, nicer restaurants, and more comfortable transport. However, the price of these luxuries is still reasonable and on par with the rest of the region.
What are the most expensive and cheapest cities and regions in Indonesia and Cambodia?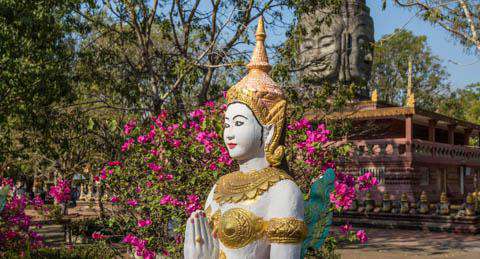 Tourism has driven up prices in some areas of Indonesia, namely Bali, Lombok, and some of the surrounding islands known for their beaches and scenery. If other travelers are flocking to an area, then expect prices to be higher.
In the larger cities of Indonesia, it's possible to find a wide range of accommodation, restaurants, and activities at a variety of prices. Budget hotels and hostels are often found not far from high-end luxury hotels. If you want luxury, you can expect to pay a fair amount more for it, but it is still usually of good value and quality.
The Siem Reap (temples of Angkor) region is by far the most visited, and therefore the most expensive area of Cambodia. These ancient temples are, after all, why you and millions of others are visiting Cambodia. Here, hotel prices are high if you want to travel in luxury. But heavy competition in the budget market leaves plenty of cheaper options for those wishing to stay in a basic room or hostel. The entrance ticket to the temple complex itself is quite hefty, and rises almost every year. Also, expect to pay for some sort of transportation or tour around the complex, as it is too massive to merely walk around in. Plenty of tuk-tuks are available and double as taxis and tour guides if you don't want to pay for a full on tour. If you're really on a budget, rent a bike and expect to get a lot of exercise.
Phnom Penh can also have some higher prices for hotels and food, but is also large enough to support plenty of budget options, too. The same is true for the beach areas.
In the countryside of both destinations prices can be very cheap, especially in off-the-beaten path locations.
How you can save money when visiting Indonesia and Cambodia?
Eat the street food. In Indonesia, small eateries known as "warungs" are everywhere in urban areas. They offer delicious food at a cheap price. Also, buying food at local markets is significantly cheaper than at restaurants or larger stores.
Flying between the islands of Indonesia can get expensive. Instead, pick just a few islands and stick to them, or look for the less expensive ferry boats. Use public transportation whenever possible.
Stay local. Locally owned hotels, restaurants, and shops are always cheaper than the larger chains, most of which cater to high-spending tourists. Eat where the locals eat. This is not just good for your budget, but the Cambodian cuisine is terrific. It's similar to Thai food, but often less spicy.
Use local transportation whenever possible.
Get off the beaten path. Angkor, Bali, and the other "famous" places are amazing and you shouldn't miss them, but there are plenty of other great places in these exotic and cultural countries. Other beaches, the large cities, and the beautiful countryside are all good options.