Nantes On a Budget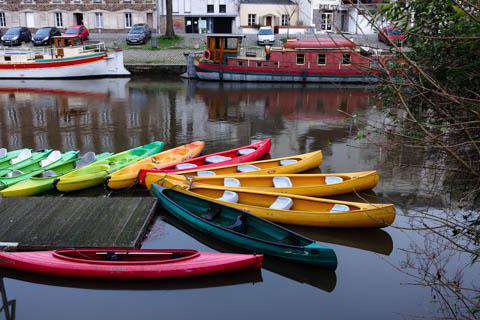 Nantes is a city in western France, located on the Loire River, 31 miles from the Atlantic coast. The city is the sixth largest in France, with almost 600,000 inhabitants within the Urban area. Together with Saint-Nazaire, a seaport located on the Loire estuary, Nantes forms the main metropolis of north-western France. The city has a unique architectural heritage with its magnificent
Chateau des ducs de Bretagne
- a Renaissance-style castle nestled in a fortress, a medieval quarter and one of the highest cathedrals of France. It has been transformed in the last 20 years probably more than any other city in France. It is not only a vibrant and young metropolis often rewarded for its top-quality of life, but a city where art has literally been integrated in all possible aspects, making it a true example of how artists can turn a city upside down.
Sights
The
Chateau des ducs de Bretagne
is one of the biggest sights in Nantes. It is a powerful symbol of Nantes' place in Breton history. The dukes having chosen Nantes for capital made the castle a real town within the town. The contrast between the exterior fortifications and the Renaissance-inspired inner buildings is unique. The castle was the last ducal residence of Brittany before the nation was merged with the Kingdom of France. It was also the birthplace and home of Anne of Brittany, who became twice Queen of France. Here in the heart of the city, you can retrace five centuries of history, admire the finely executed facades and terraces and walk the castle walls. Today the castle also houses the fascinating Nantes History Museum.
Another popular sight is the Nantes Cathedral or the Cathedral of Saint Pierre and Saint Paul. It is a Gothic Roman Catholic cathedral that took 457 years to complete.
Neighborhoods
Nantes is pretty large, so there are a few different neighborhoods. One of the main neighborhoods is the city center, which is mostly pedestrianized, where most of the art, attractions, and shopping is located.
There is also the historic center, where the castle and fortified city within a city can be found as well as some of the other historic buildings and monuments. You can also check out the medieval district, which is lined with many boutique style shops.
Activities
Nantes has many different attractions and things to do with the great museums and beautiful gardens just barely scratching the surface. Come visit during the summer to experience the Le Voyage a Nantes, which encourage art and culture in the city, and invites artists from all over the world to use Nantes as a playground for their creativity. Come experience this fantastic event and enjoy a 10 km long itinerary with surprising installations from artists, great exhibitions and playgrounds.
For something incredibly unique and original, check out the Machines of the Isle of Nantes: an artistic, touristic and cultural project in the old covered buildings of the former shipyards that were at one time used for ship construction and later used as business sites. The projects were created by two artists and aim to promote the city's image and build an identity as a creative metropolis of dream and of fantasy. One of the most popular of the machines is The Great Elephant, which is 12 meters high and 8 meters wide, and made from 45 tons of wood and steel. It can take up to 49 passengers for a 45-minute walk around town. Other machines include The Marine Worlds Carousel, and The Heron Tree.
Food and Dining
Nantes, like much of France, has some excellent dining options. With fresh seafood coming in daily from the river and nearby Atlantic coast and fresh vegetables, dairy, and meant from local farms, there is not shortage of fresh, delicious options on the local menus. There are a few local dishes to watch for that are native to the area: fish in beurre blanc sauce, which is a light, creamy sauce made of butter, vinegar, wine and spices, and Gateau nantais, a delicious cake made with butter and sugar and flavored with almonds and rum.
A few restaurant ideas include: Creperie Heb-Ken, which offers a variety of both sweet and savory crepe options, La Civelle, which offers some great local seafood dishes, and Brasserie La Cigale, which offers great traditional French cuisine.
Transportation
There is an international airport in the south of Nantes (Nantes-Atlantique) with regular connections to Paris, Lyon and other French cities. Ryanair, Cityjet, Easyjet and Flybe operate flights from the UK.
If you fly into Paris, there are also train routes that will get you to Nantes in about two hours. From the Nantes airport you can take either a bus or tram into the city center.
Nantes has an excellent public transportation system with three different tramlines, a few bus route options, and even a public boat system on the river.
Train and Bus Prices
The best prices for buses and trains in France
can be found on Omio
(formerly
GoEuro
). They let you search across all train, bus, and plane routes throughout the region.