Sorrento On a Budget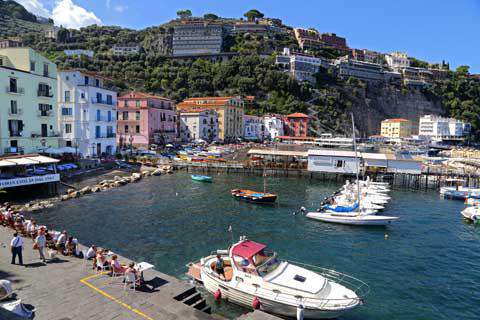 Sorrento is a popular travel destination in Campania, Italy. The city has nice architecture and many shops and outdoor cafes you can enjoy. Its access via the Circumvesuviana rail system make it a great base for visiting Pompeii and Ercolano.
The city has a Mediterranean climate that has mild, wet winters and warm, dry summers. The pleasant climate make it a popular destination year around, although you can expect crowds during the peak summer months.
You'll find no shortage of hotels and hostels in town as the city's economy is very much dependent on tourism. Hostels are generally clean and comfortable, but they may be more expensive than you expect. If you travel during the low season you're likely to save some money even if the weather isn't as nice. Mid range hotel rooms are usually smaller than their American counterparts, but they are clean and nice and often come with a complimentary breakfast. The same can generally be said for more expensive hotels.
Sights
Popular sights in Sorrento include the small port area, the beautiful lemon terraces, Villa Pollio, the puntacampanella natural reserve, Museo Correale di Terranova, Museo Bottega della Tasia Lignea, Saint Francis Monastery, and the Duomo. It's easy to book a guided tour of Pompeii or a chartered trip to Capri from Sorrento. Both options can be expensive, but are well worth the money as they are both unique, one of a kind experiences.
Neighborhoods
Sorrento is filled with winding streets, small, pleasant beaches and beautifull hillsides. Sorrento is a beautiful town that rises up out of the sea in a dramatic and picturesque way. There are two marinas in town, the Marina Grande and the Marina Piccola. They are located at the base of the cliffs outside of the old town. The old town is at the center of town. Pizzao Tasso is Sorrento's old town square. The area around this square has many small shops and interesting places to eat. Although there is no shortage of activity in this area and near the marina's, the pace is slow and life feels relaxed. It truly has the Italian character.
Activities
Activities in Sorrento include swimming in the ocean, relaxing on the beach, renting a bike to explore the area, or taking a day trip outside of town to many of the nearby attractions. You can catch a ferry to the island of Capri for a day trip. Once you're there it's fun to walk around the island or take an organized tour. There are a variety of ways to reach Capri that are for all budgets and travel styles.
Food and Dining
One popular dish that is served in the local restaurants is Gnocchi alla Sorrentina. This is a gnocchi and tomato sauce dish that's prepared with mozzarella cheese. Also be sure and try pastiera, which is a locally made cake. The area is also famous for its olive oil, pizza, and artichokes. Gelato is a favorite as well and no day is complete without a cup of gelato.
While you're in Sorrento you should definitely sample some of the area's excellent wine, but also try the famed limoncello. There are many shops around town that sell it and you can order some in many of the local restaurants. Limoncello is a unique, Italian lemon liqueur that has a very strong and sweet flavor.
Transportation
Sorrento is connected to Naples by train and bus. The Circumvesuviana travels along the coast from Naples and ends in Sorrento, making this a great base for exploring Pompeii and Ercolano. There are also Sita buses that travel from Positano and Amalfi to Sorrento. Many people also visit Capri from Sorrento as there are regular ferries that make the trip.
While you're in Sorrento you can take local buses, taxis, or simply walk. There is also a lift that will take you up and down from the town at top of the hill and the beach and harbor areas below. You'll find the bottom entry to the lift on the western side of the public beach near the private beaches. It's possible to walk from one side of town to the other and once you're in town, the elevation is generally level. This makes for an easy stroll. If you're not up for walking, there are local buses that travel to most destinations.
Related:
Looking for a party in
Rome
or
Florence
?
Traveling alone
Milan
or
Rome
?
Find a
Contiki tour
to Europe.
Find a
Contiki tour
to Europe.