Positano On a Budget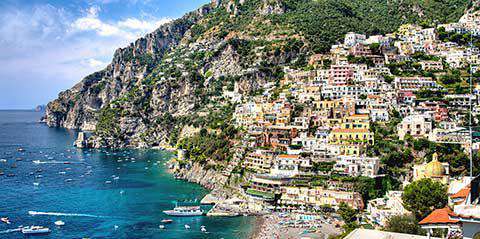 Located on the
Amalfi Coast
in Campania, Italy, Positano is a very scenic town that offers spectacular coastal views. The town sits on the edge of a hill and flows down toward the sea. Because of its dramatic beauty, Positano attracts thousands of visitors year around.
The town dates back to medieval times when it was a port for the Amalfi Republic. It thrived throughout the sixteenth and seventeenth centuries but by the mid-nineteenth century its prosperity was falling. During those times more than half of the population left, migrating predominantly to America. During the 1950s the town gained popularity as a tourist destination, in part because of John Steinbeck's essay about the area in Harper's Bazaar (May, 1953).
Sights
Positano is all about its scenic setting and stunning views. The harbour area is an attraction in and of itself. You will find many shops around the harbour that are fun to wander through as well. Perhaps the most notable "attraction" in Positano is Collegiata di Santa Maria Assunta. It's an old church that has an impressive dome. It was built in the 1920s on the sight of the 13th century Byzantine Madonna di Positano. Beyond just gawking at the beautiful scenery and architecture,
Positano offers so many amazing things to do
.
Neighborhoods
Positano is small enough to walk around, although the hill is quite steep. It has many steps that take you throughout the many hidden back alleys. It sits on an enclave on the face of a hill and spreads down towards the waters of the Amalfi Coast. There are two beaches in Positano, the main Spiaggia Grande, which is where you will find the ferry port, and the more secluded Fornillo, which is a more relaxed and peaceful place to spend some time.
Activities
Simply getting lost in town is probably the best activity that you can enjoy in Positano. Other than that, you can take a ferry trip to Paestum, Ischia and Capri during the summer months. It's also possible to charter a private motorboat and plan your own itinerary, but this won't be cheap. And Positano is a great starting point for
an Amalfi Coast Road Trip
which will take you along the amazing and gorgeous scenery of this coastal area. Don't miss those small towns with their markets and hidden alleyways!
There are two beaches in Positano. Fornillo is the smaller and more remote one. It can be reached by a set of stairs from the grotto or by path from Spiaggia Grande. There are four beach bars near this beach and no ferry traffic. Spiaggia Grande is the larger and more popular beach. It has a ferry port and much activity.
Food and Dining
As a major tourist destination, there are many restaurants around town that you can enjoy. They vary widely by price and quality. Some restaurants at the top of the town offer excellent views, so wander around until you find one that you like. If you're looking for a favorite of the locals, check out Next2 on Viale Pasitea. It's fun to go on weekends when it's the most crowded in the evening. The food is great, as is the wine, but the energy is what is most appealing.
Many restaurants serve seafood, pizza, and pasta. The food is almost always fresh and the ingredients can be simple or quite complex. Dining in Positano is an experience in and of itself and you should take every opportunity to try something that you've never had before.
Transportation
You can reach Positano by Sita bus from either Sorrento or Salerno. If you're traveling from Sorrento, make sure you sit on the right side of the bus for the best views. From Salerno you want to be on the left. You'll be dropped off at the top of the town. From there you'll have to take a taxi, bus or walk to your hotel. There are actually two stops so make sure you know which is closer to your hotel before you arrive. It's possible to take a ferry from Naples to Positano. It's more expensive than the bus but its an hour faster and offers great views. Or read
how to get to Positano from Naples
.
Once you arrive in Positano you can get around by bus or on foot. The local bus goes up and down the hill along a small and congested road. The bus does not accept Unico Campania tickets. You can buy tickets at a local shop or directly on the bus. There are many stairs that weave their way around town. If you're not interested in climbing the stairs then you should research the location of your hotel well in advance. Once you're in town you should buy a tourist map of the town that shows all of the stairways, roads and beaches. While getting lost in town is part of the fun, staying lost too long can get exhausting.
Related
Looking for a party in
Rome
or
Florence
?
Traveling alone
Milan
or
Rome
?
Find a
Contiki tour
to Europe.
Train and Bus Prices
The best prices for buses and trains in Italy
can be found on Omio
(formerly
GoEuro
). They let you search across all train, bus, and plane routes throughout the region.