Atami On a Budget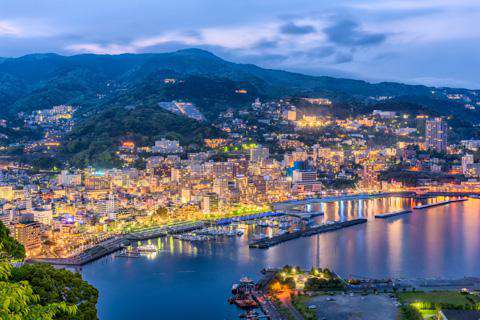 Sharing a home with the famous Mount Fuji inside the Fuji-Hakone-Izu National Park, Atami is a Japanese city set on the seaside of the Izu Peninsula. With volcanic hills and natural hot springs, visitors are very much drawn to the unique landscape of the place. There are many hot springs resorts that take advantage of the area's natural features, which have been attracting visitors since the 8th century.
Sights
With volcanic hills, hot springs, and scenic plum trees lining mountain slopes, the natural sights of Atami alone are worth the visit. All of this leads down to the sea in a fishing port that could be called the Naples of Japan.
The MOA Museum of Art is also popular with visitors, housing more than 3,500 ancient works of art from Japan, China and other Asian countries. Out of the collection featuring Oriental paintings, sculptures, calligraphy, and craft begun by the religious leader Okada Mokichi, three of the works have been designated as National Treasures and 65 as Important Cultural Property. The Golden Tea Room is not to be missed as well as the museum's beautiful grounds. Another museum, though on the quirkier end of things, is Atami's Hihokan, or adult museum. It is pricey and exhibits exclusive content only for those 18 and older, but it is a piece of Japan's erotic culture.
Also worth a visit are the outdoor Akao Herb and Rose Garden, Atami Castle with fantastic views of the surrounding countryside and sea, and the Kiunkaku Former Ryokan which is a well-preserved example of a traditional Japanese guest house and garden (designed with both Western and East Asian influences).
Neighborhoods
The modern city of Atami was founded in 1937 with the merger of Atami town and the neighboring Taga Village. Since then it has very much become a resort town, catering to tourists who wish to experience the famous hot springs. The downtown area, just outside the Atami JR Station, serves as one of the city hubs. The parallel streets are lined with food, markets, and shops of all kinds that will have you intrigued for days. There is even a hot spring just outside the station, and 6 more to be found in other parts throughout the city. The shops of the downtown also have an unending selection of fish products. Being situated right on a port, offerings include anything from fresh fish paste cakes to prepared seafood bites, as well as the dried variety.
Activities
While there are a total of 7 famous hot springs located throughout Atami, they are not onsen (public) baths. Places like Atami Marine Spa and Nikkotei make use of the natural hot springs to provide visitors with access to indoor and outdoor baths, saunas, and relaxation rooms. As far as resorts go, Chikurin-an-mizuno overlooks Sagami Bay and offers baths of natural hot spring water out amongst the natural scenery of the resort's 4-acre forested grounds. The Hotel Toujikan Soyokaze is another popular resort that offers hot baths as well as gambanyoku, or "bedrock bathing," a treatment where a guest will lie on a towel-covered naturally heated slab of rock.
Beyond the hot springs, scuba diving is another great activity to see some of the local coral and sea life. Some nearby businesses that offer scuba diving include Discovery Divers Tokyo, DiveZone Tokyo, Mar Scuba Tokyo, and Japan Underwater Explorers.
Food and Dining
As mentioned earlier, Atami cuisine is abundant in seafood. Shogyo seafood restaurant is a recommended place to enjoy fresh fish dishes while overlooking the port from whence they came. In the city markets you can also find fish products and quick seafood bites on the go. Sushi and raw fish is common as well as fish cakes, dried fish, and a delicacy called karasumi (or bottarga) which consists of a cured mullet roe. As far as dessert confections go, onsen manju is a treat that can be found throughout Atami. It is a soft Japanese sweet bun that is traditionally steamed by the heat of the hot springs, and filled with sweet red bean paste. Pickled wasabi is another unique snack of the region. Most restaurants and dining options can be found in the downtown area just outside of the JR Station.
Transportation
In Japan, trains are one of the fastest and lowest cost means of transportation. Getting a
Japan Rail Pass
can save you money if you plan to stay for several days or more. Regional and nation-wide passes are available, usually for the number of days of your choice.
The best airports for reaching Atami are in Tokyo-Narita Airport and Haneda Airport.
By train, Atami is on the Tokaido Shinkansen main line, just 50 minutes from Tokyo.
From Narita Airport by train, take the Narita Express train to Shinagawa, then transfer to either a Shinkansen Kodama train or a Tokaido Line local train.
From Haneda Airport by train, take a Keihin Kyuko line train to Shinagawa for connection to the Shinkansen. You can also take the Keikyu Line from Haneda to Yokohama via Keikyu-Kamata station and change at Yokohama for the local JR Tokaido line.
Related:
Looking for a
hostel in Japan
? In search of a
party in Tokyo
? Traveling alone to
Osaka
or
Tokyo
?