New York City is definitely a city full of glitz, glamour and made for people with limitless bank accounts, but it can also be a great place for those on a budget. In a city of about 8.5 million residents and another 65 million people who visit every year, there truly are so many things for people to do at every budget level. After living in New York City for nearly 15 years, I've found some amazing things you can do for free or on a budget that will let you see many different areas of the city.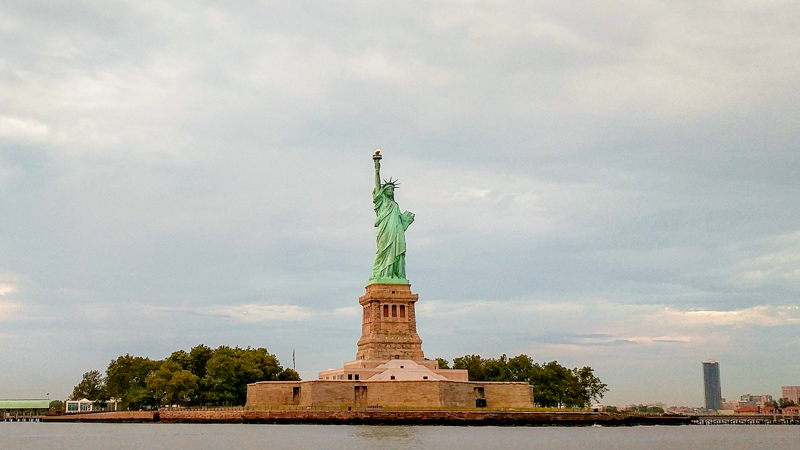 Take a ride on the Staten Island Ferry
- Skip the mass boat tours that head to the Statue of Liberty and catch a glimpse of Lady Liberty from the Staten Island Ferry. Seeing the skyline by boat is one of the most magical experiences when
traveling to New York City
. Everything is so much more peaceful. A ride on the ferry is absolutely free and offers a view of one of the United States' most iconic landmarks. Rides depart every half hour from downtown Manhattan. And once you arrive, there are plenty of
things to do in Staten Island
, too.
Walk the Highline
- In a city packed with people, we've run out of ways to build new spaces, so we have to build up! The highline is a truly unique public space as it a 1.45 mile long elevated park built on an old rail structure on the west side of Manhattan. The park runs from Gansevort Street up to 34th street and visitors can enter via stairways all long the park. If you want to experience the park once the crowds settle down, stop by for a little stargazing. Every Tuesday, the Amateur Astronomers Association sets up telescopes between West 15th and West 16th Streets. Gazing starts at dusk.
Walk New York City's Famous Bridges
- On any given day approximately 7,500 pedestrians and cyclist cross the Brooklyn Bridge. That kind of congestion can make anyone go mad. I prefer walking across the significantly less crowded Manhattan Bridge and taking in the views of the Brooklyn Bridge instead. If you do decide to take a stroll across New York's most famous bridge, go early before the crowds take over, or follow these other
tips for walking the Brooklyn Bridge
. Be sure to stay in the pedestrian lane as cyclists can fly across the bridge in the bike lanes.
See a movie in the park
- One of my absolute favorite things to do in NYC is to catch one of the many free movies that play in
parks throughout the summer
all throughout the
five boroughs
. Two of the more popular ones are the HBO Bryant Park Summer Film Festival and Syfy Movies with a View at Brooklyn Bridge Park (one of my favorites as movies are projected on a backdrop in front of the Brooklyn Bridge). There is an alfresco movie experience for every preference - on the water, on a rooftop or near your hotel. Make sure to bring a blanket to mark your spot and pack snacks because not all parks have food for sale.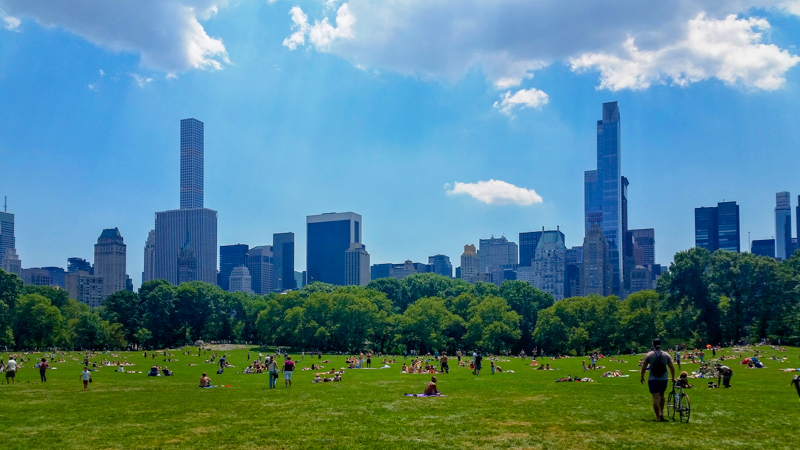 Raise your glass at happy hour
- Happy hours are a big deal in NYC. For a few hours each day some of NYC's best bars and restaurants offer select drinks and nibbles for a discounted price. The deals vary and are one of my favorite ways to check out bars across the city without emptying my bank account. My recommendation is to check out a new one each day (all in the name of research, of course).
Have a delicious brunch
- NYC has so many amazing restaurants, and many of them are perfect spots to have an affordable brunch on the weekend. You should definitely check out this
list of great brunch spots in the Flatiron
so that you can start visiting each and every great restaurant as soon as possible. After all, New York is all about food, right?
Visit Governor's Island
- Governor's Island is a 172-acre island just south of Manhattan. Visitors can take a free ferry before noon on weekends ($3 other times) to explore this truly unique escape from NYC. Ferries run daily from downtown Manhattan and on the weekends from Brooklyn Bridge Park. Take a ride on your bike around the island, check out one of the many art installations or have a picnic all throughout the park. There are so many exhibits and things to do at the park at any given time. The island is open daily "in-season" which runs through September 30.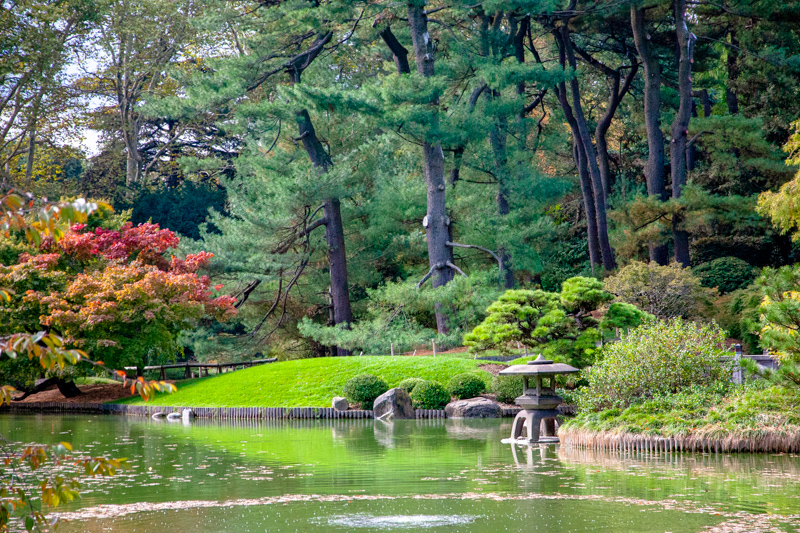 Free entry days NYC Museums, Gardens and Zoos
- New York City has no shortage of amazing museums to visit, but entry fees can certainly add up. Most museums, gardens and
zoos offer free entry days
each week or month. Other museums (like the Natural History Museum) are suggested entry fees, so you can pay as little or as much as you like for entry. With a little research you can schedule your visits to align with those days saving you a lot of money. Some of my favorites to check out are Brooklyn Botanical Gardens (free entry on Fridays before noon), The Bronx Zoo (free on Wednesdays) and the MOMA (Friday nights from 4 - 8pm).
Browse one of Chelsea's many galleries
- If navigating the crowds of NYC's more popular museums isn't really your thing, stop by one of Chelsea's seemingly endless galleries. Some of the better known are David Zwirner, Gagosian, Milk Gallery, and Pace. If you're lucky, they may have free beer or wine to enjoy as you browse.
Check out Grand Central Station
and see how far sound can travel at the Whispering Gallery. Grand Central station is appropriately named, it is truly spectacular. It was put into operations in the 1800's and earned landmark status in 1976 and remains one of the most popular transportation centers in the world. Grand Central Station's appeal doesn't stop at its 67 tracks that handle over 700 trains every day. One of the Station's secret attractions is the Whispering Gallery where visitors stand under the Guastavino-tiled arches and whisper to each other. Due to the design, your voices will ring through to the other side.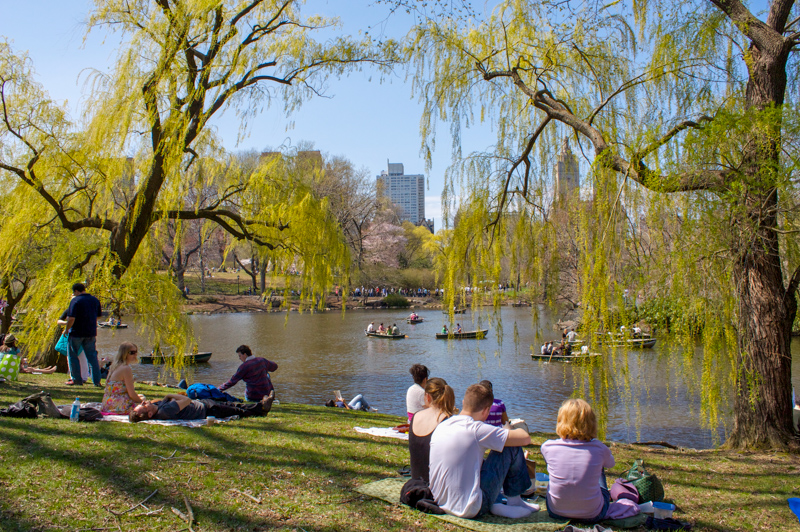 Take a tour through Central Park
- Skip the horse drawn carriage ride and head out for a free guided tour through Central Park. The park is a huge green oasis smack dab in the center of Manhattan. It offers New Yorkers and visitors an escape and recharge from the hustle and bustle of city life. There are numerous free self-guided tours. Or you can take a low cost guided tour from a local which will give you some terrific insights into the city (
tour details here
).
Grab a slice at one of NYC's 1,250 of Pizza Spots.
NYC and pizza go hand in hand. There really is something in our water that makes the most divine crust. There are pizza shops on nearly every corner, so you can easily grab a slice to go, or try one of NYC's more famous pizzas like Lombardi's, Artichoke or Roberto's. My favorite thing to do is grab a bottle of wine (it's BYO) and head to Lucali in Brooklyn. Depending on what publication you are reading, there are 100's of locations claiming to have the Best Slice in NYC.
Grab a cup of coffee from one of NYC's street carts.
I can almost guarantee this won't be the best cup of coffee you've ever had, but if you want to feel like a real New Yorker, join New Yorkers fueling their day and hop in line for your own affordable cup. Most offer a variety of milk options as well as iced or hot coffees.
Finally, if you're looking for an
affordable place to stay
, check out
our list of the best hostels in New York City
.
If you have a limited amount of time for your journey, see our advice about how much time to spend here: Should I spend 1, 2, or 3 days in New York City?, Should I spend 3, 4, or 5 days in New York City?, Should I spend 1 or 2 weeks in New York City? and Is New York City Worth Visiting?