As far as mountain escapes go, the Blue Ridge Mountains are hard to beat. Foothills rolling green and blanketed in vineyards, scenic overlooks boasting views of majestic ridges and morning mist, and country roads golden with speckled sunlight - there's a painting of Shenandoah, Virginia.
The most famed avenue for taking in this iconic view is Skyline Drive, which runs 105 miles through the entire length of
Shenandoah National Park
, but there's plenty more to explore in these mountains and pastoral hills. From remote nature trails to the history of a founding father, a trip to the countryside of northern Virginia is well worth a weekend, or more! Below is just one weekend itinerary for those in need of a little Blue Ridge respite.
Where to Stay
Depending on which point of entry you plan on using to visit the National Park, there are a number of hubs in the valleys along the ridge with options for accommodations and dining. (
See vacation rentals, Airbnb's, and places to stay here
|
See hotels here
.) In the north-central section, Luray is a historic little town best known for its underground caverns. In the central-west side, Harrisonburg offers a bustling college town with all of the amenities. In the south,
Charlottesville
is a city important to American history with landmarks like the University of Virginia and Jefferson's Monticello. From small towns to big cities, you can have your pick of locations for hostels, bed and breakfasts, hotels, and Airbnb's.
Rather than flock to one of the larger hubs, my travel companions stumbled upon a little mountainside retreat in the more remote town of Stanardsville, Virginia. Owned by a family of sustainable farmers, our accommodation for the weekend was a yurt. For those unfamiliar, a traditional yurt is a circular tent of felt or skins draped over a lattice framework. Those are the basics, but this yurt was something else entirely - complete with a kitchen and all of the appliances (including a dishwasher), bathroom with shower and tub, bedroom, dining area, living area with a TV and small stove, and a loft with two twin beds and a double. The Yurt was a place we could call home for our brief mountain getaway.
Dubbed Cair Paravel, after the clifftop castle in the Chronicles of Narnia, the farm also rents out a slightly larger accommodation at The Tumnus House and closer quarters in The Dawn Treader Airstream. You can even request a farm tour to meet all of the residents - goats, chickens, pigs, turkeys, cats, and dogs (of course, one of them is named Aslan). Everyone has a job on this farm, and you can learn all about it!
The farm also takes orders for baked goods, eggs, meats, and other products produced right on the property. We indulged in some ricotta dill bread and morning glory muffins - definitely worth it.
Location-wise Cair Paravel is situated along some bumpy back mountain roads, so make sure you have the right vehicle if you're visiting in the wintertime. We managed just fine with a low-riding sedan in the summer, but I imagine most locals hunker down into their cozy little cabins for the winter months.
We absolutely loved our yurt in Stanardsville, but if your sole interest is the National Park and you would like instant access, there are options available within the park itself. If you really want to splurge, you can stay at one of the park's three lodges - Skyland Resort, Big Meadows Lodge, and Lewis Mountain Cabins. For those of you on a budget, the park also has plenty of campgrounds open seasonally.
Where we stayed in Stanardsville is just about equidistant between the nearest entrance in central Shenandoah National Park (Swift Run Gap Entrance Station) and the city of Charlottesville - home to Jefferson's Monticello. Having just a weekend to explore the area, we split our time between these two area attractions.
What to Do
While the yurt itself was fully equipped with games, a TV, outdoor hot tub, pool, and more we had to pull ourselves away from the cozy little haven to venture out into the famed Blue Ridge Mountains. A few days only scratches the surface of this vast wilderness of trails, waterfalls, and mountain beauty.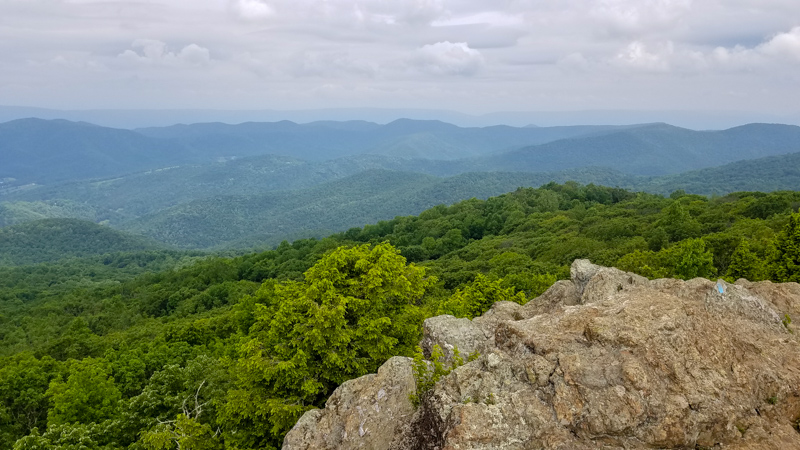 Day 1 (part 1)
- Having arrived on a Friday evening, we began our Saturday bright and early, making our way to the Bearfence Mountain Trailhead. This one-mile trail is short, but moderate in difficulty due to the 311-foot rock scramble that leads to a stunning 360-degree view over the Shenandoah Mountains.
There are so many hiking options in the National Park that it can be overwhelming and difficult to make a choice, however, I can say that this view certainly did not disappoint. To stand on that rock outcropping surrounded by an endless stretch of mountain wilderness on all sides was an escape like no other. The scramble up through rocky woodlands was a real bouldering adventure, all the more rewarding to breathe in the open mountain air alive with wind.
*Note: This was just one trail within a vast network webbing the best sights of the National Park. Don't be afraid to stop at a Visitor Center to talk to a park ranger. They will have more detailed maps of each trail and can recommend the best hike for you based on how long, how far, how strenuous, and what features you are interested in seeing.
The Bearfence Trail took us about 2 hours round-trip, but we definitely could have lingered longer at the overlook. Sticking to our schedule it was time to head back south, back to the yurt for a quick lunch in our beautiful little kitchen, and then continuing on down to Charlottesville to visit Monticello.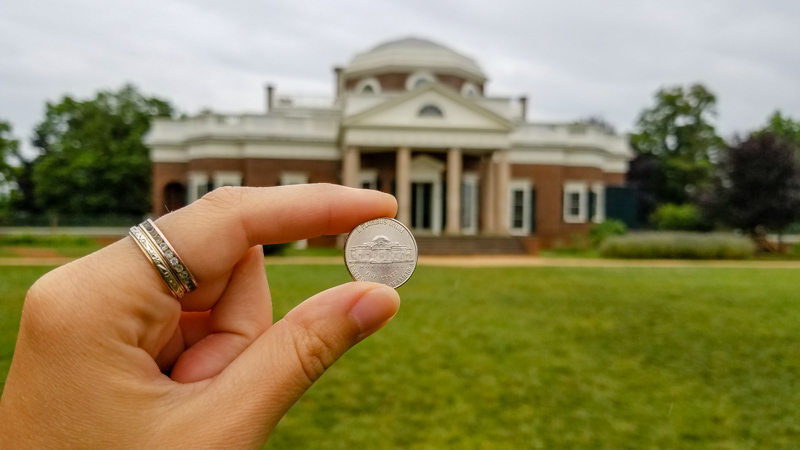 Day 1 (part 2)
- With a name meaning "Little Mountain" in Italian, Monticello is another beautiful Blue Ridge escape, and former home of founding father Thomas Jefferson. The best way to make the most of your budget here is to save a few bucks by booking your tour in advance online. There are a number of options available, however, the Behind the Scenes tour is definitely worth the extra splurge.
While a regular pass will grant you access to all of the grounds tours, it will only allow you a guided tour of the mansion's first floor. With the Behind the Scenes package, you'll have access to all grounds tours as well as a guided tour of the mansion in its entirety - first floor, second floor, third floor, basement, and the rotunda room that resides within the famed dome. This is your chance to see the place on the nickel! Why not explore it all? We also suggest
this package which includes a wine tour and trolley ride
if you want to book ahead.
In addition to the house tour, the primary grounds tours (which run on the hour or half hour, depending on the tour) include a guided slavery tour and a gardens tour. Of course, guests are welcome to wander the grounds on their own as well. Other features include an exhibit on The Life of Sally Hemings, Jefferson's gravesite, the visitor and education center, and a gift shop.
You could easily spend a full day just at Monticello. Surrounded by Shenandoah scenery and standing as a place that has seen some of the earliest American history - the good and the bad - this little mansion on the hill is full of intrigue. We spent the good part of a day here and came away with a fresh perspective on American history.
*Note: You'll notice I don't really have many food recommendations here. That's because we saved by cooking most of our own meals in the yurt's kitchen! The owners of Cair Paravel have a wonderful guest book with recommendations, but cooking also allowed us to enjoy some down time and extra fun with friends in our little mountain retreat.
Day 2
- Sunday morning greeted us with cloudy skies and mist settling into the Shenandoah Valley. Before our 11 AM checkout, the rain held out long enough to have a private tour of the Cair Paravel farmstead and get some recommendations from our hosts before embarking on our last adventures in Shenandoah for the weekend.
As we cruised along the ridge of Skyline Drive, each overlook we passed was a white abyss. By the time we reached the Harry F. Byrd Sr. Visitor Center, we were met with stormy gusts and sideways rain. With these conditions, we were so glad we had squeezed in the Bearfence Trail before visiting Monticello the day before. The vast mountain wilderness was now shrouded by cold wind, rain, and fog - but that didn't stop us.
Pouring rain means gushing waterfalls. So marching up to the Visitor Center desk, we asked for a hike that would be sheltered from the wind and rain, and would take us past some of Shenandoah's waterfalls. The National Park Ranger delivered, her suggestion: the Rose River Loop Trail.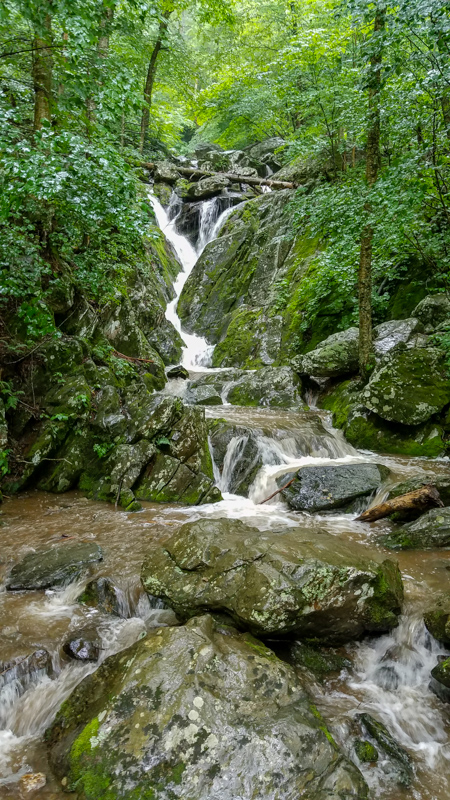 About 4 miles round-trip with a 910-foot elevation gain, this trail proved a bit more difficult than Bearfence. To access the trail, park at Fishers Gap Overlook just a few minutes north of the Byrd Visitor Center. The trailhead is just across the street at the northern end of the parking lot.
When you begin the trail you will descend for quite a ways into a wooded wilderness, eventually meeting up with the Rose River. You'll pass by Rose River Falls, a few stream crossings, and a little wooden bridge before the ascent begins on the second half of the loop. After this strenuous stretch, you'll be rewarded by the impressive Dark Hollow Falls, and then enjoy a more level part of the trail along a fire road back to the beginning of the loop.
At just under 4 miles long, this trail took us about 2 and half hours to hike, though it can take longer if you choose to explore at a more leisurely pace.
After a fun day in the rain, we squished our way back to the car and made our way north. This was our last day in Shenandoah for the weekend, and our kind hosts at Cair Paravel recommended a local fast-food stop called Spelunker's for lunch up in Front Royal. After our waterfall jaunt, a burger and milkshake could not have tasted any better.
Bonus Day
- This itinerary has covered some suggestions for a regular weekend getaway, however, if you have an extra day, or even better, a week, there is so much more to see and do in the area. Of course, you could spend a week at the National Park alone. Another renowned attraction, that we will definitely be returning for are the Luray Caverns. Even the monuments and attractions of our nation's capital in
Washington, D.C.
are just a little over an hour away from the north entrance of the National Park at Front Royal.
We decided to extend our visit into Monday and spend some time exploring the National Park sites of Monocacy, Harper's Ferry, and Antietam in the neighboring states of Maryland and West Virginia. Monocacy National Battlefield is the least known of the three, but is unique in helping visitors to visualize what it was like to have a Civil War battle converge in the midst of unsuspecting farmsteads. In fact, this site became a national park due to the account of Glenn Worthington who wrote a book about the battle that he witnessed as a six-year-old, peeking out from behind boarded windows.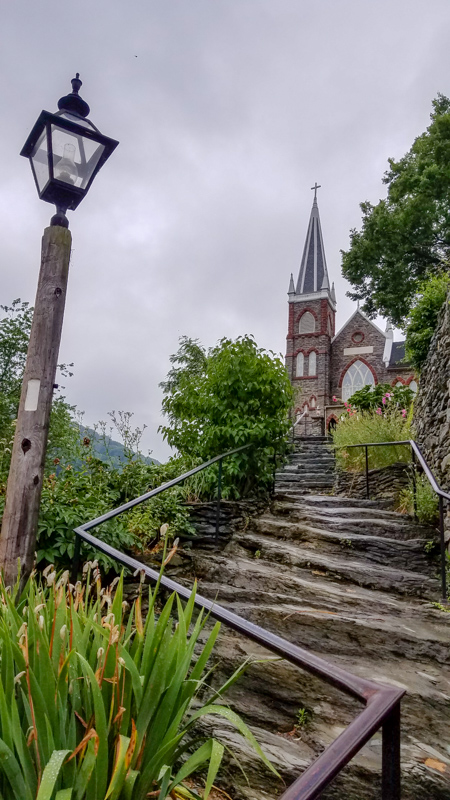 Our next stop, Harper's Ferry National Historic Park, was a little break from the heavy topics of war. This quaint historic town reminded us of colonial Williamsport, with many of the houses and shops set up like a museum as they would have appeared in the mid-1800s. You'll learn all about the importance of John Brown's rebellion, see some old building ruins, a beautiful stone church, and can admire the mountain and river landscape from Jefferson's Rock.
Situated at the confluence of the Potomac and Shenandoah Rivers, this town was also significant to the canal and railroad race. The railroad won out, but the remnants of the canal have been converted into Chesapeake and Ohio Canal Towpath (also on the National Park registry). If that's not enough for you, the Appalachian Trail also runs right through this park, so you'll likely run into some backpackers during your visit.
As far as food goes, we enjoyed a nice lunch at one of the restaurants in town, grabbed an ice cream, and explored a few of the shops. The one that impressed us the most, however, was True Treats Historic Candy. Drawn into this little basement shop by some downhome mountain music, we were met with a timeline of candy from 10th century Turkish delight all the way to the late 1900s with retro sweets like Razzles and candy cigarettes. This little museum shop even went as far back to primitive selections like licorice root, birch bark, and American Indian cacao nibs, as well as a selection of teas that would have perished during the Boston Tea Party. Struggling to limit our purchases, this historic candy shop was a real unique treasure and definitely a highlight of our Harper's Ferry excursion.
Distracted by the intrigue of the candy store-museum, we only just made it to the visitor center at Antietam National Battlefield before closing time to grab our auto-tour map. While most National Park visitor centers close around 4:30 or 5 PM, the grounds of the battlefields remain open until dusk so we were still left with plenty of time to explore.
Known as one of the bloodiest battles of the Civil War, Antietam left 23,000 soldiers killed, wounded, or missing after just twelve hours of combat. Today, visitors can walk the fields of this renowned battle site and learn about the devastating losses on both sides of the battle. One of the best-known landmarks on the site is Burnside's Bridge, which Union General Ambrose Everett Burnside famously crossed and gained the upper hand on Confederates.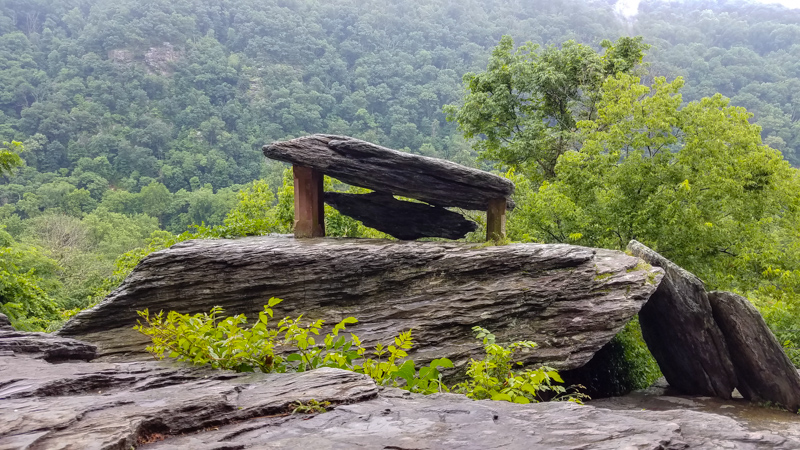 Although the Union troops claimed victory, this was a shattering battle for both sides and there has never been a bloodier day in American military history than September 17, 1862. It was hard to imagine such a dark past as the pastoral hills turned gold beneath the setting sun. This place, like many of the landscapes we had seen during this trip, had a beauty of its own - almost heaven, along country roads.
Your Turn! - Depending on your travel route, there are plenty of options for things to do and explore in this mid-Atlantic region of the United States. This is just one suggested itinerary of endless possibilities available in Shenandoah and the surrounding area. Now it's your turn to pick and choose your own adventure. Go out and find your country road!