Virginia On a Budget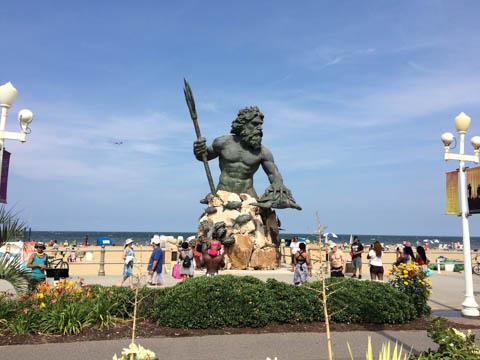 One of the original thirteen British colonies, Virginia is a place of rich history and varied environments. You might explore the historic settlement of Colonial Williamsburg, dive into the current culture of its major cities, or get lost in nature along the coast or in the scenic landscape of the Appalachian Mountains. There's a little something for everyone.
Sights
When it comes to sights, Virginia's highlights involve its outdoor scenery and its history. Closer to nature attractions lie mostly to the west with the Blue Ridge Mountains and Shenandoah National Park in the Shenandoah Valley, as well as the Appalachian Mountains located in the highlands of Southwest Virginia. Crabtree Falls in Nelson County is one of the tallest sets of waterfalls in the U.S., while the Natural Bridge in Rockbridge County presents a natural landform that has become iconic to the region. You might also wish to explore below the earth, diving deep into the reaches of the Shenandoah Caverns, and the beaches, of course, are great for relaxing along the coast.
Then there are the historic places, like the triangle of Yorktown, Jamestown, and Colonial Williamsburg, which has always been very popular with visitors. Colonial Williamsburg in particular has many interesting buildings and acts as a living museum with blacksmiths and silversmiths manning the workshops, a tailor specializing in colonial attire, a traditional print shop, the governor's mansion and garden, and very many others. It is a fun and easy way to delve into colonial life and learn a bit about the history of the settlement. The College of William and Mary also resides in Williamsburg and is definitely worth a walk through campus. And then there is Mount Vernon, the plantation of George Washington, first President of the United States, and his wife, Martha.
Regions
Virginia's landscape is vast and varied with mountains in the west, rural countryside at its center, beaches and coastal towns in the east, and a handful of cities dotted throughout. The capital city of Virginia is called Richmond. Located in the central part of the state, the area also features historic sites from the Revolutionary and Civil Wars. Northern Virginia consists of the populated region bordering Washington DC, while Southwest Virginia is mostly rural and defined by the Appalachian Mountains. Then there is the Shenandoah Valley which is bordered by the Blue Ridge Mountains, and Eastern Virginia which is home to popular tourist spots like Virginia Beach as well as the historic trio of Colonial Williamsburg, Jamestown, and Yorktown. Other major cities include Arlington, Alexandria, Charlottesville, Fredericksburg, Norfolk, and Roanoke.
Activities
The regions that are full of nature, lying mostly to the west, are hot spots for visitors hoping to experience some of Virginia's great outdoors. Activities here mostly consist of hitting the hiking trails, backpacking, camping, wildlife watching, and fishing. The Brew Ridge Trail is a great way to see the Blue Ridge Mountains while indulging in some craft beer selections of the region. Current destinations on the trail include Wild Wolf Brewing Company, Blue Mountain Brewery, Blue Mountain Barrel, Devil's Backbone Brewing Company, South Street Brewery, and Starr Hill Brewery.
The historic sites can occupy days of activity during a stay in Virginia with tours, live demonstrations, and hands-on activities, while the cities have plenty of opportunity for dining, shopping, and entertainment. And if you're looking for a more thrilling time in Virginia, Busch Gardens is a popular theme park covering 383 acres northwest of Virginia Beach.
Food and Dining
As far as food goes, many of Virginia's signature dishes are common throughout much of the Southern United States as well. Country ham is a particular favorite, as is barbeque-mostly pork with a vinegar-based sauce. Brunswick stew is another traditional favorite, thought to have originated in Brunswick County in the southeast; it is a thick vegetable stew with meat. Desserts like marble cake and shoofly pie come largely from the Pennsylvania Dutch, while fried peaches with vanilla ice cream is considered a more upscale dessert. Then there is peanut soup which dates back to colonial times, maple syrup and pancakes are popular in the more mountainous regions of the Shenandoah Valley, while the coastal regions, especially near the Chesapeake Bay, are very well known for fresh seafood dishes. Some of these selections include items like oysters, blue crabs, bay clams, blue fish, bay scallops, haddock, and shad-and are almost always seasoned with a spice mix called Old Bay.
Transportation
By plane, the state of Virginia is serviced by a few major airports. Washington-Dulles International Airport and Ronald Reagan Washington National Airport are in the northern part of the state, Richmond International Airport services the central and southern parts, and Norfolk International Airport caters to eastern Virginia.
By train, Amtrak offers passenger rail service to many Virginia cities, including Alexandria, Fredericksburg, Manassas, Richmond, Norfolk, Charlottesville, and Staunton. For destinations in Northern Virginia, the best stops are Union Station in Washington, DC and the Fredericksburg station.
By car, there are a few routes depending on what direction you come from. I-81 is the main route from Tennessee and continues through Virginia into Maryland and Pennsylvania, I-66 connects Northwestern and Northern Virginia with Washington, DC, and I-95 runs north-south through Virginia connecting Washington, DC to Fredericksburg and Richmond and on to North Carolina. Other major routes include I-85 and I-64.
Related:
Looking for a
party hostel in Las Vegas
or
San Diego
? Traveling alone to
NYC
or
LA
? Want a budget hostel in
San Francisco
?