Santa Fe On a Budget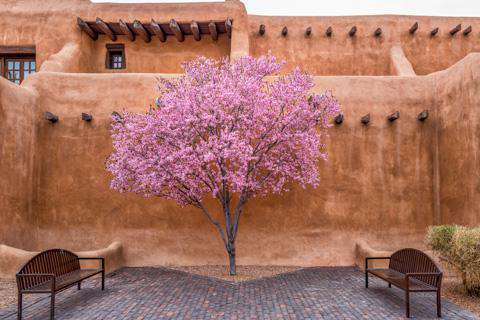 Santa Fe is the state capital of New Mexico as well as the oldest state capital in the United States, founded in 1607. It has become a popular travel destination due to the surrounding scenic beauty, its long history, cultural diversity especially with its proximity to American Indian pueblos and culture, and a rich concentration of arts, music, and food.
Sights
Santa Fe is a very attractive city, with much of its architecture in the pueblo-style and an abundance of Native American arts, crafts, jewelry, textiles, and other goods decorating store windows and restaurants. A few notable architectural gems include churches like the St. Francis Cathedral and the Loretto Chapel, as well as the State Capitol Building and other structures around town that are listed on the National Register of Historic Places. The oldest public building in the United States is also in Santa Fe-The Palace of the Governors, a 17th-century building that once served as the main capitol building and now houses the New Mexico History Museum.
The city is also host to a variety of interesting museums, many of which are located downtown and can be reached by foot. The Georgia O'Keeffe Museum is perhaps one of the best known, featuring a rotating exhibit of the work of the 20th-century artist who settled near Abiquiu, a small town north of Santa Fe. She is most famous for her paintings of enlarged flowers and New Mexican landscapes. Additional museums include the New Mexico Museum of Art, Museum of International Folk Art, Museum of Indian Arts & Culture, and the Museum of Spanish Colonial Art, amongst others.
Neighborhoods
Santa Fe has a small, but lively, downtown area that is very walkable and popular with tourists. In fact, with its small streets it is actually preferable to park the car and navigate on foot. Typical to towns of Spanish origin, Santa Fe has a central square downtown, the historic Santa Fe Plaza, which has become a common gathering place and site for public entertainment. While the downtown roads are small and sometimes wander, the general area of the downtown is somewhat looped within one of the main roads, Paseo de Peralta. There are plenty of walking tours of downtown Santa Fe that give visitors insight into the architecture, culture, and history of the downtown area. A walk through this area will provide a collection of restaurants, museums, entertainment, and shops selling American Indian arts and crafts.
Activities
In addition to walking tours, admiring architecture, and experiencing the art, history, and culture of Santa Fe's museums, there are also a number of festivals held throughout the year, the most characteristic being the Fiesta de Santa Fe held the weekend after Labor Day once most of the summer tourists have departed. Santa Fe is additionally host to a number of theatre and performing arts center, for those interested in music and dance, while outdoor activities like walking, biking, and horseback riding are available at the south side of downtown along the Santa Fe River Park. Some visitors choose to explore opportunities just outside the city as well, visiting the vast number of nearby Native American pueblos and admiring the southwestern landscapes.
Food and Dining
Like the rest of New Mexico, Santa Fe is known for its huge spicy plates of Southwestern food. Most dishes are based in a spicy sauce made from red or green chili peppers, or a mix of both. Typical dishes of the American southwest that most people are familiar with include items like burrito, chimichanga, enchilada, fajitas, nachos, chili con carne, chili con queso, quesadilla, stuffed peppers, tacos, and tostados, many of which are often served with sides of rice and beans and salsa or guacamole. There are, however, a few dishes particular to New Mexico, some of which include a sweet rice pudding called arroz dulce, an anise-flavored cookie sprinkled with cinnamon sugar called bizcochito (state cookie of New Mexico), and a thick hot gruel made from blue corn meal called atole. You will even find New Mexican spins on traditional American favorites, like a green chile cheeseburger or green chile cheese fries. When in New Mexico it's best to take advantage of the abundance of authentic southwestern food, though there are additionally plenty of standard chain restaurants and other fare in Santa Fe for the less adventurous palette. Popular drinks include the margarita and sangria.
Transportation
The nearest airport is Santa Fe Municipal Airport, which is served by American Eagle Airlines with three daily flights from Dallas/Fort Worth. The nearest major airport is Albuquerque International Sunport, located about an hour driving southwest from Santa Fe. This is the major air hub for all of New Mexico, primarily serviced by Southwest Airlines, though there are also some flights operated by Alaska, American, Delta, JetBlue, and United. There is also commuter service to destinations within New Mexico provided by Great Lakes and New Mexico Airlines.
A commuter rail line, the New Mexico Rail Runner Express, connects Santa Fe to Albuquerque and surrounding communities. There are three stations in Santa Fe: the Santa Fe Depot at the rail yards on Guadalupe Street, the South Capitol station on Alta Vista Drive, and the NM 599 station at I-25 and NM 599 southwest of town.