Yellowstone National Park On a Budget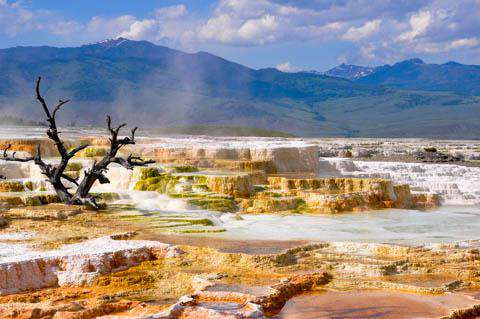 The world's first national park, Yellowstone National Park was established in 1872. The area is famous for its many geysers, hot springs, and thermal areas. It also has a wide diversity of wildlife and stunning beauty, making it one of the most impressive places you can visit in the United States. The national park takes up an area of about 3,472 square miles and is mostly located within the state of Wyoming. It also touches the states of Idaho and Montana.
If you're planning to stay in the park it is absolutely critical that you make reservations well in advance, as almost all of the lodging fills up, particularly during the peak summer months. The same can be said for the area's campgrounds.
The temperature within the park is highly variable. It's best to prepare for all weather types during your visit. The summer months can be pleasant with temperatures around 75 degrees Fahrenheit. Nights can be much cooler, even in the summer. Spring and fall temperatures can range between freezing and 60 degrees Fahrenheit. Snow is not uncommon and night time temperatures can be quite cold. Winter temperatures range from 0 tp 20 degrees Fahrenheit and can drop even colder during the night time hours.
Sights
Some of the most famous sights within the park include Yellowstone Lake, West Thumb Geyser Basin, Old Faithful, and Monument Geyser Basin, but there are countless more
things to see and do in Yellowstone
. The park is famous for its natural beauty and stunning landscape. There are many geothermal features spread throughout the park and it's possible to see more than 300 different geysers. Wildlife that can be seen within the park includes grizzly bears, wolves, bison, and elk.
Neighborhoods
Yellowstone NP
can be divided into several major regions. Bridge Bay, Fishing Bridge, and Yellowstone Lake are all great areas for boating, fishing, and seeing the parks thermal features. West Thumb and Grant Village are the two villages found on the western side of the lake. They also offer fishing, boating, and hot springs. Old Faithful is perhaps the most famous landmark in the park. It's located near the Old Faithful Inn and is surrounded by geysers and hot springs. Madison is found halfway between Old Faithful and the Norris Geyser basin, and Norris is located south of Mammoth. Mammoth is where you'll find the park headquarters. Tower-Roosevelt is a more rugged area with plenty of wildlife. Canyon Village has impressive natural beauty and recreational opportunities. Because it's so large, you might need a
2-day itinerary to see Yellowstone
to make sure that you take it all in.
Activities
Yellowstone covers a vast area and there are countless activities that you can enjoy while you're visiting the park. There are some interesting educational programs that are organized by the park service. Stop by the visitor information center on your way into the park and ask for some information. In particular, if you're traveling with children, this can be a fun way to learn about the area's history and geology.
Hiking and wildlife viewing are the most obvious activities within the park. The park information center can provide you with trail maps and suggest trails that are most appropriate for your skill level and interest set.
Other activities within the park include horseback riding, photography, fishing, swimming, and boating.
Food and Dining
You can pick up food supplies in most of the villages throughout the park. There are also snack bars, restaurants and cafeterias in various locations. Prices can be high for the quality of food though, so planning ahead and traveling with your own food is always recommended.
Dining options in the park include dining rooms, cafeterias, and delis in most villages. Dining rooms are upscale
restaurants in lodges
that usually have breakfast, lunch and dinner available. Cafeterias are a more budget friendly option and usually have sandwiches, wraps, and soup. Delis offer snacks and sandwiches for a relatively cheap price.
Transportation
While there are a handful of other transportation options within the park, you really do need a private vehicle to fully explore and appreciate Yellowstone National Park (
car rental prices here
). The area is vast and there is no public transportation near the park. You do have the option to take tours offered by some of the nearby hotels. Xanterra Resorts offers bus tours of the park during the summer months. You can choose between the Lower Loop Tour which covers the southern sections of the park and the Upper Loop Tour which covers the northern portion. There's also a Grand Loop Tour which covers most of the park. There are tours available on a limited basis during the winter months.
Another option that is growing in popularity is to bicycle through the park. You do need to plan ahead to make sure you'll have access to accommodation every night, but this can be a very rewarding way to experience the park.
Related:
Looking for a
party hostel in Las Vegas
or
San Diego
? Traveling alone to
NYC
or
LA
? Want a budget hostel in
San Francisco
?