Cody, Wyoming On a Budget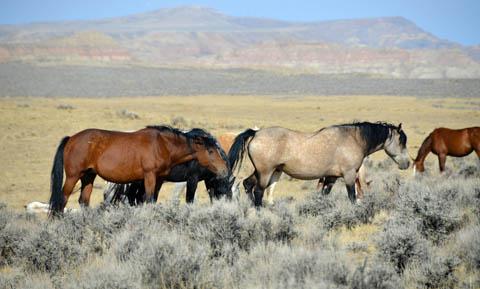 Named after Colonel William F. "Buffalo Bill" Cody - the man who founded the original town - Cody, Wyoming is a city that emanates the traditional Wild West. With daily shootout reenactments in the streets and regular rodeos, Cody attracts visitors from all over. It is located just outside the eastern border of Yellowstone National Park, and so has easy access to outdoor activities as well, from horseback riding like a real gunslinger to hiking in Teton National Forest.
Cody is also known for its many museums dedicated to local culture and history, a restored historic Western neighborhood, as well as being the birthplace of the famous abstract artist,
Jackson Pollock
.
Sights
One of the most popular attractions of Cody, by far, is the
Buffalo Bill Center of the West
, which houses five museums in a unique modern space. The Whitney Gallery of Western Art, Plains Indian Museum, Buffalo Bill Museum, Cody Firearms Museum, and Draper Museum of Natural History all present large and fascinating collections of local history, art, and culture. If you want to get the full experience you can even book a trolley tour which includes tickets to all five museums plus a 22-mile guided tour aboard the trolley.
Another main attraction, just on the outskirts of town, is
Old Trail Town
. Located just off of Yellowstone Highway, the site includes a restoration of more than twenty-five historic Western buildings and artifacts. Take a step into the past walking through an old schoolhouse or general store, past horse-drawn wagons, and through a cemetery where some local and national folk heroes lay at rest.
Neighborhoods
Coming into Cody, Wyoming, you will find a main stretch of road set up like a modern-day Wild West town. Sheridan Avenue is dotted with saloons, restaurants, breweries, and shops, and beyond this little hub of bustling town you will look up to see the mountains of Teton and Yellowstone looming on the horizon. If you are visiting in season (June-August), you might even spot a large banner advertising for the rodeo held every night at 8pm. It is a part of the local culture, entertainment for regulars and out-of-towners alike. There are many gift shops where you can find yourself a sheriff's badge or cowboy hat, get your leather biker boots, or even a Yellowstone souvenir. You might even catch a free Cody Gunfight, held right in the street in front of Buffalo Bill's Historic Irma Hotel for most of the summer season.
Activities
As far as activities go, the daily Cody Gunfight as well as the evening rodeo are novelties of the area. Both are held during the summer season, June through August. The Gunfight reenactment begins at 6pm every evening Monday through Saturday, leaving visitors just enough time to hustle to Stampede Stadium for Cody Night Rodeo. See cowboys tackle bucking broncos, and jump into bull riding, calf roping, and barrel racing all in a night of true Wild West entertainment.
The environment of Cody, surrounded by plains and mountains also offers opportunities for outdoor adventures like rock climbing, mountain biking, hiking, kayaking, fly-fishing, horseback riding, or river rafting. Three scenic byways also offer opportunities to view wildlife and enjoy the changing landscape scenery up close. Yellowstone National Park as well as Grand Teton National Forest and the Buffalo Bill Reservoir are just a short drive away for outdoor enthusiasts looking to enjoy the Wyoming wilderness.
Cody, and Wyoming in general, is a great place to visit for families with kids. Check out this
great overview and itinerary for visiting Wyoming with kids
.
Food and Dining
Due to its Wild West culture and history, the bars and saloons of Cody are a major draw for visitors. Each has its own unique history and cuisine to satisfy the appetite of a true wrangler. Cassie's Supper Club, for example, is a local dive restaurant and bar that features western music and memorabilia in what was once a bordello in the 1920s. The Irma Restaurant and Grille, too, has its history being placed in a historic hotel built by Buffalo Bill himself in 1902. The Cody Cattle Company serves up home style buffet favorites with foot stomping live entertainment every night, and the Pat O'Hara Brewing Company serves up a menu of house brew recipes, local craft drafts, and hearty scratch-made pub fare.
Transportation
Cody is serviced by the Yellowstone Regional Airport, which offers full passenger service. Flights are available through SkyWest (Delta Air Lines), connecting through Salt Lake City, Utah, and SkyWest (United Airlines), connecting through Denver, Colorado.
By bus, there are three transit companies. Cody Over Land operates routes within the city of Cody, from June through September. Phidippides Shuttle Service is a full service transportation company with service to Cody, Yellowstone, and airports in Cody, Jackson, and Billings. LP Transportation operates from the Palmer Outpost, providing shuttle service to Lovell, WY, and connecting to Black Hills/Arrow Stage (Billings to Denver).
By car, US 14, US 16, and US 20 all run together as one through Cody in the East/West direction. Route 120 runs in the North/South direction, and 14A connects to Powell, WY.
Related
Looking for a
party hostel in Las Vegas
or
San Diego
? Traveling alone to
NYC
or
LA
? Want a budget hostel in
San Francisco
?