Shenzhen On a Budget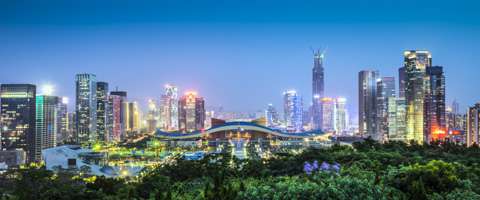 Located in the Guangdong Province of southeastern China, Shenzhen is a metropolis that connects Hong Kong to China's mainland. It is one of China's most populous cities, inhabited by vast array of people from other Chinese regions.  It is perhaps best known for it shopping, collection of amusement parks, green parks, museums and galleries, and a few historic sites. It is on UNESCO's Creative Cities list.
Sights
Shenzhen is largely defined by its theme parks, visited by locals and international tourists alike. Window of the World, a theme-park near Shenzhen Bay, is one such highlight, showcasing miniature versions of more than 130 world famous sites from each of the five continents. There is even a park featuring replicas of China's greatest landmarks at Splendid China: China Folk Culture Villages.  The park additionally offers unique insight into the cultures of many Chinese ethnic groups. Happy Valley is probably the largest of the parks, featuring themed areas like Spanish Square, Cartoon City, Mt. Adventure, Gold Mine Town, Shangri-la Woods, Sunshine Beach, Typhoon Bay, Playa Maya Water Park, and Happy Times.  Other amusement areas include Minsk World, Overseas China Town East, and Sea World Shekou China.
The city is also home to a vast range of green areas. Lianhua Mountain Park, for example, is Shenzhen's main and most central park offering beautiful gardens and opportunities for recreation.  Fairy Lake Botanical Garden is also very scenic, sprawling over miles of foothills, valleys, rivers, and lakes before climbing halfway up Wutong Mountain.  Featuring abundant plant species, the place is divided into multiple unique gardens, some of which include Butterfly Orchid Garden, Rare Plant Garden, Palm Plant Garden, Bamboo Garden, Peach Garden, Shade Plant Garden, Desert Landscape Garden, and Aquatic Plant Garden. Additional green areas include Safari Park, Mangrove National Park, and Shenzhen Garden and Flower Exposition Center, amongst others.
Neighborhoods
Shenzhen is a modern financial and commercial metropolis, largely distinguished by its shopping zones. Dongmen Pedestrian Street is perhaps the most popular, featuring many kinds of shops, restaurants, and cinemas. Nanshan, Renmin Nan, and Shen Nan Zhong are also shopping zones with their own unique characteristics. Another hotspot for visitors is the Overseas China Town, a development in the Yantian District that showcases theme parks, theme towns, golf courses, and theme hotels. Chung Ying street-translating from the Cantonese to "China England"-is especially popular here.  Located on the border between mainland China and Hong Kong, this street has always been a hub for tourists.  Besides tax-free shopping, Chung Ying street also features boundary monuments, a historical museum, warning bell, ancient well, and banyan tree.
Activities
Many people visit Shenzhen for its shopping opportunities and amusement parks. Sightseeing and enjoying the parks can occupy an entire trip, however, there are a few additional activities worth consideration.  Dafen Oil Painting Village, for example, offers a unique opportunity to buy oil paintings, watercolors, and embroidered paintings. He Xiangning Art Museum displays exhibits of modern art, while Shenzhen Museum features artifacts important to local history and culture.  Significant religious structures include places like Hong Fa Buddhist Temple, Chiwan Tin Hau Temple, and Dongshan Monastery, while nearby historic sites include Tomb of the Young Song Emperor, Xin'an (Nantou) Ancient City, and Dapeng Ancient Fort.  Shenzhen also has plenty of opportunities for experiencing local performing arts at a theater or concert hall, as well as establishments that specialize in spa and massage.
Food and Dining
As a migrant city, the cuisine of Shenzhen reflects just about every region of China. The locals enjoy a vast range of dishes, including the hot and spicy specialties of Sichuan Province, preserved ham of Hunan Province, cold dishes of northeast China, recurrent Cantonese meals, and even international selections with both Japanese and Thai restaurants. The people of Shenzhen also participate in a tradition that involves the drinking of morning tea along with dim sum, which is a style of Chinese cuisine prepared as small bite-sized portions of food served in small steamer baskets or on small plates. Dim sum and tea are also served during lunch hours. Beyond these Chinese specialties, there are some restaurants that offer Western fare as well.
Transportation
For the most part, visitors should obtain visas from a Chinese embassy before arrival. The nearest airport is Shenzhen Bao'an International Airport, which offers domestic flights and limited international flights through Air Asia, Silk Air, and Scoot. For a greater range of international flights, use Hong Kong International Airport. From Hong Kong visitors can reach Shenzhen via public transportation (bus, train, or ferry). Within Shenzhen itself, the Shenzhen Metro is the most convenient method of navigating the city.