Xiamen On a Budget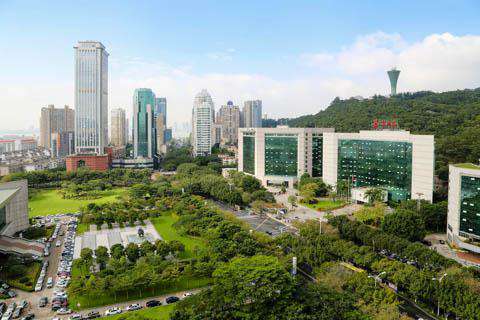 Xiamen is a coastal city in the Fujian Province of China and has been a major port city and gateway to China for centuries. This vibrant and modern city was named the most livable city in the world in 2002 and one of the first cities to be named a Special Economic Zone. Xiamen is best known for being home to Gulangyu Island, a beautiful island full of historic colonial buildings and lovely walking paths.
The city tends to be warm all year round, rarely dipping below 50 degrees Fahrenheit, even in the winter. Summers tend to get hot, rainy, and humid, especially in July and August when temperatures reach 90?. Spring and Autumn tend to be the best times to visit, with Autumn being the drier of the two seasons.
Sights
Xiamen offers stunning scenery during the day and night, thanks to the beautifully lit buildings, laser shows, and even lit up sculptures. There are also many night markets to explore, especially in Bailuzhou Park where there are vendors, music, and dancing in the evenings.
You can't visit Xiamen without a trip to Gulangyu Island, located just across the harbor from the Xiamen main land. The island is a lively place full of food vendors, craft makers selling their goods, cafes, and restaurants. The area is covered with old colonial style buildings inspired by some of the missionaries that came to visit in the 19th and 20th centuries. During the day, the entire island is hustling and bustling with lots of noise, while the evening brings about a calm and quiet atmosphere that's great for a long stroll.
Escape the noise of the city with a trip to the Nanputuo Temple, a Buddhist temple near the Xiamen University. After touring the temple, climb the mountain behind it to find beautiful views of the city along with a few enclaves and Buddhist statues along the mountainside.
Neighborhoods
Xiamen is a fairly large city divided into five districts, some of which are more interesting to tourists than others:
Gulangyu Island: The scenic island located just a 5-minute ferry ride from downtown that is rich in historical sites, walking paths, and restaurants.
Jimei: This district is considered to be one of the most beautiful districts in the city, especially thanks to the architecture of the University of Jimei.
Huli: The industrial hub of the city and of little interest to tourists.
Siming: An area full of beaches and beautiful shorelines with a lot of shopping.
Tong'an: A coastal area with a lot of natural resources, it is best known for its hot springs.
Activities
Spend the day at one of Xiamen's beautiful beaches which offer plenty of sand and clear water to swim in. You'll find one of the most popular activities on the beach is kite surfing! There are a few different companies that operate on the beaches, especially on Haiyuntai beach where there's less swimmers and the wind conditions are ideal. For something a little less adrenaline-inducing, you can snorkel around the reef off Gulangyu Island.
Spend hours getting lost in the tranquility and beauty of the Xiamen Botanical Garden which has a variety of hiking trails and paths to explore.
Food and Dining
Xiamen is famous for their glass noodles, oyster omelets, fish balls, peanut soup, braised duck with ginger, and shacha noodles which are noddles mixed with seafood such as quid, oysters, and shrimp in a sesame-garlic soup. You'll find many restaurants on Zhongshan Road and LunDu, which is the harbor. Tea houses are very popular here and offer a chance to relax and enjoy the scenery. Many of these tea houses and other cafes can be found on Xidi Coffee Street.
Xiamen has a great nightlife scene, with many bars, clubs, and discos. Haiwan Park is known for their disco scene, although you can easily find quieter pubs throughout the area as well.
Transportation
The international airport is near the downtown area, making it easy to fly in and out of the city. Bullet trains, regular train services, and buses are also great ways to get into the city.
Taxis one of the best ways to get around, just be sure to request a shorter route as they tend to take scenic, longer, routes to make the ride more expensive. During busy times, try to have a taxi called for you rather than trying to flag one down as they do become hard to catch. You can easily navigate the city on bicycle or by local bus, although street signs and bus stops tend to be listed only in Chinese.
Related:
Looking for a
hostel in China
?
Traveling alone to
Beijing
or
Hong Kong
or want to party in
Shanghai
?