Verona On a Budget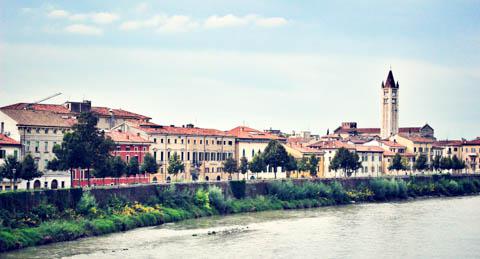 Verona, Italy is probably most famous as the setting for Shakespeare's famous play, Romeo and Juliet. It's in northeast Italy in the Veneto region, close to Venice. It's easy to make the trip by train from either Venice or Milan. Verona has many Roman ruins throughout town, most notably, the Arena. The Arena is a large amphitheater that dates back to the first century AD. You also can't visit Verona without stopping by Juliet's House on Via Cappello, just off the Piazza delle Erbe. The balcony is the supposed balcony that inspired the most famous love scene in the play. You can expect to find tourists gathered around with camera, perhaps detracting a little from what might have once been a romantic setting. Other sights in town worth visiting are the Castle Scaligeri, Castelvecchio, Lamberti Tower, Juliet's Tomb, and the small chapel San Giorgetta. If you have the time while you're in town, consider hoping on Bus 41 and heading out to S. Maria di Lourdes Sanctuary. From the edge of Verona's highest hill you can have a stunning view of the surrounding area. It's well worth the trip.
There are some local dishes that are worth sampling in Verona. Pasta dishes made from buckwheat pasta are a favorite, as is a type of pork casserole. If you're particularly daring, horse meat is considered a favorite in these parts and you can find it on some menus around town. Specifically look for a dish called pastisada de caval.
If you want to head to a bar that's not overcrowded with tourists, head to Piazza delle Erbe. Piazza Bra is best avoided as this is the area where you will find most of the crowds and overpriced drinks.
Accommodation is generally much cheaper than nearby Venice, but you should definitely have reservations before arrival. This is particularly important if you are in town on days when there are performances taking place at the Arena, or during the tourist high season.