Trieste On a Budget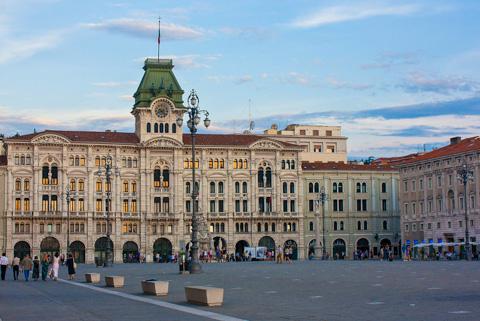 Located on the northeast Italian coast next to the Adriatic Sea, Trieste is a city characterized by its European charm, ancient architecture, and striking sea views. Its art, music, history, and culture also take some influence from the Austro-Hungarian Empire, boasting many Slavic traditions and empire-era architecture.
Sights
One of the best attractions of Trieste is its architecture, which dates back to Austro-Hungarian rule. Many elaborate designs can especially be found in the buildings of the main square, Piazza Unita d'Italia, including the Pittori Palace, Town Hall, and the Government House. Another impressive site for architecture is the Trieste Cathedral, which showcases frescoes and mosaics built on Roman ruins. The cathedral sits on a hilltop and dates to the 14th century. Other Roman architecture can be seen at the Arco di Riccardo gate, which was built into Roman walls in 33 AD, and at the Roman Theatre which rests on a slope facing the sea and was also built in the 1st century. Finally, one of the largest monuments is probably the Castello di San Giusto. Its grounds encompass the castle, a temple, church, Roman forum, and a garden, amongst other things. On site is also a museum that showcases art and history.
Trieste is also home to many additional museums that delve into the history, art, and culture of the area and beyond. Museo Revoltella, for example, houses one of Italy's finest collections of 19th-century, modern, and contemporary art. The Museo di Storia, Arte e Orto Lapidario (or the Museum of History and Art and Lapidary Garden) features a large exhibition of archaeological, art, and historical findings from Egyptian, Greek, Roman, and pre-Roman antiquity, while the Museo di Storia Naturale houses zoological, botanical, geological, paleontological, and mineralogical collections.
Neighborhoods
The iconic city center is located near the sea, marked by the Piazza Unita d'Italia, which is home to a landmark fountain and surrounded by 19th-century avenues that branch into narrower medieval streets. This public square is also lined with historic municipal buildings and palaces, and is occasionally used as a concert venue and for visits with important foreign heads of state. The area is generally known as the Austrian Quarter, as the architecture here was built under Austrian-Hungarian dominion and resembles the styles of Vienna, including Neoclassical, Art Nouveau, Eclectic, and Baroque. The medieval streets surrounding the main square are what make up the Old City, or Citta Vecchia. This extensive system of narrow alleys are largely closed to traffic, and are open to pedestrian exploration. Throughout the city center, the streets are also dominated by coffeehouses and cafes, as coffee is a specialty of Trieste. Visitors will also find an array of restaurants, landmarks, museums, and shops.
Activities
Trieste is a city whose main attractions can be explored on foot. Walking is a great way to admire the city's unique Hungarian architecture and experience its winding medieval avenues. Sightsee any of the landmarks mentioned above and spend hours traveling back in time with the collections held at Trieste's museums. Visitors are also sometimes permitted to view the panorama from the top of the Vittoria Light, or Victory Lighthouse, or they can take a day trip just north of the city to see Miramare Castle, whose grounds include an extensive cliff and seashore park right along the coast.
Food and Dining
Local cuisine is reflective of the area's Slavic roots with many dishes consisting of pork, potatoes, cabbage, and stuffed pastries filled with meat for a savory snack or fruit for dessert. A few specialties include a traditional plate of boiled pork called caldaia, a type of dumpling stuffed with meats or fruits called gnocchi, a fish soup called brodetto, a creamy rice called risotto, and a soup called jota that is prepared with pork, potatoes, cabbage, and finely-ground beans. One dish that especially reflects the city's Hungarian roots is goulash, a stew of meat, paprika, and other spices, though the Trieste version omits potatoes and instead includes bread or polenta on the side. Another common side dish is chifeletti, bits of crescent-shaped fried dough made from mashed potatoes, butter, flour, and eggs. Sugar can be added to turn the dish into a dessert.
Within the city, cafes are also very popular. Beginning under Austria-Hungary in the coffee industry, Trieste is still known as the "coffee capital of Italy." On the outskirts of the city are also plenty of opportunities to sample wine, cheese, and pork products from local farms. These wineries are known as "osmicas," after the Slovenian word for
eight
, since under the Austro-Hungarian Empire farmers were only allowed to open them for eight days each year.
Transportation
The nearest major airport is the Trieste-Friuli Venezia Giulia Airport, located about 33 kilometers north of the city. The Polo Intermodale offers direct train service between the airport and Trieste Centrale stations, with an average journey of about 30 minutes. A bus service also runs between the airport and Trieste's bus station (next to the railway station), taking about 55 minutes. Taxis are also available. Other options for travel include long distance trains and buses from neighboring cities.
Train and Bus Prices
The best prices for buses and trains in Italy
can be found on Omio
(formerly
GoEuro
). They let you search across all train, bus, and plane routes throughout the region.