Trento On a Budget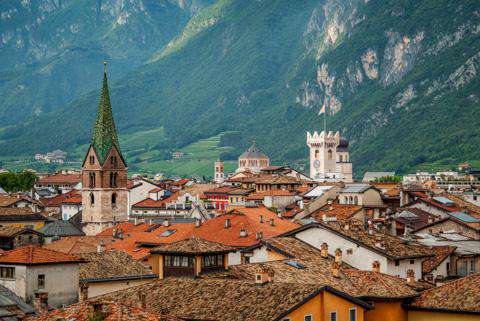 Amid stone castles of centuries past and Renaissance fountains, the ancient and modern world glide seamlessly together to create a quaint, elegant town. Trento is the capital of Trentino and is located on the Adige River valley. A most prominent city during the sixteenth century, Trento was once the location of the Council of Trent, wielding insurmountable power throughout the region. Though formerly part of Austria and Hungary-Austria, Trento finally was annexed by Italy in 1919. Because of its rich history, a great deal of breathtaking architecture can be found throughout the city, such as the Trento Cathedral and the Castello del Buonconsiglio. Despite its cultural and historic significance, however, Trento is also the capital of Italy's education, politics, and economy. From the top 30 universities in Italy, University of Trento ranks highly among them and has gained worldwide prestige. Compared to many other Italian metropolises, Trento is ranked highly for its quality of life, standard of living, and business and job opportunities for the population. In 2004, Trento was named the Alpine Town of the Year as well.
Sights
The mother church of the Roman Catholic Archdiocese of Trento as well as the seat of the Bishopric of Trent until 1802, the Trento Cathedral is a key landmark for those that intend to visit the city. Built roughly during the sixteenth century, the Trento Cathedral was meant to honor Saint Vigilius, a patron saint of the city. Commissioned by Bishop Frederico Wanga, architect Adamo d'Arogno constructed the new Lombard-Romanesque church. Though the construction withstood a century, the Gothic style of the architecture is indefinitely present. The Trento Cathedral holds many cherished pieces of ancient art and architecture, such as fourteenth-century frescoes, the stone statue of the Madonna degli Annegati, relics of the local martyrs like Sisinius, Marturius and Alexander, and works from painter Ludovico Dorigny. The Trento Cathedral is truly a sight to behold and is guarded by the iconic Fountain of Neptune. From dusk until dawn, the Trento Cathedral is open to the public except during noon, where the church schedules a two-hour closure. Located in the center of the city at the end of the Piazza Duomo, the Cathedral is only about a 10-minute walk or short bus ride from the Trento Railway Station.
Activities
If you're hoping to travel into the nearby mountains there are some great lakes that make for a wonderful day trip. Consider hoping on a bus and heading to either Lavarone Lake or Caldonazzo Lake, both of which are quite picturesque and a great way to pass some time.
Food and Dining
Given that it's Italy, you can expect there to be some wonderful restaurants around town. One of the most enjoyable activities in Trento is to sip a coffee or enjoy a snack at an outdoor cafe. There are also restaurants to accommodate most budgets with some of the most popular inexpensive options being Osteria Piedicastello and La Grotta.
If you wish to not only surround yourself with history but consume it as well, look no further than Osteria a "Le Due Spade," or Osteria in "The Two Swords." A historic eatery, The Two Swords has been serving quality meals in a purely romantic, breathtaking environment for centuries. Founded during ancient times, this restaurant became The Two Swords in the 1980s when Peterlana and Rita Vedana took ownership of this historic dining parlor. The Vedana family acquired a long history in the culinary arts and used their enthusiasm and talent to create a near five-star restaurant. Fresh ingredients, expert culinary skill, friendly service--The Two Swords works to bring fine dining to a whole new level. Alongside the Vedanas is their son Massimiliano, his wife Paolo, and the kitchen staff led by Federico Simone and Dani and Angelo Gianni. Besides its plethora of dishes offered, The Two Swords has a wide selection of wines that you can pick from their cellar. Still preserving its history, The Two Swords holds a parlor in pine blonde wood from 700 AD as well as a barrel vault ceiling from 500 AD. Some of the classic Trentino dishes include pappardelle with rabbit ragout with rosemary, watercolor Risotto with shrimp and artichokes on coffee powder, green spaghettoni with turbot and broccoli of Torbole, and trilogy lobster: ravioli, cannelloni au gratin and dumplings.
Transportation
Due to the fact that the city is closed off from traffic, getting around Trento is quite cheap and hassle-free. It is recommended by many to travel by bike or foot when in the city. Many rental bike companies can be found in the city and even offer some easy biking itineraries. Moreover, a company by the name of Mira that is based in Venice offers biking tours with expert guide service to maneuver around roads with the least amount of traffic and most aesthetically pleasing scenery. On average, you can rent a bike for €15 with the first hour free. Most bike rental stations can be found in front of tourist information on Piazza Dante. However, if you are looking to travel to the more scenic mountain range surrounding Trento, public transport can easily take you there, with the bus station being located between the train station and a hostel.
Related:
Looking for a party in
Rome
or
Florence
?
Traveling alone
Milan
or
Rome
?
Find a
Contiki tour
to Europe.
Train and Bus Prices
The best prices for buses and trains in Italy
can be found on Omio
(formerly
GoEuro
). They let you search across all train, bus, and plane routes throughout the region.