Bergamo On a Budget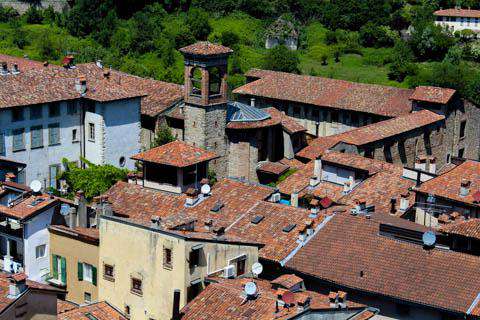 The blue horizon, now flush with the pinks and purples of a waning day, cloaks the Alps in a mystic blush, only able to view its peaks through faded outlines. Proud, ancient Romanesque architecture surrounds you, and the city feels no more palpable than that of a summer dream. Bergamo, Italy is located in the Lombardy region, northeast of the Italian city Milan. Deemed a treasure in Northern Italy, Bergamo is divided into two centers: the Alta (upper) city and the Bassa (lower) cities, loosely connected by funicular and walking trails. From its cobblestone streets to its Venetian walls, Bergamo is an ancient Italian paradise with many historic sights to be explored, such as Basilica di Santa Maria Maggiore and the grand Cappella Colleoni. Breathtaking views, fine dining, high-tier boutiques and shops - it is no wonder that this beguiling city attracts tourists from all walks of life. Whether you look to explores it fine art museums or simply lounge languidly about a cafe, Bergamo is a city that can bring both divert and delight!
Sights
Undoubtedly the most majestic construction found throughout the elegant Bergamo, the Cappella Colleoni is a significant landmark that gives the city distinction. Built between 1472 and 1476, the church was originally built as the personal shrine for the condottiere Bartolomeo Colleoni, the most famous captain of Italian venture, and his beloved daughter Medea. A masterwork from the Italian Renaissance, the design was entrusted to Giovanni Antonio Amadeo. Cappella Colleoni was designed in an octagonal tambour dome and in the lantern cusp with the usage of polychrome marbles. Within the church, an endless amount of art awaits you. From the nine plaques that refer to the Biblical stories to statues of the three saints John, Mark and Bartholomew, Cappella Colleoni is truly a work of artistic genius. The tomb of beloved Bartolomeo is also found within the church and can be viewed by the public. Cappella Colleoni is open from Tuesday to Sunday, but the times vary depending on the time of the year. Admission is free, so get a taste of Italian culture at the Cappella Colleoni!
Activities
Enjoy the natural beauty of Bergamo as well and explore the eighty kilometer-long mountain range of the Orobie Alps. Throughout the mountains, lush, bountiful ecosystems allow the Orobie Alps to attain a distinct biodiversity. Consisting of peaks, ridges, valleys, fields, forests, woods and natural environments of extraordinary value, the Orobie Alps also are spotted with quaint farmhouses and cottages. Covering half the provincial territory of Bergamo, the Orobie Alps have held a special cultural and historical significance to its people. Relish in its pristine countryside and untouched woodlands by hiking on one of the well-marked footpaths. If you are feeling adventurous, you can continue to follow this path until it reaches the mountain's peak, where a once-in-a-lifetime view awaits you. However, it should be stated that while mountains like Coca, Redorta, and Scais are beautiful, these mountains can be quite treacherous and are normally only reserved for expert mountaineers. The remaining mountains and surrounding land, however, is open to the general public. Be sure to prepare yourself fully for an amazing expedition across the Orobie Alps!
Food and Dining
Fifteen years ago, Trattoria Camozzi Claudio opened its doors to fellow inhabitants of Bergamo and has not looked back since. Owned by the Canji family, Trattoria Camozzi Claudio seeks to bring the flavors of the Mediterranean into the mouths of Northern Italians. A first-rate eatery, Trattoria Camozzi Claudio provides an intimate setting for the friends, families, and followers of the restaurant with its fusion of classic and modern design. Comprising mostly of seafood, the menu features meats carefully selected by the best of Italian producers, allowing for only the freshest ingredients to even touch a plate at Trattoria Camozzi Claudio. Some of the restaurant's meals include fillet of sea bream in a potato crust, tuna steak with rocket in balsamic sauce garden, filleted sea bass with asparagus and prawns, and ravioli blacks bass of homemade fresh tomato and basil.
Transportation
Not being a large town, Bergamo can easily be traveled by foot. However, to get from the two districts within Bergamo, it is recommended that you use a cable railway that connects the two sections as walking the distance is known to be quite tiring. Bergamo also acquires satisfactory bus and train networks, and maps, routes, and schedules can be easily found on the mass transit authority's website. If you are staying in Bergamo for an extended period of time, consider investing in a Bergamo Card, a city card that includes the airport bus as well as free entry to the leading museums, discounts on entry to events, exhibitions, food, and shopping. Baffle at the beauty in Bergamo!
Related:
Looking for a party in
Rome
or
Florence
?
Traveling alone
Milan
or
Rome
?
Find a
Contiki tour
to Europe.
Train and Bus Prices
The best prices for buses and trains in Italy
can be found on Omio
(formerly
GoEuro
). They let you search across all train, bus, and plane routes throughout the region.