Brescia On a Budget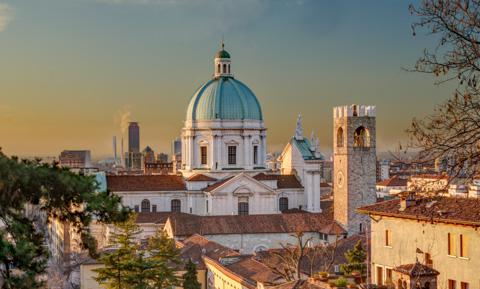 As you look up to the heavens, marveling at the scattered puffs of white clouds kissed by the sun in its golden hue and set against a clear blue sky, you return your gaze to your surrounding land: an Italian paradise of lush forests, majestic Alps, mouth-watering aromas of local bakeries and restaurants, and a romantic cityscape. Brescia is located in the Lombardy region of Northern Italy. Nestled away between the two bustling cities of Milan and Verona, Brescia stands at the foot of the Alps beside the breathtaking Lake Garda. Once a "pass-through" city of Italy, Brescia is now considered the "lioness of Italy" in its rich culture and impressive history. Founded over 3,200 years ago, Brescia's significance in pre-Roman times has allowed it to still retain in its global fame. From the oldest ruins of Northern Italy to hidden gems of Lombardy's natural world, Brescia holds some of the most well-preserved Roman architecture in Italy. A dynamic, hardworking city, Brescia holds about 200,000 inhabitants and is the second-largest city in the Lombardy region. A city that captures the heart and soul of Italian tradition, experience Italy in all its glory in Brescia!
Sights
Immerse yourself in the history of Italy and take a visit to the well-known museum San Salvatore! Founded in 735 AD, by Desiderius, future king of the Lombards, and his wife Ansa, San Salvatore was originally a female monastery. Despite the defeat of Lombard, San Salvatore still retained its royal privileges until the French invasion of 1798 where the breathtaking monastery was reduced to barracks. It was not until 1966 that the dilapidated structure of the building was restored and turned into a museum. The museum itself includes a wide variety of Roman remains as well as preserved architecture from the pre-Roman, Romanesque, and Renaissance eras. San Salvatore was later named a UNESCO World Heritage Site in 2011 as part of a group of seven inscribed as Longobards in Italy, Places of Power (568-774 A.D.). Some of its most cherish relics include the Bascila Casket and the "Winged Victory" statue. Watch history and art fuse together so elegantly before your eyes at San Salvatore!
Activities
A popular vacation spot for locals and tourists alike, Lake Garda works as a simply sublime example of Italy's natural beauty in the most pristine, untouched form. The largest lake in Italy, Lake Garda is divided between the provinces of Verona (to the south-east), Brescia (south-west), and Trentino (north). The name "Garda" came from a town located near the body of water and was used as early as the eighteenth century. "Garda" is an evolution of the Germanic word "warda," meaning "place of guard." With its pure and clear waters, Lake Garda is a place to sunbathe, swim, and simply unwind. In general, tolerable swimming temperature of the lake lasts from May to September or October. However, it has been stated that the depth and water temperature vary depending on what part of the lake you are in. A peaceful, serene lake, especially compared to the more busy bodies of water like Torbole, Lake Garda is a tranquil lake whose waves are of the smallest capacity and are largely due to passing boats.
Food and Dining
An eatery that feels more like home than a restaurant is none other than I Dù dela Contrada. Designed in a simple, elegant style, I Dù dela Contrada lays in the heart of the historic center of Brescia. Displaying curiously refined pieces of modern art and photography from local artists on its walls, I Dù dela Contrada captivates its patrons with delicious, traditional Italian cuisine as well as craft beers and wine only from the regions of Italy. I Dù dela Contrada offers both lunch and dinner as well as catering for general events. Open everyday, the menu from I Dù dela Contrada is diverse but continually changing due to the inventiveness and creativity of the restaurant's expert chefs. Some of the dishes included are risotto, stuffed chicken, fried dumplings, cheese with jams, the legendary cia righi. Served up in the style of strictly Brescian cooking, take a bite out of the town at I Du dela Contrada.
Transportation
As everything is in walking distance within the city, it is recommended that you travel by foot rather than by car. Besides, it has been stated that there are some breathtaking walking itineraries in the town center on many travel websites. If you look to travel to locations beyond walking distance, taking the bus or subway is advisable. City transport tickets can be purchased in bars and tobacco stores with an average ticket for 75 minutes running € 1,20 and a 24/7 ticket running € 3,40. Nevertheless, if you do travel by car, the antiquated road networks do not accompany the modern demands of traffic well, causing travel around the city to be quite time-consuming and difficult. Whatever you decide, enjoy your time in Brescia!
Related:
Looking for a party in
Rome
or
Florence
?
Traveling alone
Milan
or
Rome
?
Find a
Contiki tour
to Europe.
Train and Bus Prices
The best prices for buses and trains in Italy
can be found on Omio
(formerly
GoEuro
). They let you search across all train, bus, and plane routes throughout the region.