Como On a Budget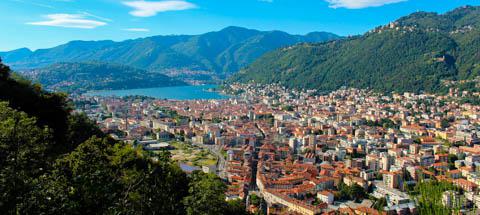 At the foot of the jagged cliffs of the Alps lies an expanse of shimmering waters made a golden white by the sun and pockmarked by sailors. Its blue waters beckon you to come forth and dive deep into the mystic body of Lago di Como, or Lake Como. With an area of 146 square kilometers, Lake Como is the third largest lake in Italy, right after Lake Garda and Lake Maggiore. The lake was originally named by the Romans after the city of Comum, now presently called Como. Lake Como is shaped into an inverted "Y," with towns like Como, Lecco, Bellagio, Menaggio and Lierna situated around it.
Since Roman times, Lake Como has always attained an air of gentry, attracting aristocrats due to its gorgeous landscape and Mediterranean climate. Since then, Lake Como has been an upscale resort area where many famous individuals have situated their vacation homes, such as George Clooney and Sylvester Stallone. Whether you look to explore chic boutiques or five-star restaurants, Lake Como is a playground for everyone. Splurge and splash on the waters of Lake Como!
Sights
If you decide to venture to the area of Lake Como, you must be sure to delve into its exquisite waters! With over 400 meters deep, Lake Como boasts in being the deepest lake throughout Europe. As the area of the lake extends over varying geography, the shores of Lake Como are diverse and unique. Whether you are looking for a grassy stretch of beach at Lido di Argegno or a more pebbly beach of San Giovanni beach, the amenities and regulations for each beach differ widely, so be sure to do your research ahead of time! Due to Lake Como's popularity, many towns offer a vast selection of watersports for their visitors, such as waterskiing, sailing, and surfing. As the stretch of this lake is so enormous, it is not advised that anyone should attempt to swim across it. Moreover, as water tests in 2007 showed the lake having 68 times the accepted level of colony forming bacteria, be weary of swimming in the lake as it may cause skin infection to bathers. Nevertheless, Lake Como is safe to swim in and thousands of people per year do so. Whether you seek to swim, surf, or sail, Lake Como is a slice of paradise!
Food and Dining
With a sunset terrace to watch the ever-changing colors of Lake Como to a rich menu with the reinvented flavors of Italy, La Darsena is a highly sought-after restaurant that seeks to bring its patrons a once-in-a-lifetime dining experience. Founded by chef Marcello, La Darsena is designed in a sleek and elegant form with glass walls that off a breathtaking overlook of Lake Como. As the items on the menu are only made from the finest ingredients found within Northern Italy, the meals offered change depending on the season. Be that as it may, La Darsena offers breakfast, lunch, and dinner as well as delicious wine-tasting events. Due to its refined architecture, La Darsena is a perfect place to hold weddings, anniversaries, and other events. Some of the main entrees include creamy risotto with leek cream and champagne with veracious clams and yuzu, craft beer-marinated suckling pig with roasted potatoes and wild apple mousse, and loin of venison marinated in red wine, cooked in low temperature with light horseradish sauce, red cabbage, and apple compote. Enjoy the eccentric flavors of La Darsena!
Transportation
While within the town of Como itself, or other cities around Lake Como, most destinations can be reached by foot. To travel from town-to-town is most easily done by public transportation. Efficient systems for trains and buses are found throughout Lake Como, and you can easily travel to such far-reaching places like Switzerland or Milan. There are also rental services for bicycles and cars, but travelers should be careful when riding or driving as the roads are often steep and bendy. Ferries and boats can also take you to many magnificent places while giving its passengers beautiful views of Lake Como. Have a wonderful time!
Related:
Looking for a party in
Rome
or
Florence
?
Traveling alone
Milan
or
Rome
?
Find a
Contiki tour
to Europe.
Train and Bus Prices
The best prices for buses and trains in Italy
can be found on Omio
(formerly
GoEuro
). They let you search across all train, bus, and plane routes throughout the region.