Varenna On a Budget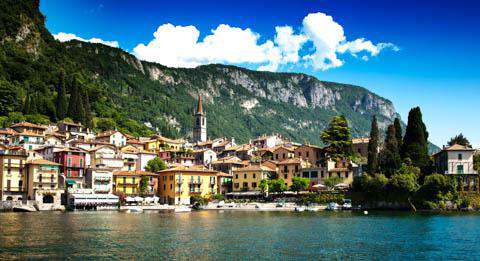 A golden light cascades from the heavens, bathing the misty blue mountains in a honey haze. The shivering waters of Lake Como blend the gentle blues and yellows of the sky to a tea rose pink that sits under white sailboats. A quaint village hustled around lush gardens, Varenna, Italy is an attractive fishing village that dates back to the eleventh century. Founded in 769 AD by fisherman, the town was originally destroyed in 1126 AD by the rival town Como, only to be restored refugees from the Isola Comacina whose town was also destroyed. Located on the eastern shore of the lake in the province of Lecco, Varenna is filled with a romantic air from its old Italian fisherman houses to the picturesque lanes. Unlike the towns of Bellagio or Milan, Varenna holds a particular authenticity to Italian culture without the burdens of tourist-ridden streets and hotel-packed areas. As Lake Como works as the main attraction of Varenna, the village provides its visitors with a wide array of entertainment on its pebbly beaches. Besides this, Varenna is also known for its exquisite gardens of two villas, Villa Monastero and Villa Cipressi. Besides this, Varenna also has museums just waiting to be explored. Take a tranquil retreat to Varenna!
Sights
Get a taste of Italian history and scenery by visiting the Villa Monastero. A unique treasure that has shone so brightly on the shores of Lake Como, the Villa Monastero includes a house museum as well as a botanical garden. Since the 18th century, many famous aristocrats and other members of the fine Italian gentry often stayed in this luxurious villa. With over 14 rooms that are completely furnished, the Villa Monastero was named a museum in 2004. The Villa Monastero also works a conference center where, in 1954, the Nobel prize winner Enrico Fermi was found working. Besides the villa's exquisite architecture, the botanical garden that surrounds it is even more spellbinding. Housing incredibly rare botanic species, the garden features a system of terraces, mirroring the elegant design of the villa. With over 1,000 new plant species found within this one garden, it is truly a sight to behold. There are also many tours and learning activities visitors can participate in to fully grasp the history of the villa and biodiversity of its garden. Tickets solely for the garden run at most € 5.00 and tickets for both the garden and Villa Monastero run for about € 8.00. Hours of operation vary for both exhibits so be sure to consult Villa Monastero's website before you visit. Explore the sophistication of Italian wealth in the Villa Monastero!
Activities
Though the village of Varenna is truly a treat of Northern Italy, one must not forget the blue waters that await on the outskirts of town. There are two beaches in Varenna that are equal in elegance and entertainment: Lido di Varenna-Perledo and Fiumelatte Beach. Lido di Varenna-Perledo is a beach that actually borders on the neighboring town of Perledo. This sandy beach is equipped with sun beds, deckchairs, and a boat dock for all your sunbathing purposes. Moreover, if you find yourself getting somewhat hungry amidst all the swimming and soothing, there is a complementary restobar located on the beach. However, unlike Lido di Varenna-Perledo, Fiumelatte Beach holds free entry. Located within a small neighborhood of Varenna, Fiumelatte Beach comprises of shores both stony and sandy. Wherever you decide, you'll be sure to have some fun in the sun!
Food and Dining
An eclectic restaurant with a warm, friendly air, Ristorante Borgovino opened in 2010 and has not looked back since. With its cozy atmosphere, you will feel right at home at Borgovino. The restaurant is small, containing no more than seven tables inside and two tables outside, but offers a simply sublime view of Lake Como. Borgovino wishes to bring diversity to its menu while making use of fresh, local ingredients. From seafood to vegetarian, Ristorante Borgovino has an extensive catalogue of dishes that will leave your mouth watering. Borgovino also has a diverse list of wines that are selected from the finest, most favorable cellars. So while you may be baffled by the food menu of Ristorante Borgovino, you will not know how to begin their wine-tasting menu. Some of their dishes include risotto with fried fillets of perch fish, risotto with funghi porcini and taleggio cheese, and crepes with bacon and spicy tomato sauce, Sliced fillet of beef with funghi porcini sauce, and grilled filets of whitefish from lake.
Transportation
As the village of Varenna is so small, most destinations can be reached by foot. However, there are a few rental companies for both bikes and cars if you prefer. If you are looking to explore beyond Varenna to such cities like Menaggio, Griante, and Bellagio, it is best to take a ferry across Lake Como. Not only are the tickets relatively cheap, but the view of the lake is simply to-die-for. To far-reaching destinations, take the train, though it should be advised that tickets cannot be bought at the station. You can either buy the tickets on the train itself or at the nearest travel office. Get the most of Varenna while you are there!
Related:
Looking for a party in
Rome
or
Florence
?
Traveling alone
Milan
or
Rome
?
Find a
Contiki tour
to Europe.
Train and Bus Prices
The best prices for buses and trains in Italy
can be found on Omio
(formerly
GoEuro
). They let you search across all train, bus, and plane routes throughout the region.