Canary Islands On a Budget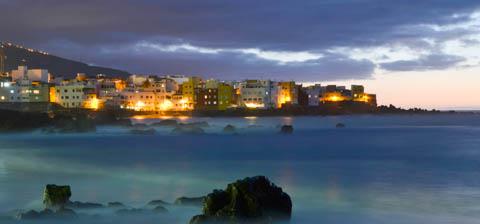 The Canary Islands are a territory of Spain located off the northwest coast of Africa. Made up of rugged volcanic islands, the archipelago is known for its black and white sand beaches with great surf as well as opportunities for hiking, biking, snorkeling, and scuba amongst other activities.
Sights
The landscapes of the Canary Islands are many and varied-from wild surf and sweeping sand dunes to deep ravines and rainforests. Being of volcanic origins, the islands also have a number of striking summits and rugged landscapes that make for great hiking and mountain biking. This also contributes to a number of black sand beaches that are popular with visitors. Much of these landscapes are protected by national parks or occupied by indigenous villages as well as native flora and fauna.
The cities and larger towns also have much to do and see with a rich history and culture as well as plenty of opportunities to shop and dine. For a great overview and tips, check out this
guide to visiting the Canary Islands
.
Regions
The Canary chain is made up of the islands of Gran Canaria, Fuerteventura, Lanzarote, Tenerife, La Gomera, La Palma, and El Hierro.
Gran Canaria is the largest island by population, and perhaps has the most varied landscape-green and steep in the north, dry and flat in the south. It is known for its beaches (Playa del Ingles and Maspalomas) and capital city of Las Palmas.
Fuerteventura roughly translates as "Strong Winds" and as this name suggests, is best known for its impressive waves-a surfer's paradise.
Lanzarote has a beautiful volcanic landscape, well-preserved as the Timanfaya National Park on the west part of the island.
Tenerife is the largest of the seven islands, with the highest mountain in Spain, El Teide. Its capital city, Santa Cruz de Tenerife, is home to the Canary Island Parliament and is representative of the region's rich history with many museums and monuments.
La Gomera is marked by deep ravines with cliffs covered in laurel rainforest. The local people have a unique way of communicating across deep ravines by using a whistled speech called Silbo Gomero. This method is indigenous to the island, and its existence has been documented since Roman times.
La Palma is known for its steep volcanic landscapes and terraced countryside interlaced with small towns and villages. The capital of the island, Santa Cruz, has many well-preserved old buildings and cobblestone streets.
El Hierro, also known as the Meridian Island, is the smallest of the Canaries and most western. As
a UNESCO World Heritage Site
the flora and fauna of the island and its surrounding waters are protected-an ideal place to relax out in nature.
Activities
With warm waters, tropical fish, and great surf the Canary Islands are sometimes referred to as the "Hawaii of the Atlantic." These conditions make for a variety of activities, both on land and sea. Many of the islands have hiking and mountain biking trails that will pass villages, lakes, mountain scenery, and flora and fauna native to the region, while the beaches are prime locations for sunbathing, beach sports, swimming, surfing, and scuba diving. There are plenty of instructors available for surfing beginners, as well as guides who can take scuba divers out to the area's best diving locations.
Other popular watersports include jet-skiing, sailing, windsurfing, and water-skiing, while the cities and larger towns of the islands have plenty of opportunities for sightseeing, shopping, and dining.
Plenty of festivals can be experienced here, too. Check out this
guide to festivals in the Canary Islands
.
Food and Dining
Cuisine of the Canary Islands takes its influence from a mix of Spanish, Latin, and African cultures. Dishes typically consist of a variety of fresh vegetables, fruit and fish, some meat-usually light meals, which are easier to digest in a warm climate. Many small dishes or tapas are served around the island and are known locally as enyesques. They are often accompanied by a sauce called mojo made mainly of oil, garlic, vinegar, salt, red pepper, thyme, oregano, coriander, and several other spices. There are two varieties of mojo: rojo (or red, often served with meat) and verde (or green, often served with fish). Traditional Canarian meals usually start with soup and are followed by a main dish, consisting of local meat or fish, and the ingredients are often simple but rich and flavorful. The Canary Islands are also Europe's only exporter of plantain bananas, which are generally served fried. Local wines and liquors can also be found on the islands.
Transportation
As far as travel goes, the airports on Tenerife and Gran Canaria are the most popular. Tenerife has two airports: Tenerife South (Reina Sofia) near Los Cristianos and Tenerife North (Los Rodeos) by La Laguna. Gran Canaria Airport, sometimes also known as Gando Airport or Las Palmas Airport, is located in the eastern part of Gran Canaria on the Bay of Gando (Bahía de Gando). Each of these airports offers flights to and from international destinations. Ferries to other nearby islands are also available from Tenerife and Gran Canaria.
Related:
Looking for a party in
Barcelona
or
Madrid
?
Traveling alone to
Granada
or
Seville
?
Find a
Contiki tour
to Europe.
Train and Bus Prices
The best prices for buses and trains in Spain
can be found on Omio
(formerly
GoEuro
). They let you search across all train, bus, and plane routes throughout the region.