Tenerife On a Budget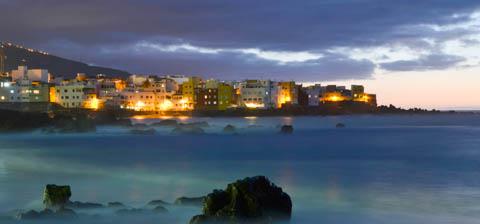 European tourists have long known Tenerife as a top vacation destination. Amazing beaches and a booming nightlife bring in visitors to the largest of the Canary Islands all the way from England, Germany and Spain - particularly during the Easter holiday. Now the rest of the world is catching up. It's not just a spot for spring breakers looking for a party - it is full of mountains, volcanoes and forests ready for exploring.
Sights
For the best view of the whole island, you'll want to head to the El Teide volcano. Once you arrive, there is a cable car that will take you most of the way up the volcano. To climb to the top you need to get special permission from the National Park Office in Santa Cruz. If you can get that permission, the view is simply stunning. If you plan to do it by foot, you'll start 2,200 meters above sea level at the base of Montana Blanca. Beware that the low oxygen levels and steep pathways make it challenging for even people in great shape.
If you decide to rent a car during your stay in Tenerife, there are some wonderful paths to drive. The long, winding mountain roads have some breathtaking scenery, but be careful if you're not an experienced driver. Some of the most narrow, but beautiful roads lead to Masca village in the north.
And of course there are always the beaches. Playas Americas Beach is covered in black volcanic sand. While this is a novelty, the black sand can get hotter than the imported yellow sand of Los Cristianos.
Neighborhoods
The south side of the island is where you'll find the younger tourists. It's like summer year round on the south side of Tenerife - no wind and a beach day every day. January and February do see a few cool weather days, but in Tenerife that just means wrapping a scarf around your waist.
The north side of the island is where you'll find the lush, green forests and local culture. The weather fluctuates a bit more, but you'll get more of that Spanish springtime feeling.
In the heart of the island is Spain's tallest peak, the volcano El Teide. Over 3,000 meters above sea level, this active volcano provides a really great view of the island. Keep in mind, though, special permission is required to climb to the top.
Activities
Tenerife is a haven for hikers and bikers. There are beautiful routes for nature enthusiasts of every experience level - from strolls to intense terrain. There are plenty of places to rent a bike should you want to avoid the hassle of bringing your own. In fact, due to its warmer climate, Tenerife is becoming a popular winter spot for cyclists. While much of Europe is covered in snow, sleet and mud, the island is ready and welcoming. Riding through black sand beaches and lava fields makes for some interesting winter scenery for sure.
While there is plenty to discover in Tenerife's lush forests, there's another world to discover just below the surface of the sea. Several dive operations make this a top destination for scuba divers. The best part is the waters are dive ready all year round. There is no shortage of sights, for example, you can swim around the harbor wall in Puerto de la Cruz to see the volcanic rock formations.
Food and Dining
The local cuisine is largely centered around seafood. Many restaurants will have a variety of hand caught fish on their menu. Other specialty dishes include black potatoes called papas arrugadas, tortillas, paella, and the traditional Spanish tapas.
In areas with high tourist populations you'll find many menus available in several languages. There are also plenty of Chinese restaurants and fast food places for those looking for the comforts of home.
Transportation
Your best bet for discovering the hidden gems of this island is to hire a car. You'll be able to go at your own pace and schedule, and new roads around the island are being built all the time.
TITSA buses also cover the majority of the island and run fairly frequently. They are pretty easy to use, but beware the morning traffic heading into Santa Cruz.
Related:
Looking for a party in
Barcelona
or
Madrid
?
Traveling alone to
Granada
or
Seville
?
Find a
Contiki tour
to Europe.
Train and Bus Prices
The best prices for buses and trains in Spain
can be found on Omio
(formerly
GoEuro
). They let you search across all train, bus, and plane routes throughout the region.