Palma de Mallorca On a Budget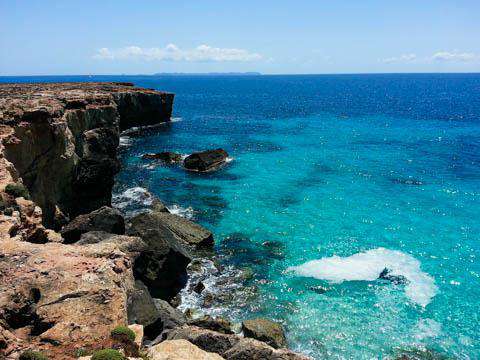 Palma de Mallorca is a resort city and capital of the Spanish island, Mallorca, in the western Mediterranean. It is home to landmarks like Gothic cathedrals and medieval fortresses, but is also host to sandy beaches where the city meets the sea in a backdrop of surrounding mountains. Amidst the city itself you will find it easy to get lost in the charm of cobbled lanes, busy markets, boutiques, and historic courtyards.
Sights
On a Mediterranean island full of coves where peaceful beaches meet the sea, it is hard to believe that the architectural wonders of Palma are what truly steal the show. Overlooking the sea, the Cathedral of Mallorca is probably the most well known in Palma. Taking some 117 years to build from 1229 to 1346, it is an impressive Gothic structure, and it boasts the largest Gothic Rosette in the world. Bellver Castle is another grand example, built on the ruins of a Muslim site. Set high on a hill it has sweeping views of the bay and contains a museum of archaeological finds and classical sculptures. Other notable sites include Banys Àrabs (a 10th century Arab bath building), the church at Plaça del Mercat, and the Almudaina Palace which was once an Islamic fort.
Paseo Maritimo is another sight of the city not to miss, especially if you enjoy nightlife. It refers to the area all along the port, where all the yachts and boats are chartered. In the evening, it is a great point from which to see the Cathedral lit up against the night sky, and it is also the place where many of the city's bars and clubs are located.
As far as museums go, Pueblo Español is designed like a small village and contains facsimiles of the major classical works of Spanish architecture, and Museo de Arte Español Contemporáneo has a permanent collection of famous artists like Pablo Picasso, Joan Miró, Juan Gris and Salvador Dalí.
Neighborhoods
Old Town is known for its narrow streets and aged architecture, a center of history with the famous restored cathedral of Palma at its landmark. Within this historic center, you will also find plenty of eateries in La Llonja and Santa Catalina, both of which are close to the sea front and are at the heart of the nightlife of Palma. Shopping is also at its best with stores many and varied amongst the enchanting architecture. Carrer Sant Nicolau and the surrounding streets make up the commercial area which is completely pedestrianized with boutiques and cafes. And then there is Placa Major, which hosts an outdoor craft market on Monday, Friday, and Saturday mornings. No matter what time of day, the city center of Palma is always bustling with shoppers and vacationers-taking in the atmosphere and seeking a good time.
Activities
Palma's pleasant Mediterranean temperatures make the city a great place to enjoy outdoor activities like golf and water sports like fishing, sailing, windsurfing, kite-surfing, and wakeboarding. With its vicinity by the sea, Palma de Mallorca is also a hot spot for beaches, bathing areas, yacht clubs, and marinas. Some of the more popular beaches all with white sands and crystal waters include Ciudad Jardín, Cala Major, and Can Pere Antoni. Calvias Costa d'en Blanes beach is even nearby a park called Marineland which features wildlife like sharks, tropical fish, exotic lizards, iguanas, anacondas, flamingos, and penguins. There is also a water parked called Aqualand with a variety of slides and pools. The nearby Sierra de Tramuntana mountains also provide opportunities for hiking out to breathtaking viewpoints.
If you are lucky, you might even catch a festival on the island. In July, Festival Isladencanta is an annual music festival covering genres including rock, pop, and Europe's best DJs. In August, Festival de Pollença features classical ensembles of renowned international artists and orchestras. Then there is the Fonart Short Film Festival August-September, and the Festa de l'Estendard which celebrates the coming of the new year in December.
Food and Dining
As one of the Balearic Islands, Palma de Mallorca remains true to the principles of Mediterranean cuisine-fresh seafood served with local fruits and vegetables. Some traditional dishes of the region include the pamboli made with Majorcan bread, plenty of oil, tomato, and a topping of your choice, as well as sobrasada, a raw cured sausage that is typical of the island. The best way to get a feel of the usual cuisine of Palma is to visit any of its old cafes and traditional bakeries. Popular baked goods include bunyols (a type of fried donut rolled in sugar), and the ensaimada which is a pastry stuffed with chocolate, cream, or fruit filling. Restaurants in the city offer local dishes as well as a wide range of cuisines from all over the world. The most popular restaurants can be found in several areas including the old part of town, on the seafront promenade, Paseo del Born, Santa Catalina, and Es Molinar. Typical of Spain, tapas bars are also very popular.
Transportation
By air, Palma de Mallorca Airport is the nearest international airport located 9 km east of the city center.
By train, TIB runs train services between Mallorcan towns. There is no train service to the airport. The main train, bus, and metro station ('Estacio Intermodal') is underground, at Placa Espanya in Palma.
By car, travelers can only drive to Palma from other cities in Mallorca-there are no bridges or any road links to other islands or to the mainland. Most cities and towns in Mallorca have road links directly to Palma.
The local bus service in Palma is run by EMT. Regional buses to destinations around the island are operated mainly by TIB.
By sea, any number of cruise ships dock at Palma, and there are also a number of ferry services to other Balaeric Islands and to the Iberian Peninsula. Ferry lines include Baleà ria, Alquiler de yates en Mallorca, Trasmediterranea, and Iscomar Ferries.
Related:
Looking for a party in
Barcelona
or
Madrid
?
Traveling alone to
Granada
or
Seville
?
Find a
Contiki tour
to Europe.
Train and Bus Prices
The best prices for buses and trains in Spain
can be found on Omio
(formerly
GoEuro
). They let you search across all train, bus, and plane routes throughout the region.