As one of Europe and Spain's most popular destinations, Barcelona has a great deal to offer visitors. But this great wealth of sights and activities can become overwhelming to travelers who are looking for the best deals and the most efficient ways to get around town. The information we've assembled below should help any traveler figure out what to do to make the most of their experience in Barcelona.
Accommodation in Barcelona
Barcelona is a huge city. Like most other huge cities, a range of accommodation options is to be found. From hostels and pensiones on the cheaper end to mid-range hotels and high-end luxury hotels to bed and breakfasts, something is available for every type of budget, and at every price point.
Hostels in Barcelona
Guest Houses and Pensiones
Many local residents in Spain open up their doors in the form of Pensiones. These establishments, marked with a "CH" at the door, are part-hotel, part-home. Some have separated rooms for guests while others are obviously just a guest room in someone's home. Either way, they are usually cheaper than traditional hotels, although not always as luxurious. Breakfast is often served. Quality depends on the individual place, so make sure you analyze those photos before you book. Barcelona has plenty of these businesses, and many are found outside of the main tourist areas.
Hotels in Barcelona
Traditional hotels are all over Barcelona and include everything from locally owned to international chains. Quality and price can vary. Spain has a star rating system that is regulated by the government. Hotels in Barcelona (and Spain as a whole) are required to mark the rating at the door next to a large "H" sign. All businesses with this hotel designation have private ensuite bathrooms and at least one restaurant, no matter what the star rating might be.
When looking for a hotel, shop around. Prices in the middle of Barcelona, especially near the old town areas, can be quite high for the quality that you would receive. Getting away from these areas will give you a much better value in your hotel choice. While major chains offer consistent quality, locally owned hotels in Barcelona often have better prices and a more interesting atmosphere, although quality might vary.
Neighborhoods in Barcelona (Barrios)
Most visitors to Barcelona are interested in the old town city center areas, as this is where the majority of the cultural, historical, and artistic sights and activities are found.
The
Gothic Quarter
, or Barri Gotic, is the original heart of the city. Here, old cobblestone streets weave through historic buildings with fascinating architecture. Restaurants, bars, and shops can be found everywhere, as well as plenty of tourist amenities. The narrow alleyways can be confusing, but getting lost is one of the best experiences here, as something new is always around the corner. The many plazas await with benches and fountains.
The large boulevard known as
Las Ramblas
cuts through the heart of the old section of the city, heading north-west from the main port. On this street visitors will find a plethora of shops, restaurants, cafes, bars, street performers, public works of art, and more. The southern end of this stretch of pedestrian-only road empties out near the cruise terminal. As such, this section of Las Ramblas receives plenty of tourist traffic, and prices are adjusted accordingly. The northern end stops at Plaza Catalunya, which is also a hub of activity, shops, and transportation. Roughly in the center of the stretch is the famous market, La Boqueria. While it is fun to stroll down Las Ramblas and admire everything, purchases should best be made elsewhere if you are concerned about your budget.
At the port, visitors can find a variety of attractions such as the aquarium, the Maritime Museum, the Mirador de Colom (a monument to Columbus), and other smaller attractions including shops and restaurants. Just north-east of the port, the beach of Barceloneta can be found if you want to get away from the city for a bit. The Gothic Quarter lies to the north of Las Ramblas, and then further to the north is the Picasso Museum, Barcelona Zoo, Olympic Port, and Arc de Triomf. The Sagrada Familia, Gaudi's famous cathedral, is even further north in the heart of the city. But don't worry, metro stations and bus stops are everywhere to help you get around (more on that later).
Gracia
is a neighborhood that was once it's own town until the metropolis of Barcelona grew outward and swallowed it. Now it's another neighborhood of the city, but it is not to be missed. Full of small, winding streets filled with quiet shops and restaurants, as well as quaint residential homes, Gracia will make you feel like you're in a small town in the heart of Spain 200 years ago. Well, mostly anyway, because the buses and Metro are also around every corner, making this a great place to walk around for a few hours as part of your Barcelona experience. Don't miss the art galleries, the street cafes and restaurants, or the local shops and bakeries.
Transportation
Barcelona has an extensive public transportation network consisting of subways, commuter rail lines, trams, and buses. Visitors inside the city center will most likely find the subway and tram lines to be most convenient and affordable.
Two companies operate the subway system: TMB and FCG. While this is not so important to visitors, as one can change lines when needed, the signage and company names may confuse some. Various lines criss-cross the city and can get you very close to your inner-city destination in a matter of minutes. As of February 2018, a one-way ticket cost 2.20 Euros. A 10-ticket pass, known as a T10, is usually the best deal for visitors, and single-day tickets are also a good option. If you know how many rides you will need during your time in Barcelona, you can plan ahead and purchase the most efficient option.
The Barcelona Card provides unlimited free rides, plus free and discounted admission to a variety of sights and activities.
Taxis and similar online ride-sharing apps are also a popular option, but more expensive than public transport.
Activities, Tickets, and Day Tours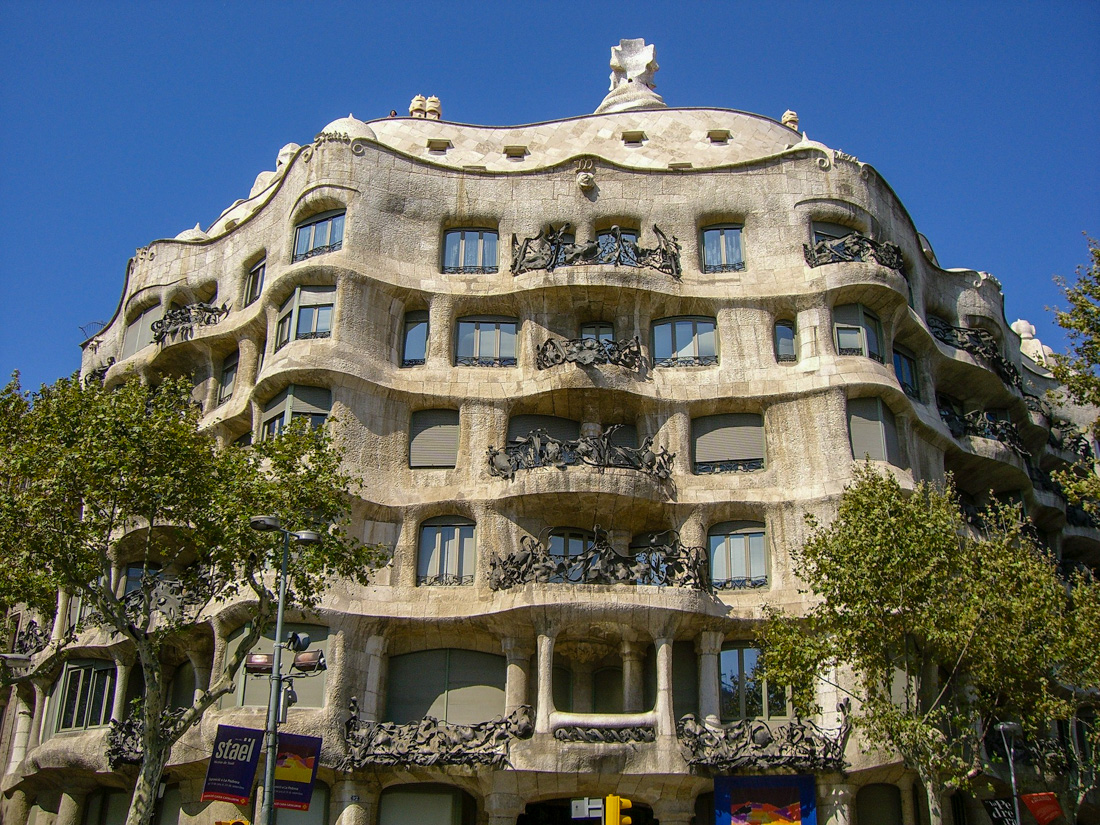 Barcelona is a huge city with plenty of things to do. Whether you're into art, history, architecture, culture, the outdoors, the beach, or anything else, Barcelona offers it to visitors. Perhaps the main area which draws most visitors at the beginning of their trip is the large pedestrian street known as Las Ramblas. Here you will find a nice promenade of shops, restaurants, and bars at all times of the day and night. Nearby is La Boqueria, the huge and lively market which sells fresh meat and produce from the surrounding countryside. Have a quick bite at the market or a more lengthy meal at one of the many nearby restaurants.
Barcelona has no shortage of art museums. Gaudi, Picasso, and Miro are only three of the great artists whose works can be found all over the city. A number of buildings designed by Gaudi make for great destinations in Barcelona. Check out the huge and famous cathedral, La Sagrada Familia for the pinnacle of his work. Or you could also visit Park Guell, Casa Batllo, or Casa Milo to see more of Gaudi's interesting style. And if you're interested in art, check out the Picasso museum or the Joan Miro Foundation for an in-depth look at the work of these two amazing artists. Also, keep in mind that many of these places allow free entry during specific times of the week. In our guide to
Things to Do in Barcelona
, we've covered each of these sights in more depth. Also, check out our
list of activities in Barcelona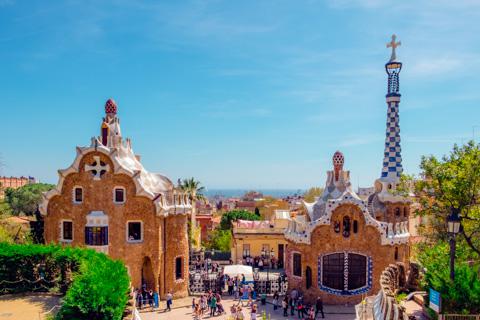 If you're interested in getting outside, Barcelona provides ample opportunity. With gorgeous weather most of the year, it's no wonder that the beach is so popular. Right next to the center of the city is Barceloneta Beach, with a few other stretches of sand nearby, too. For a great combination of art and the outdoors, check out Montjuic. Here you'll find plenty of walking and biking trails combined with interesting sights such as the National Museum of Catalan Art, former Olympic sites, an old castle, great views of the city, and the Magic Fountain.
Yet one more must-see location is Tibidabo Mountain. Make your way to this summit to find a fun amusement park with sweeping views over the city, along with a large statue of Jesus. The Ferris wheel is said to be the highlight of the park, as it has the best views. Plenty of fun is to be had for adults and kids alike.
Other attractions include the Barcelona Zoo, the famous FC Barcelona football stadium known as Camp Nou, the Aquarium, and Parc del Laberint d'Horta.
For more information and in-depth cost information, check out our lengthy guide to
Things to Do in Barcelona: Activities, Tickets, and Tours
, or our
guide to spending 3 days in Barcelona
. Another great resource is this article that covers
how many days you should spend in Barcelona
.
Day Trips
Barcelona is on the coast and close to plenty of nearby destinations that are all worth visiting. Not far from the city lies Montserrat, the monastery on top of a mountain that is a fascinating religious and historical site worth visiting. Also close to Barcelona is the town of Sitges to the south and Alella to the north. Both of these towns are on the coast and provide a glimpse into small-town coastal and agricultural life in Spain, and they can be reached in a very short time, too.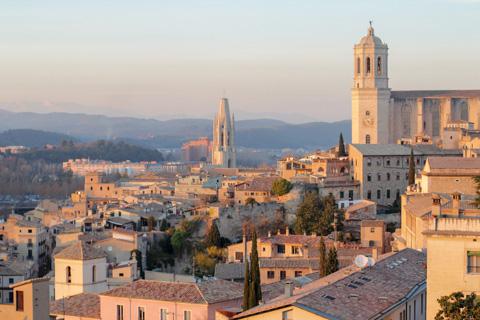 One of the crown jewels of Spain is the Costa Brava region, the stretch of coastline north of Barcelona that reaches up to the French Border. In this stunning landscape, you'll find small towns with ornate architecture, vineyards and wineries, beautiful beaches, historical fortresses, wonderful restaurants, and world-class art museums. Days could be spent in this region, but if you're short on time, it's close enough to Barcelona for a day trip.
We've compiled all of this information into a much more detailed guide to
Day Trips from Barcelona
. In this guide you can find transportation information, too, so check it out.
Food & Dining
If you plan to visit Barcelona just for the food, then you wouldn't be alone. The sheer amount of options for both eating and drinking can be staggering. From traditional Spanish Tapas to the Basque specialty of Pintxos, to Paella to wine and vermouth, the list goes on and on. Then, mix in a large number of modern chefs with their own personal take on traditional cuisine, not to mention the many street food stalls at popular markets, and you'll quickly find that Barcelona offers something for everyone.
For the newcomers to Spain, Tapas were traditional dishes served at bars designed to get people to drink more wine. Originally from the central areas of Spain, these small plates with tasty bites have since grown into their own culinary category, and are now often served at sit-down restaurants where diners can experience a wide variety of local flavors from award-winning chefs. Furthermore, Pintxos are the Basque (in northern Spain) version of Tapas which are known for placing ingredients on top of bread. And don't forget about Paella, the large rice and seafood (or meat) dish meant to be eaten family style.
Barcelona has commandeered Tapas, Pintxos, Paella, and other traditional recipes for its own culinary adventures, along with food from all over the Mediterranean and northern Africa. The streets of Barcelona are filled with restaurants offering all types of traditional and modern food, so it can be a little tricky figuring out which place might offer the best food. Below are some of the best places to try, but before you do, don't miss the market!
La Boqueria Market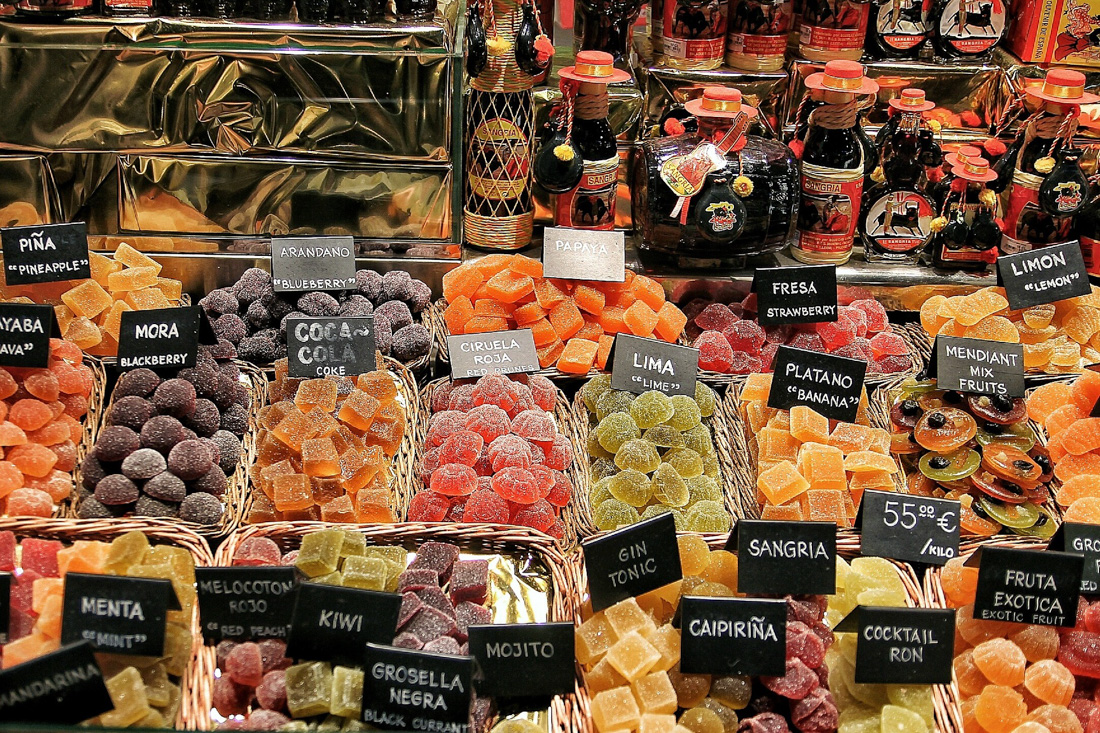 In the heart of Barcelona, next to La Rambla, lies this massive market where fresh food is brought in on a regular basis. Visitors and locals alike can ogle at the delicious array of selections. Everything is for sale here: meat, seafood, olives, fruit, vegetables, bread, oils, peppers, and more. While some of the market stalls sell raw food, others will cook a meal for you as you wait in a fast-food style atmosphere. This can be a great opportunity to taste some local food at a low price. If you think you've seen a market at home, then you'll be quite surprised at the size and selection here. It's worth walking through even if you don't plan to buy anything!
Tapas and Pintxos Restaurants
While everyone has their own personal favorites, here is a list of some restaurants that have stood the test of time and received a large number of positive reviews. But first, one of the best is curiously named Tickets, and here's how to
make reservations at Tickets Tapas restaurant in Barcelona
.
Other great Tapas restaurants:
La Esquinica
Ten's
Polleria Fontana
L'Ostia
Els Pinxus
Maitea
Paella Restaurants
The traditional rice and meat dish can be prepared in a variety of traditional and non-traditional ways. Many restaurants claim to have the best, or claim to use their family recipe, but here is a list of visitors' favorites.
7 Portes
Arrosseria Xativa
Barraca
La Mar Salada
And finally, if you're looking for more options, here's another great
guide to the best restaurants in Barcelona
.
Nightlife
Barcelona is one of the party capitals of the world due to the wide variety of clubs, bars, beaches, and live music venues. If you're looking for a good time in the evening, you've come to the right place. But where should you go and what should you do? Well, we have assembled a guide to Barcelona's nightlife which covers all of your options including the various neighborhoods, dance clubs, party boats, bars, and shows. So, for more information, read our
Barcelona Nightlife Guide
.
Some of the best areas for nightlife include Las Ramblas and the Gothic Quarter, the stretches along Barceloneta, Port Olympic, and Raval. Each area has its own atmosphere and personality (and cost). Most tourists tend to go out around Las Ramblas and the Gothic Quarter mainly due to its central location. Here you will find plenty of open bars, restaurants, Flamenco shows, and nightclubs. Plenty of shops stay open late, too. Port Olympic and Barceloneta tend to be a little more high-end. This is where people get dressed up to party, and the prices tend to reflect that. Raval is a more "grunge" neighborhood. Here, everything is casual, relaxed, but also popular and safe. High-end bars sit next to tattoo parlors, and "skateboard" fashion mixes in with business attire at the local bars.
The best and most popular clubs in Barcelona include Razzmatazz, La Terrazza, Opium, and Marula. Also, party boats are very popular, although you might need to book ahead.
For more details, costs, and information, check out our
Guide to Nightlife in Barcelona
.