Aragon On a Budget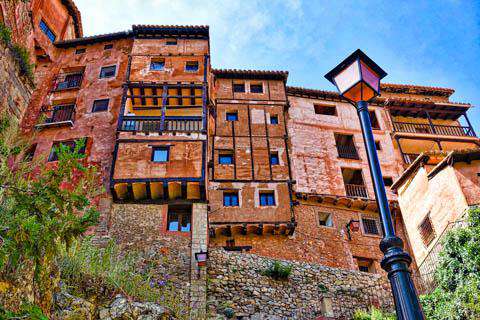 If you want to head off the beaten track or simply get away from it all, head over to Aragon, Spain, where you won't have any trouble finding peace and quiet or uncovering ancient history in a region yet to be inundated with tourists. The population of Aragon does not exceed 1.5 million and less than a third resides outside of Zaragoza, which will make for the perfect adventure away from the crowds.
This particular region in Spain is special because it contains a great deal of mudejar architecture, evidence that, once upon a time, Christians, Jews, and Muslims lived side by side. Mudejar style architecture is unique to Spain and an interesting sight to see, a fusion of churches and mosques in an otherwise predominantly Roman-Catholic country. Within Aragon, there are three provinces: Zaragoza, Teruel, and Huesca.
Sights
Though it is the capital and the most-populated city in Aragon, Zaragoza is still considered a city less-traveled, especially since it just seems like a fly-over region, between Madrid and Barcelona. Nonetheless, Zaragoza is a great place to visit to dig up some history, art and culture.
Zaragoza experiences scorching hot summers and cold winters, with average low temperatures in the mid 30s to highs in the 90s. It rains most during spring and fall, but ultimately, there are more dry and sunny days throughout the year. Visit Zaragoza between April and mid-June or September to October to avoid the crowds of July and the deserted town in August when the locals take their vacations out of the city.
A few of the main sights Zaragoza are the Roman Catholic church, Basilica de Nuestra Senora del Pilar and the Aljaferia Palace, a medieval Islamic castle built in the 11th century, now occupied by the Aragonese parliament. Within the city are numerous other churches and cathedrals that display mudejar architecture, such as La Seo, the church of San Miguel and the church of San Pablo. Don't miss Ascensor de Pilar, which provides a spectacular view over the entire city.
El Pilar is a major annual festival which begins on the 12th of October and lasts nine days. It is celebrated city-wide with concerts, performances, parades, street fairs, circuses, and dances to honor the patron saint of the city, the Virgin Mary of the Pillar.
When it comes to food, check out some of the bars in the El Tubo neighborhood. This is the perfect place for a tapas pub crawl, as the alleys are full of bars and restaurants.
Once you're in town, you can get around cheaply by bus or even more cheaply by foot.
Activities
In Huesca and Teruel, you can bask in natural scenery from pine forests to mountains to high plains. The highlights of Huesca consist of the Castle of Montearagon, numerous churches, and Spain's oldest grocery store, Ultramarinos La Confianza. Founded in 1868, it is specially known for its local and artisanal products, from cheeses made in nearby mountains to winter spices and salt cod.
Huesca's largest and most important, annual event is the Festival of San Lorenzo, celebrated from the ninth to the 16th of August. Huesca is also a perfect backdrop to explore canyons by rafting and rappelling, which are offered by a number of local tour companies. It also offers five ski resorts toward the north of the province; Cerler has the highest elevation at 2,621 meters. Rent a bicycle to get around the city and also to see the nature surrounding, including caves, rivers, canyons, and villages that may be difficult to access otherwise.
Teruel, located in the mountains 3,000 feet above sea level, experiences more extreme climate, with hot summers that exceed 100 degrees and cold winters which drop to an average of as low as 19 degrees Fahrenheit. On the up side, these extreme temperatures are perfect for drying and curing ham, a specialty of the region. Due to Teruel's remote location, it has remained isolated over the years and has a sparse population of only a little more than 35,000 today.
Teruel is also notable for medieval towns, forts of the Knights Templar, Moorish cave paintings and architecture, and bedrocks which contained some of the oldest dinosaur fossils in the Iberian Peninsula. Within Teruel, public transportation consists of city buses run by Grupo Autobuses Jimenez.
Food and Dining
Aragon's cuisine is varied, featuring ternasco asado, or roasted lamb, regional vegetables cardoon and borage, cured Teruel ham, regional cheese, and olive oil. Some of Aragon's popular regional dishes are Pollo al Chilindron, which is a dish of chicken made with onions, red peppers, tomatoes, and ham, and longaniza, a spicy regional sausage.
Transportation
If you plan to visit all three major cities, a great starting point would be either
Barcelona
, which is about two and a half hours away from Huesca, or
Valencia
, about an hour and a half from Teruel from the south. The three cities are situated so that the roads run through from north to south so that you can make the trip either way, with Zaragoza as your second destination.
Zaragoza and Huesca each have their own airports but the airport closest to Teruel is Manises Airport in Valencia.
The Alosa Bus company serves both Huesca and Zaragoza. Huesca and Zaragosa are also well-connected by air and rail, but Teruel, on the other hand, requires that you take an additional car from the train station to get to the city in the mountains. You can also take the elevator built into the city wall, but you'll still need to be able to climb at least two flights of stairs to access it.
Related:
Looking for a party in
Barcelona
or
Madrid
?
Traveling alone to
Granada
or
Seville
?
Find a
Contiki tour
to Europe.
Train and Bus Prices
The best prices for buses and trains in Spain
can be found on Omio
(formerly
GoEuro
). They let you search across all train, bus, and plane routes throughout the region.