Juneau On a Budget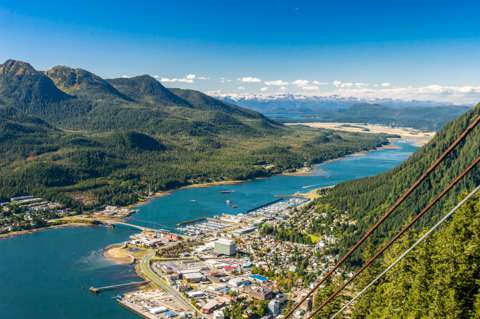 Juneau, Alaska is the capital city of the state, and it is also one of the most beautiful cities. Juneau is surrounded by two large mountains and a channel, so it is the only state capital not accessible by train or car. It is lined with small streets, including what is locally known as "stair streets" which can only be accessed by foot and include walking up 100-300 stairs, depending on which level you're going to. Luckily, most of the sights and stores are on the lower level, though. The only real structures located on the stair streets are residential buildings. Juneau is the most visited city in Alaska, but its population is just over 33,000. Its economy is based mostly on government, tourism, fishing, and mining.
Sights
One of the most popular sights in Juneau is
Mendenhall Glacier
. The glacier is one of the largest glaciers in the area and makes up a big chunk of the Juneau Ice Field (which is another popular sight worth visiting). The glacier is more than 12 miles long and a half a mile wide. There is a visitor's center there where you can learn all about the glacier. Once at the visitor's center, you can walk out about three quarters of a mile to get a pretty spectacular close up view of the glacier as well as the huge waterfall from the glacier located just to the right of it. The lake in front of the glacier is formed from the melted water of the glacier over the years, as well, and is fed mostly from the waterfall.
Another popular sight is
Glacier National Park
, located about 30 minutes from the city of Juneau. Once you get to the Park, entry is free. Glacier National Park is often a stop for cruise ships as well, and they spend the whole day cruising through the breathtaking scenes there. The glacier filled mountains seem to stretch on forever and it is hard to rival the distinct beauty found there.
Neighborhoods
Downtown Juneau is where you will find most of the stores and entertainment options in Juneau. It is the most developed and is where many of the tours leave from. This is also where the cruise ships dock when they come to town.
Mendenhall valley is where you will find the scenic Mendenhall glacier, lake, and waterfall. Mendenhall valley also has a good selection of shops and restaurants and is more like a typical suburb.
Lemon Creek is home to modern retail stores and shopping, such as WalMart and Home Depot. It is located between Mendenhall valley and downtown.
Activities
One popular activity in Juneau is riding the Mount Roberts Tramway, which is a cable car that takes you 3,819 feet up onto Mount Roberts. At the top of the mountain you will find a restaurant, nature center, shops, and several trails you can follow both up and down the mountain if you would like to do some further exploring. There is a rescued bald eagle at the top that is a popular attraction for many tourists.
There are also several tours available in Juneau, including boat tours, some of which specialize in whale and other wildlife watching. There are tours, which will take you to Tracy Arm Fjord, another popular location for viewing waterfalls and glaciers, and the possibility of some wild life such as bears, whales, sea lions, etc. Juneau also has an amazing rainforest garden with a 200-degree view of the city as well as many species of flora against a forest background. There are many other hiking, fishing, and sight seeing options in Juneau as well.
Food and Dining
Juneau has a great selection of eateries, from high class to down home-style options. Because of its location, Juneau offers many tasty seafood options, as well as a more gamey meat menu.
One of the most popular restaurants is the Red Dog Saloon, which has been one of the local favorites since it opened in the 1800's. It includes a bar area and serves classic bar dining options that won't leave you feeling hungry. And if you like crab, you won't want to miss Tracy's King Crab Shack, which is known for having some of the best crab dishes available.
Transportation
This is the only capital in the United States that is not accessible by car or train. The only way to get to Juneau is by boat or plane, so getting here is a little more challenging than getting to most other destinations. Because of its location and water accessibility, it is a popular stop for cruise ships. It is the main air hub in the area, though, so you it is easy to get a plane ride in. Or, if you do want to drive, there is a ferry available in Auke Bay on the Glacier Highway, which will take you into the city.
Juneau is not a large city, the longest road is less than 50 miles, with mountains on one side and water on the other, so getting around is not very difficult. Many stores are within walking distance in the main town center. The city also has great public transportation from tour buses, to city buses, to taxis, and they can get you where you need to go!
Related:
Looking for a
party hostel in Las Vegas
or
San Diego
? Traveling alone to
NYC
or
LA
? Want a budget hostel in
San Francisco
?