Ketchikan On a Budget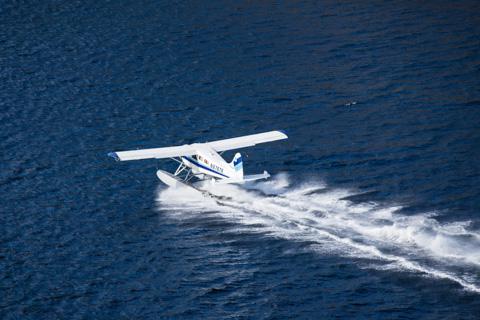 Ketchikan, Alaska is located at the southern end of the well-known Alaskan inside passage. It is often called the beginning of the last frontier, because of it's location near the southern entrance of Alaska. It is a beautiful and quaint town, that leaves you feeling like you may have gone back in time with its storefront lined streets and natural beauty. Ketchikan has been called some of the most beautifully stunning wilderness area in the world. It is known as the Salmon Capital of the World due to the superior century old fishing industry in the area. The Native Culture in Ketchikan is extremely rich and it is home to the Tlingit, Haida, and Tsimshian tribes. The nearby Tongass rainforest provides red cedar trees for the popular totem poles, which are abundant in the area.
Most of the people who travel to Ketchikan (over 800,000 every year) come on a cruise ship. They stay for a couple of hours and see a few of the area's highlights. If you arrive by a different means of transportation and have more time to explore the area, you will find it has any number of activities to offer you. You can enjoy anything from kayaking to hiking, canopy tours, or seaplane tours. If you want to head into the surrounding area, you can visit the unique rain forest in the area. There are many isolated bays, deep channels, and small islands, all of which are worth a visit. If you can rent a boat for a few hours you are likely to have a once in a lifetime experience.
Sights
There is plenty to see in Ketchikan. Just the natural scenery from town is breathtaking in itself, but there are plenty of other sights to see. The Tongass rainforest just a short ride from town, and is a beautiful sight with its towering trees and salmon filled river that often hosts thousands of salmon making their way back home to lay their eggs.
There is the totem park, which is home to several totems carved by local natives. This area in general is famous for totem poles, but the totem park has the biggest collection and is quite interesting to see, especially if you take the tour where a local native tells you the history and meaning behind the carvings.
Neighborhoods
Ketchikan is a relatively small city and does not include many separate neighborhoods. The primary location is the downtown area. This is where the cruise ships dock, the shopping areas are found, where the majority of the restaurants are located, and even where many of the cultural Native performances take place.
Just outside the city limits is where the Tongass Rainforest Park is located along with Totem Park. There are also a couple of small suburb areas which are mainly residential and are still considered part of the city by most.
Activities
There are numerous tours available in Ketchikan, including tours and performances by local Natives. The Tlingit tribe has a show where they tell the history of their people and perform many of their ritual dances and even allow you to join in if you like! It's a great way to learn a little history about the Native culture.
There is also a Ketchikan Duck tour available that takes you out to see some of the best of the beautiful area from both land and sea. It takes you both around the harbor in the downtown area and up through part of the Tongass Forest. It's a fun way to learn a little about the area while getting to see it from unique viewpoints.There are plenty of options for the more adventurous thrill seeker as well, including zip lining in the rain forest, going off road in an ATV, or going for a canoeing trip. Or, if you like a slower, more relaxing day, Ketchikan has a great selection of shops, from touristy souvenir shops to specialty stores with locally made items and art.
Food and Dining
Ketchikan is the seafood lovers dream. Though it is known as the salmon capital, Ketchikan's seafood fare is not limited to this. You can find just about any kind of seafood you like here, and it is all fresh and cooked to perfection. The Alaskan Fish House is one of the top choices for some great seafood. Its location right downtown makes it easy to get to.
If you aren't really a seafood kind of person, that's okay. Ketchikan also has some great options for you. Check out Jeremiah's, a great pizza and pasta restaurant and one of the local favorites.
Transportation
Ketchikan is not directly accessible by car. There are ferries available which will get you there. The town is accessible only by air or sea. It is only about a 1.5 hour flight from Seattle, and there are a few different ferry departure locations as well, though one of the most popular ways to get to Ketchikan is on a cruise ship and many thousands of people visit the city through this method every year.
Getting around in Ketchikan is not too difficult. It is a small town with a population of only about 8,000, and its longest road is only 30 miles along the coast. The downtown area is compact and easy to walk, but there is also a free shuttle bus that runs the downtown loop from May-September, which are the busiest tourist months. There are also city buses and taxi's available.
Related:
Looking for a
party hostel in Hawaii
or
Miami
? Traveling alone to
LA
or
New Orleans
? Want a budget hostel in
NYC
?