Sedona On a Budget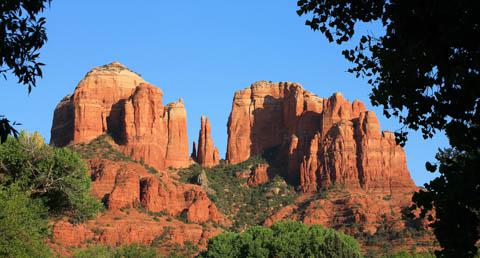 Sedona, Arizona is a desert town near Flagstaff. Sedona has many canyons and pine forests, but the most stunningly, beautiful landscape here is the many red rock limestone formations that can be found almost everywhere. The stone formations always have a deep red color, and this color only intensifies in the light of the sun. Sedona has been named one of the most beautiful places in America because of its mesmerizing scenery that changes hourly with the shifting of light. Native Americans have always regarded Sedona as a place of healing and renewal, and that continues to be true as they still value this land as sacred. Sedona is surrounded by 1.8 million acres of national forest land, and no matter where you are in Sedona you are never far from breathtaking scenery.
Sights
In Sedona, the town itself is the top sight as there is natural beauty everywhere, but even a town labeled as America's most beautiful has some extraordinary options for sight seeing.
Red Rock State Park is definitely worth a visit. This state park works to preserve the habitat and ecosystem of the Red Rock area and it is a great place to get a close look at the stunning Red Rock formations that the area is famous for.
Oak Creek Canyon is another great destination in the Sedona area. The canyon is a river gorge just outside of the town limits, and its beauty causes it to be commonly known as a smaller cousin of the Grand Canyon. And while you're at Oak Creek Canyon, why not go over to another popular sight: Slide Rock. Slide Rock is a naturally formed water slide in the bed of Oak Creek and is a part of its own National Park.
Neighborhoods
The heart of Old Sedona lies in Uptown Sedona. This area hosts some of Sedona's oldest neighborhoods containing everything from Red Rock cabins to modern southwest architecture. You can find a lot of shops in the Uptown area as well as quality restaurants, art galleries, and museums.
West Sedona has a varied style from manufactured housing to gated communities. West Sedona is the biggest business area and is where most of the banks, grocery stores, and larger stores are located.
Red Rock Loop is where you'll find the Red Rock Park as well as many vacation homes and horse properties. It is a more laid back area and some say it feels like a whole different world.
Activities
The number of trails seems endless in Sedona. You can find trails to hike through canyons, through the Red Rocks, and through the forested and desert areas. There is one trail called the Devil's Bridge where a narrow strip of arched land connects to a high plateau overlooking Sedona's beautiful landscape of desert, forest, and cliffs stretching out beneath you. It is said to be one of the most beautiful sight in an area with plenty of beautiful scenery.
For those not up for the walk, there are several options for ATV and 4x4 adventures through some of Sedona's beautiful wilderness area. Because Sedona is also known for rest and relaxation, there are several spas and other well-being business in the area, if you want to experience a little of the healing and renewal that the Native American's believe the area to be good for.
There are also options for day trips to the Grand Canyon, including a century-old rail line, The Grand Canyon Railway, which features live music and western entertainment.
Food and Dining
There are an number of food and drink options in the Sedona area. One popular stop to eat in Arizona is at Creekside Sedona. It has a great view of Snoopy Rock (another top sight in the area) and has a very eclectic menu. Creekside Sedona is open all day, starting with breakfast and is a bustling environment.
Another great option is Elote Cafe. It is located inside a hotel and has some of the best Mexican cuisine in the area.
If you enjoy wine, Sedona has a lot to offer in that area as well. There are several wine tours available and many wineries offering a varied selection of fine wines, many of which are from the area. There are also many cactus-flavored drinks (margarita's, mojito's etc.) if you're up for trying something a little different.
Transportation
Getting to and around Sedona is much easier by driving. Many of the major sights and National Parks are located some distance from the hotel areas, so getting to these places can be difficult without your own transportation.
There is a shuttle you can take from Phoenix to Arizona if you decide not to rent a car or drive there. There is some public transportation, specifically in the Uptown area such as the free Roadrunner Circulatory Route, and a few options outside of Uptown, but nothing as extensive as other major cities. There is a local trolley, which many recommend for first time visitors as it gives you an idea of the area.
Related:
Looking for a
party hostel in Las Vegas
or
San Diego
? Traveling alone to
NYC
or
LA
? Want a budget hostel in
San Francisco
?