Flagstaff On a Budget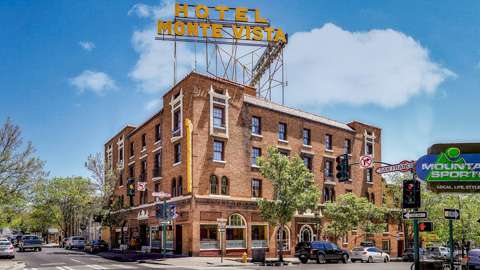 Located in northern Arizona near the San Francisco Peaks mountain range, Flagstaff is a small city surrounded by natural beauty. The city's proximity to a number of popular tourist sights, including Grand Canyon National Park, Oak Creek Canyon, the Arizona Snowbowl, Meteor Crater, and Historic Route 66, make it a common destination for tourists. It lies at an elevation of almost 7,000 feet with nearby areas climbing higher. In large part because of its altitude, the city has a cooler climate than the southern part of Arizona, which is famous for its low lying desert.
Sights
Many people use Flagstaff as a base or hopping off point to explore Arizona's other nearby attractions, but there are a number of interesting sights within the city as well.
The Arboretum of Flagstaff
is a 200 acre botanical garden that includes a nature center and an environmental research station. It's abundant wildflowers are impressive and beautiful and there are a number of educational programs as well.
Lowell Observatory
is an astronomical research center that is notable as the place that originally discovered the dwarf planet of Pluto. There are tours and frequent evening programs.
Riordan Mansion State Historic Park
has a 1904 house that was once home to a prestigious local family.
Arizona Historical Society-Pioneer Museum
has several interesting exhibits and artifacts on local history.
The Museum of Northern Arizona
has exhibits on Native American life in the area as well as folk art and the region's natural history.
Neighborhoods
Downtown Flagstaff
is narrow and squeezed between the NAU campus to the south and the Museum of Northern Arizona to the north.
Northwest Flagstaff
, just north of Downtown, is where the Snowbowl and the Museum of Northern Arizona are located.
West Flagstaff
is to the south and west of Downtown. This is where the airport, Pepsi Amphitheater, and NAU are located.
East Flagstaff
has a large residential area with a more rural feel. It is also where you'll find the Harkins movie theater, the city's main mall, and a country club and golf course.
Buffalo Park
is located on top of McMillan Mesa and is Flagstaff's "urban forest park".
Activities
Flagstaff has a number of nearby activities that visitors can enjoy. The nearby
Arizona Snowbowl
is one of only three places in Arizona where you can enjoy skiing. Also nearby are countless places to hike, mountain bike, or go rock climbing. Head to
Mount Elden
for a wide variety of outdoor activities including the popular Elden Lookout Trail, which climbs from the base to the summit, ending with a spectacular view of the city. Another popular hike is
Mt Humphrey's Peak
, which begins at Snowbowl Ski Lodge. While the hike starts relatively easy, be prepared for the final stretch to get intense.
Food and Dining
Flagstaff has a wide and diverse range of restaurants to choose from. There are a number of different ethnic restaurants around town including Mexican, Chinese, Thai, Indian, and more. There are also a wide range of styles, including cafes, breweries, bars, bistros, and fine dining options. Local restaurants are common, but so are the typical chain restaurants that you find in most major cities.
Transportation
Located along Route 66, Flagstaff is a small city with a simple bus system. It's very beneficial to have a car to explore the area, especially because there are many popular sights outside of town.
The city does have a well developed bike system, and many roads have designated bike lanes. The Flagstaff Urban Trails System has over 50 miles of paved and unpaved trails that wander through town.